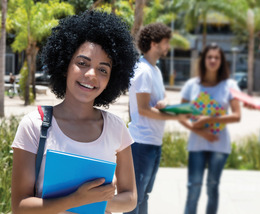 Super Kids
Meet some of South Jersey's inspiring young people helping to make a difference.
While a lot can be said about the youth of this generation—or any generation, really—the fact is that there are many bright minds and caring youngsters who are doing their part to impact the communities they call home. Here, we introduce you to some of South Jersey's Super Kids and recognize them for their selfless efforts to make our area a better place.
Sierra Volpe & Julia Moon
Mount Laurel
This dynamic duo of juniors at Lenape High School joined forces to create the support group "Coping with Cancer" to help their peers whose lives have been affected by the disease. The idea evolved from their genuine care for each other, and provides a safe place for all Lenape students to share their feelings and find comfort in knowing they are not alone.
Volpe's greatest inspiration came from her cousin Danny, his eight-year battle with cancer, and how he motivated her to be her best self: "Even when he was going through the toughest battle imaginable, he remained positive and put a smile on everyone's face. When he passed away on Christmas Eve, I was filled with sadness; however, I wanted to continue spreading his positivity and his zest for life. Experiencing cancer through a loved one has made me interested in giving back to so many organizations."
Moon has also had family members directly affected by the disease and she's been inspired by how Volpe has managed things.
"[Volpe] has dealt with cancer as well, and she is one of my biggest inspirations, aside from my family. Her will and determination to help people go hand in hand with mine and I think that is why we complement each other so well. Being able to help people and the feeling of knowing you have made someone's day or made a difference, even if it is small, is an accomplishment that is untouchable," says Moon.
When they aren't busy lending their support to others, both Volpe and Moon are excelling in the classroom. Volpe is active in National Honor Society and Moon plans on going to college to study biology in hopes of eventually becoming an oncologist and conducting cancer research.
Katelin Abdallah
Marlton
Abdallah has held multiple leadership positions during her time at Cherokee, like serving as an executive member of Students' Movement Against Cancer, Biology Club and Renaissance Club, and being a sophomore representative to the board of education, among others.
She's also been an active peer leader, which includes participating in numerous volunteer events, one of which connects with the Anti-Defamation League's (ADL) No Place for Hate. She recently attended the ADL leadership conference, and was asked to return to the event next year as a peer facilitator.
"I'm always trying to find volunteer opportunities that relate to what we're doing. There is an organization that I've worked with through the youth advisory committee. … DEON is the Diversity and Equal Opportunity Network, and that's definitely something I'm trying to connect No Place for Hate to so we can raise our voices in committees and help out our community here in Marlton—and even outreach to more places."
As an avid hockey player, Abdallah focuses on making an impact on the hockey community, too. She is a student coach for Philadelphia Blind Hockey, where she's also the volunteer coordinator. This organization helps teach children and adults with visual impairments both how to ice skate and the fundamentals of ice hockey. She is also one of the coaches for Flyers Youth Special Hockey and a Learn to Skate instructor, where she shares her love of the sport with special-needs children.
Aidan DiMarco
Collingswood
With a passion for politics and promoting change, DiMarco has been involved in programs both inside and outside school. He led a student-wide walkout at Collingswood High School against gun violence in America following school shootings, canvassed/door-knocked for Congressional candidate Mario De Santis, was a panelist speaker at the N.J. Youth Leadership Summit and helped organize the Words Have Weight presentation during his freshman year in response to racial slurs being used within the school.
"From a raging climate crisis to a gun violence epidemic, the youth are hit the hardest. Older generations will pass the torch to younger generations at one point or another, and it is critical that they pass the torch leaving us a world where we can live on a habitable planet, where we don't have to fear walking outside and being shot, where we don't have to worry about debt for receiving education to advance our careers, and where we don't have to worry about a hospital bill because we fail to guarantee health care as a basic human right."
Drawing inspiration from other young organizers across the country fighting for basic human rights, DiMarco plans to continue the fight post-graduation and attend college majoring in political science with the goal of becoming a political consultant.
Devin Torres
Mount Laurel
Inspired by his passion to make a positive impact on his community, Torres co-founded Giving Cycle with the vision "for all students to commit themselves to a lifetime of giving before they reach high school." He led the team's efforts on fundraising, grantmaking, identifying new groups of students to impact and building organizational partnerships.
The team has distributed roughly $22,600 since inception and reached nearly 1,500 youth. He is currently working on an initiative for World Water Day to raise awareness about water scarcity and to fund a grant to the Moses West Foundation for equitable access to clean water.
Torres was recently selected to showcase and publish research through the 2022 Institute of Electrical and Electronics Engineers MIT Undergraduate Research Conference, elected as the 2023 class president (all four years), received the Union League Good Citizen Award, was named a National Merit Commended Scholar and was nominated for the Gordon A. Vreeland "Best Statesman" award at the American Legion Jersey Boys State program.
Next fall, he hopes to go to college at Stanford, USC (SoCal) or Virginia. "My aspirations include first gaining direct industry experience and further developing business proficiency through internship positions at established engineering companies and consulting firms. My end goal is to launch my own practice, either in the field of engineering or the realm of consulting."
Ruhan Shah
Lumberton Township
Currently a sophomore at Rancocas Valley Regional High School, Shah is in his second year serving as class president. Last year he started organizing various drives around the holidays to collect candies, cookies, cereal boxes and stuffed animals from the students and staff members. All the collected items are donated to local organizations every year.
Beyond school, Shah organizes a community food drive called "Ruhan's Rally" which began in 2021. He collects non-perishable food items from local schools, grocery stores, and friends and family while also collecting money on a GoFundMe page to buy additional food items. After nearly a month of collection, he then distributes the food to people in need. Whatever is left over goes to the local food pantry, the Children's Home in Mount Holly and the Ronald McDonald House of South Jersey.
"My goal was to make 100 food bags but I was able to produce close to 250 bags of food. It was really heartwarming to see how the whole community came together to support such a great cause. After receiving tremendous support, I decided to organize another food drive in 2022 and I was able to achieve the same results."
Another proud moment for Shah was being nominated by the Ronald McDonald House of South Jersey to be featured in the 6ABC news segment Philly Proud for his food drive. He has also received a Certificate of Congressional Recognition from Congressman Andy Kim in recognition of his hard work, in addition to receiving the Lumberton Township Mayor's Citizenship Award for the contributions made to his community.
Meghan Wilson
Marlton
When the COVID-19 pandemic first hit, Wilson started her own charitable initiative called Mask for Meals. She used her passion for sewing and crocheting to create masks for members of the community. In lieu of payment, each buyer from the neighborhood would give a food donation and she would donate the food to a local food pantry. She was able to make 100 masks and donated more than 1,000 pounds of food.
"It was really important because one day when I was dropping off the food … there was just a line of cars throughout the entire parking lot. It was just so sad to see, and I really felt like I was making a difference."
At school, she is part of the executive board for Students' Movement Against Cancer, National Honor Society and Spanish National Honor Society. As the captain of the gymnastics team, she sets up volunteering opportunities such as Trunk or Treat. Wilson's extracurriculars beyond school include Sports Unity, where she helps disabled and special-needs children learn to play different sports.
Once she graduates, Wilson plans to study biology, minor in Spanish and to go pre-med so she can help underserved populations with limited access to health care.
Click here to subscribe to the free digital editions of South Jersey Magazine
To read the digital edition of South Jersey Magazine, click here.
Published and copyrighted in South Jersey Magazine, Volume 19, Issue 10 (January 2023)
For more info on South Jersey Magazine, click here.
To subscribe to South Jersey Magazine, click here.
To advertise in South Jersey Magazine, click here.