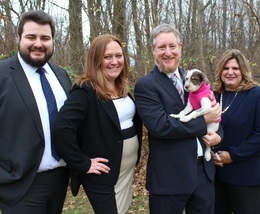 Small But Mighty
Being a boutique law firm has helped Bross & Frankel cultivate strong bonds with clients, while its attorneys bring a larger practice's experience and unique qualifications to every case they take on.
Although Rich Frankel is a partner at disability benefits law firm Bross & Frankel, it's music that runs in his family. His father was a professional trumpet player and band leader, while Frankel himself studied music as an undergraduate.
But throat cancer's career-ending tracheotomy meant the family patriarch had to seek employment in a series of jobs that were never the calling music was. Frankel vividly remembers the ensuing turmoil: It is, after all, what nudged him toward a career as a disability attorney.
"My dad had to reinvent himself … but he never really found his footing, while my mom went back to school to get her master's," he recalls. "I saw that struggle of living paycheck to paycheck. As a musician and a small business owner, my dad's Social Security became an important but modest lifeline, especially after he passed."
That was the first time Frankel witnessed up close how illness robs an individual of their ability to secure a living. The second was in January 2020, when the Cherry Hill attorney found himself recovering from an emergency surgery and unable to do his own job for months. Both instances left Frankel profoundly empathetic to his clients' challenges, their needs and how he can provide stability amid daunting uncertainty.
"Disability can happen to any one of us," he notes. "Our clients are not having their best day: They're out of work, they don't know where their next meal is coming from and if they're disabled, they can't get unemployment. It's a desperate, stressful time."
Bross & Frankel handles a range of clients, from veterans fighting for their benefits to those seeking long-term disability, from individuals injured on the job to people immobilized by chronic invisible illnesses. Despite handling all kinds of cases throughout South Jersey and Philadelphia, the firm has remained on the smaller side to facilitate a truly personalized client experience.
"We don't have a menu prompt when you call: Our receptionist picks up so you're talking to a person right away," says Frankel. "Our office lines have texting built into them so I can give my direct extension to a client if it's easier for them to text me."
Inviting a close professional relationship not only helps the Bross & Frankel team get to know their clients' needs and circumstances but also establishes client trust in their legal counsel.
"They get to know the paralegal and their attorney, and they form a bond over the two years we're working on their case," Frankel explains. "They know they can call or text to see what's going on, what does the docket look like, how much longer do they have to wait … and I can tell them what to expect so they can plan, get general assistance if they need to, lean on family and know the end is in sight."
Specializing in disability benefits and personal injury issues doesn't stop at navigating injured and disabled clients through government, veterans or private-insurance benefits or being the litigators representing them in court: It's also working to legitimize invisible illnesses, the debilitating nature of which can undermine an individual's employability just as much as a visible injuries do.
"I think there is a general misconception about people who are disabled and that filters down into disability benefits," ventures Frankel, adding that the judges influencing those decisions really only have minutes to assess a client's situation and aren't always using the best metrics, like assuming someone with progressive multiple sclerosis or bipolar disorder can continue to work just because they struggled through a job for years before their illness became too severe to continue.
The firm boasts some hard-to-find qualifications, too. Both Frankel and Jennifer Stonage are licensed before the Court of Appeals for Veterans Claims, letting the firm fight for veterans at the highest level. Certified civil trial attorney Elizabeth Berenato has 30 years of experience litigating cases and being a disability advocate. That certification encourages "attorneys to send cases to experts or specialists in that particular area."
"If you get a case and it's out of your wheelhouse, the only time you can refer it to somebody and pay a referral fee is if it's to a certified civil trial attorney," Frankel says. "Taking the extra step to get that level of expertise says, 'I'm a specialist here and I've gone through the certification process to prove it.'"
Berenato, Frankel and Stonage have all been nominated for South Jersey Magazine's Awesome Attorneys list, an honor that reflects how hard-working the Bross & Frankel team is—not that Frankel didn't already have ample proof of his associates' dedication.
"Individually, they each have their expertise and have built relationships with clients and other attorneys, which was independently verified by people writing their names down for Awesome Attorneys—because we worked to pull through the pandemic as a team, and we've aligned in our shared personal experiences each seeing someone we love battle to survive. That lived experience brings us together in leading the way for our clients," he says.
Bross & Frankel, P.A.
725 Kenilworth Ave., Suite 2 | Cherry Hill
(856) 795-8880 | BrossFrankel.com