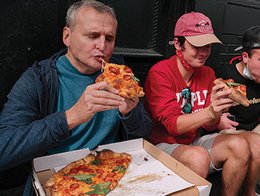 A Healthy Appetite
Phil Rosenthal, the man behind Everybody Loves Raymond, left the sitcom world behind to travel the globe in search of the finest food he could discover and after six seasons on Netflix, he's still hungry for more.
Phil Rosenthal loves to talk about food, travel, comedy, friends, family and the important connections they help us foster with one another.
And anyone who has ever caught any episodes of his wildly popular Netflix series Somebody Feed Phil has witnessed this firsthand. The sixth season of the show recently premiered at the same time he released a new 341-page companion book Somebody Feed Phil: The Book. The book is filled with untold stories, behind-the-scenes photos and favorite recipes that also capture the charm of his interactions with locals and tourists.
Often referred to by his friends as "the food guru," Rosenthal has had a long love affair with the Philadelphia area and the feeling is definitely mutual, as he expressed during a recent appearance in town. "Philadelphia is one of the best restaurant cities in America," explains Rosenthal. "It has some of the greatest chefs, the best food, and the best people you will find anywhere. I truly love it here!"
Rosenthal also spent time in South Jersey when he and his wife visited the campus of Washington Township High School a few years back. After creating an "I want to feed Phil" contest, folks across the world submitted video entries enticing Rosenthal to come try their food. One of the lucky winners was Washington Township High School teacher Matthew Groark, who is also the owner and operator of Groark Boys BBQ.
Rosenthal visited the school while a fundraiser was taking place for one of Groark's late colleagues. He was thoroughly impressed by the food and spent time chatting with the locals and getting a feel for the community. A video of the event was uploaded to Rosenthal's YouTube page and has been viewed more than 16,000 times.
Of course, Rosenthal isn't just well known for being a foodie with a camera crew following him around. His initial claim to fame came as the creator, writer and producer of the 15-time Emmy Award-winning sitcom Everybody Loves Raymond.
But since the Netflix show debuted in 2018, Rosenthal has been busy traveling the world in pursuit of delicious regional food while meeting tourists and enjoying a home-cooked meal or two. He also invites famed chefs and food bloggers to sit at his table.
The adventurous food and travel series also highlights the architecture, music, culture and ambiance of the places where he roams. The aspect of the show that he appreciates is "the inclusion and family feeling," and is known for having a positive influence everywhere he travels.
The result: Armchair travelers and actual travelers who long to take their own excursions to remote and off-the-path destinations, enjoy the local fare, sights and sounds.
The most recent season of the show includes stops in Croatia, Santiago, Chile, Austin, Texas, and Nashville, Tennessee, and begins with his tour of Philadelphia, where he kicked off his local journey at Reading Terminal Market before heading out to some more of the city's iconic dining destinations.
We had the chance to catch up with Rosenthal while he was in the area promoting the show and found out just how deeply he appreciates getting to familiarize himself with new places and engage with so many people along the way.
South Jersey Magazine: What is the aim and purpose of the series and your pursuits?
Phil Rosenthal: I am on a mission. I am just using food and my stupid sense of humor to get you to understand the beauty of travel. I want you to travel because the world would be better if we could all experience just a little bit of other people's experiences. If you do it right when you travel, ultimately everyone should feel like family.
SJM: What is your favorite part about doing the show?
PR: It has been the people I've met, not just during the filming, but also those who watch it and reach out to me. It's been my calling card to the world and one of the greatest pleasures of my life. It feels like a fantasy, but what I am telling you is that everything you see me doing is 100% real, and you can do it, too.
SJM: Talk about your strong connection to Philadelphia.
PR: My first trip to Philadelphia was in the fifth grade during a trip from New York to the Franklin Institute. Some 32 years later, I married (actress) Monica Horan, a girl from Darby, and we would come back often to visit a city that's got such character steeped in civic pride.
SJM: What was your pitch to PBS for the initial show, I'll Have What Phil's Having?
PR: I sold it from one line, "I'm exactly like Anthony Bourdain … if he was afraid of everything." I got six episodes on PBS and I called my producer brother. And he said, "Wait a minute. They are going to let you go around the world and go wherever you want and eat whatever you want, and that's the show? What are they going to call the show, The Lucky Bastard?" And I asked him to quit his job, produce the show with me and we called our production company The Lucky Bastards.
SJM: How did the Netflix series come about?
PR: So, I asked Ray Romano between seasons of our show where he was going to go on his vacation and he said the Jersey Shore. I asked if he had ever been to Europe, and he said he wasn't interested in different.
I wanted him to know that after he was transformed by the magic of travel, he would see the change that happens. So, I took the cast and crew to Italy to explore their roots for a special two-part episode for the season five premiere. When I saw that love for people, food and exploration happen to my friend Raymond, my heart, like the Grinch, swelled to five times its size. I thought, "What if I could do this for other people?"
SJM: How do you keep your weight in check with all of the eating that you do on the show?
I figured out that I shouldn't eat more than once or twice a day. I don't eat until the scene. I don't finish anything, I take a few bites and then I look at the hungry members of the crew, and I always like to share my food with them.
SJM: What places do you want to travel to for the show that you haven't been to yet?
PR: So many places. I want to go to India; I have never been there. Also, Australia, New Zealand, China, Africa and many others.
SJM: As a seasoned veteran, what is your best travel advice?
PR: Never over-plan. Leave room in your schedule or agenda for the out-of-the-way places or something that comes up at the last minute. Get a guide or go on a tour or two, but not in every city and town. Be flexible. You just never know what is around the corner.
SJM: Talk about your cookbook and why you did it.
PR: I am trying to do two things here: make a great companion book to the series, and give you some of the best recipes from our favorite chefs and places on the show.
SJM: You often highlight charity projects during your travels. Why is giving back through Somebody Feed The People such an important part of your life?
PR: It's about making an impact and building community through food. We partner with organizations that address food access and insecurity, support chefs and restaurant workers, create employment pathways and strengthen the health of our food systems.
SJM: Tell me about your parents and their connection to humor. I love "The Joke for Max" segment at the end of each episode in homage to your late father.
PR: My father, Max Rosenthal, was very funny and I don't think I would be here if my dad wasn't funny. My mom, Helen, saw him tell some jokes back when he was a teenager and she fell in love with his sense of humor. It was probably a very old joke that he got from Henny Youngman.
SJM: With all of the gourmet foods that you eat around the world, what are your go-to food orders?
PR: People ask me what would be my last meal and I say my favorite comfort foods from childhood—pizza, hot dogs, hamburgers, fried chicken, french fries and a tuna fish sandwich. I would probably end with my mom's matzo ball soup that she made really well. These are the ones that evoke my fondest food memories and that rings true for most of us.