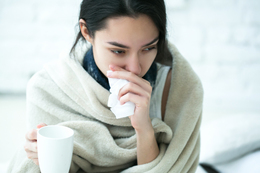 Under the Winter Weather
COVID-19 and accompanying cold-weather viruses are creeping into homes this winter, but there are ways to stop the spread of illness while continuing to spread holiday cheer.
It seems that whenever the weather changes, especially when it gets colder, sniffles and sickness come in droves. The main concerns used to be influenza and the seemingly inevitable common cold; then COVID-19 shook the world by rearing its ugly head in early 2020, and slammed South Jersey again when the Omicron variant plagued our region last winter.
This year, respiratory syncytial virus (RSV) entered the ring as yet another highly contagious and severe threat to our collective health. With so many viruses and illnesses to keep track of, South Jersey Magazine spoke with local health experts to find out what concerns we should keep an extra close eye on this winter.
The Big Three
Kerry McKean Kelly, a spokesperson for the New Jersey Hospital Association, says that the combination of COVID-19, RSV and the flu is a "triple threat" looming over the state, each virus with its own risk factors and daunting strengths.
"The flu especially is at one of the highest levels we have seen in many years," she explains, referencing information from the Centers for Disease Control and Prevention (CDC) that shows New Jersey started December as one of 10 states to have "very high" influenza-like illness activity.
Meanwhile, COVID infection rates are steadily increasing as the temperature drops. The seven-day average of new daily cases and deaths nearly doubled from 1,651 cases and 6.7 deaths at the end of November to 2,577 cases and 12 deaths just two weeks later, according to confirmed collaborative health data.
While the public is very familiar with the flu and has spent the better part of three years grappling with and trying to understand the ever-mutating COVID-19 virus, many know very little about RSV. According to Neil Rellosa, MD, a pediatric infectious disease doctor at Nemours Children's Health, it's another respiratory virus that is much more prevalent now than in years past.
"Normally in a RSV season, which is a virus that we in pediatrics are very familiar with, we see a good number of cases every year. But it usually seems to affect younger children, infants and small children. I think this year is particularly different because it started a little bit earlier than the usual season in addition to these other respiratory viruses, including influenza and COVID. The impact seems and is more than we usually expect," Rellosa says.
Dr. Martin Topiel, Virtua Health's head of infectious disease, echoes this sentiment, adding that people of all ages are susceptible to RSV and its accompanying respiratory problems, despite the common misconception that only children can experience serious symptoms from the virus.
"There's more infection out there and a lot of this is because of the interruption of the cycle of viruses over the last three years with predominant masking," Topiel says, emphasizing the lingering repercussions of the pandemic. "Now that we've gone into a situation where people have been unmasked, there's a greater risk for exposure and there's less immunity to these infections."
Topiel adds that emergency rooms have seen a steady flow of adult RSV cases while pediatric hospitals are "overflowing" with infants suffering from the virus.
As if catching one isn't enough, medical experts say it's not uncommon to be hit with multiple viruses simultaneously.
"It happens relatively quite often, where people are co-infected with more than just one of these respiratory viruses," Rellosa says, adding that the more viruses are involved, the harder it is to treat a patient.
Staying Healthy
Fortunately, the work that health care workers and scientists are doing gives us a great advantage over this trio of viruses: Because they understand them, they know how to combat them.
All three viruses are transmissible through respiratory droplets and by direct contact and are considered highly contagious. These shared characteristics turn indoor gatherings into giant Petri dishes in which the viruses thrive and multiply. However, Topiel says that there are ways to avoid spreading illnesses while still enjoying the company of friends and family.
"In those areas where there is higher transmission, it's recommended to be masking indoors to protect yourself, as well as others who might be immunosuppressed. That's the way we can interrupt the chain of transmission. … And hand-washing, of course, and still maintaining some sense of six-foot social distance if possible."
McKean stresses the importance of keeping up with both COVID-19 and flu vaccinations and booster shots, strong protective measures that minimize potentially serious, life-threatening symptoms.
"The flu is a huge driver of getting sick and needing to be cared for in the emergency room. So getting a flu shot to protect your kids is super important right now, and it also helps our health care staff on the front line and our hospitals. We could really use the public's help through flu shots and COVID boosters," she says.
As for a vaccination against RSV, scientists are currently developing one. Rellosa says that "a number of" pharmaceutical companies are working on the immunization, and he believes that "we will probably see an RSV vaccine in the next couple of years, but we're still relatively off in terms of having it readily available anytime soon."
It's nearly impossible to prognosticate the inconsistent ebbs and flows of highly transmissible viruses such as these. However, a bit of relief is expected to accompany the warmer weather in just a few months.
"If we go on the premise of what we usually see in terms of RSV and influenza, they tend to follow us through the winter, and then fewer cases as we get through to springtime," Rellosa says, pointing out that COVID-19 "can be a little bit harder to predict."
In the meantime, health experts have suggested a few questions to consider before attending any indoor events this winter:
? How many people will be there?
? How healthy are the people attending?
? Do the other guests have updated vaccinations?
? How big is the space?
? What is the ventilation situation at the venue?
Above all, do your part and check on your own health before coming in contact with loved ones this season.
"Regardless of whether we're talking about COVID, influenza or RSV," Rellosa says, "if you're sick, do yourself a favor by staying home, keeping well and limiting your contact with other people."