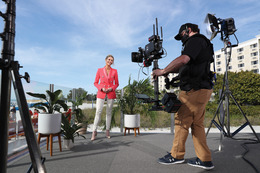 Rising to the Top
ESPN's Laura Rutledge shares her journey and why she's honored to inspire the next generation of women eager to follow in her footsteps.
There's never a dull moment when you cover the National Football League.
Just ask Laura Rutledge, who, in recent years, has become one of the faces of ESPN's coverage of the league. In fact, in the middle of discussing how the NFL is never quite out of the news cycle, she gets an alert on her phone with news about Green Bay Packers quarterback Aaron Rodgers.
After breaking into the industry as a sideline reporter for Fox Sports, Rutledge joined ESPN in 2014 and her star has only risen since. Not only does she cover pro football and serve as host of the daily program NFL Live, but she is well-known for covering the college game as well, specifically for her work as a host on the SEC Network. In that role she gets to cover the sport's biggest schools like Alabama, Georgia, LSU and the University of Florida, her alma mater.
But sports wasn't always what Rutledge was most passionate about. In fact, as a young teenager she gravitated more toward the arts and was highly trained in ballet, envisioning that she would carve out a career in the world of dance. But as her parents strongly pushed for her to apply to college, she began to realize that becoming a professional ballet dancer was likely not her destiny.
One fateful day while on campus at Florida and looking to make some extra money, she learned of a job opening at the college radio station. She stopped by to inquire about the position and was told it required covering sports. Little did she know at the time that it was the start of a journey that would eventually lead her to ESPN.
"Of course, I said yes [to the job]. And then I thought, I'm going to have to learn something about sports," she says between laughs. "I was in a vulnerable spot. The thing I knew for so long, ballet, was no longer a part of my life. I needed something to pour myself into."
In addition to becoming more familiar with the sports world, Rutledge also discovered another passion while in college, albeit completely by accident as she tells it. Turns out, unbeknownst to her, a few friends had entered Rutledge into a school pageant in 2010. After some initial hesitation she agreed to take part, and while she didn't win the competition, it sparked a newfound interest. Fast forward a couple of years later, and she was being crowned Miss Florida and soon after found herself representing the Sunshine State on the Miss America stage.
The combined experiences of working at the radio station and competing in pageants helped prepare Rutledge for talking sports on national television, she says. "There's an art to it and even just having a lot of experience on stage and speaking to audiences, it makes TV a little bit easier for me. It's not that television is easy—I get nervous every single day for every single show—but it did give me a little bit of a different experience than you would find with most people in my specific field."
When she's not on camera, Rutledge likes to unwind at home with her husband Josh, a former MLB player, and their 2-year-old daughter Reese. The family now makes their home in Connecticut to be closer to ESPN's campus.
During a rare break in between potty training her daughter and dissecting breaking NFL news, Rutledge took time to speak with us about inspiring a future generation of women sportscasters and why she hopes someday they take her job.
Long before you were covering football, you were a serious ballet dancer. What do you remember about that time in your life?
I became a very serious ballet dancer at age 13, which is late in a lot of ways. I started to pursue it so seriously that I thought it might be my career. After studying in China and at [the Kirov Academy of Ballet] in D.C., I started really focusing in.
My family lived in Orlando, and so I was familiar with the Orlando Ballet, but I don't think I would have gotten into their school if it wasn't for my training. When I was dancing at 13, I wasn't good enough. It was that time away that made me better and allowed me to be with the Orlando Ballet School and what incredible training I got during my senior year in high school.
I was dead set on being a professional ballet dancer, but I realized that wouldn't be the path that made the most sense for me. I ended up going to the University of Florida, and it was the best decision I could have made.
Tell us about how you became Miss Florida. The whole thing kind of happened by accident, right?
Total accident. The University of Florida pageant was happening in 2010 and my friends said they were going to enter me [in the competition]. I was still dancing, so they thought this would be great. And they had given the required entry donation to the Children's Miracle Network because they knew if they told me it was done on their behalf, then I had to say yes. I'll never forget my mom's face when I told her I had to buy a gown for the pageant.
The first one I did, I was first runner-up and I won $1,000 in scholarship money. I was hooked. I thought I could pay my parents back for college and focus on another goal that worked out really well for me with a blossoming TV career.
You always hear how cutthroat the pageant world is, but what was the experience like for you?
There's certainly positives and negatives, but what I found was most of the women were incredibly supportive. I was just learning a lot and having fun and meeting amazing women and honing important skills. The interview process, to have that experience at that age was super beneficial. Even reflecting on my time with Miss America, I am still friends with a lot of those women, and they've become teachers, lawyers, doctors—just some of the most accomplished women I know. In my career, I am not doing anything compared to what these women do.
People are always amazed at how mothers can juggle family life, work life, social obligations, etc. So what have things been like for you and did the pandemic allow you more time to enjoy the little moments, maybe even more so than might've happened during more normal times?
When Reese was born in October 2019, the pandemic wasn't anything we were even thinking about. We lived in New York City from December 2019 to March 2020, and then the pandemic happened. We went back to our home at the time in Alabama and thought we were going there for a couple of weeks and then going right back to New York. We ended up never going back to that apartment.
I think about how different our lives could have been had it not been for the pandemic. And amidst all the craziness and all the tragedies of the pandemic, I am at least personally a little bit thankful for that extra time that I had with her. I've been awful at finding ways to slow down in my life. Certainly, having a baby requires a bit of a slowdown no matter what. But even then, I was rushing myself back to work unnecessarily and putting myself in positions where I always felt like I wasn't doing enough. For me, it was a great reminder that everything is going to be just fine in your career and you're going to continue to have success. And the baby only adds to that and gives you a perspective to finally realize what matters in life.
But I am, daily, feeling like I am failing at all ends and it's probably important to say that, right? There are so many people that think you have this perfect life and perfect family. And I'm so thankful for all of it, but there's no way for even an hour of the day that I am perfect or my family is perfect. We are just figuring it out as we go. In fact, just this morning we were trying to potty train and we had two accidents on the floor while I was on my conference call for NFL Live, and I'm scrambling and I have pee all over my feet—that's real life and all of it is beautiful in its own unique way.
Can you tell me a little bit about being an ambassador with the Miracle League and why the organization is so near and dear to your heart?
Part of the Miss America system is having a community service platform and that's one of the greatest things about it.
There was a young man I met who worked in the press box at the Tampa Bay Rays stadium when I was the Rays reporter. He kept asking me to come to his baseball games and I thought, I can't wait to go.
It was one of the most amazing things I had ever seen because children who were confined to wheelchairs or mobility equipment were able to go out and play baseball because of the great things the Miracle League does. And to see their joy, having so much fun; it was just incredible and so uplifting and important. So, I thought if I can even just do a little bit that would help give some awareness to the organization and help raise money to build more facilities that would be incredible. It's one of the greatest organizations that I've ever seen and I'm just really honored they would partner with me and I do whatever I can to continue to put their name out there.
Women have become increasingly more visible in sports, whether it's some of the world's best athletes competing on the highest stages or women like yourself who are covering the games. Do you feel any sense of responsibility to try and be a role model to the next generation of young ladies who are watching you and maybe seeing themselves on the screen?
That's my favorite part of this whole thing. I'm constantly shocked that people would even consider me a role model. It was actually really cool, there was a young woman who came out to Disneyland while we were out there for the Super Bowl and wanted to come and meet me to get advice. We've stayed in touch and I'm actually going to look at her new résumé reel today and give her some pointers. She was emotional, and I was almost getting emotional because I couldn't believe someone would seek me out that way. It meant so much to me.
So often in this business we get caught up in the daily grind and you almost forget to step back and think, I might be affecting someone positively. And if I can do that, what an incredible honor. I can't wait for the next generation to come along and take my job, I am a full supporter and encourager of that.
The other thing that has become increasingly important is there are so many of these young women who say, "Well I've been told I can't have a family or I have to make sure that I am doing this type of radio show or I can't post this on Instagram." To me, instead of you can't do all of these things, how about you can! It is OK to be smart, beautiful, accomplished, have other interests, have a family, and continue to grow and be confident.
Who were some of the women who inspired you, whether sports related or not?
I've always loved [ESPN basketball announcer] Doris Burke but it was one of those admiration from a distance kind of things because I never met her before. A couple of years ago, Reese was about 6 months old and I took her over to our offices in New York and Doris happened to be there that day. I got to meet Doris, Reese got to meet Doris and it was a full-circle moment of my own daughter being held by the woman who inspired me for so many years.
The thing about Doris—we are not even in the same type of role in this business—but what she's done is truly trailblazing. And it's also something she's done with class and kindness throughout. There are plenty of women who have been trailblazers in different facets of this world, but I do believe that it's very important to do it while lending a hand to the next group and she's done that for all of these years.
How do you like to unwind from the stress of the job; any particular hobbies or passions?
I've always loved music and dance and consuming the arts in general, but I guess over the last year and a half I've really gotten into cooking. There's something to being able to step away totally; I mean there's nothing to do with sports or television when it comes to cooking. I've gotten to a point where I'm like, some of this stuff tastes really good [laughs].
Looking back from the time you first started working in sports at the radio station at Florida to where you are now, do you reflect back on your journey and what about it means the most to you?
The main thing that comes to mind all the time is all the people that helped me get to this point, and it really did start with my time at Florida. And when I got hired at SEC Network, I got hired by a guy named Steve Ackels, and he invested in making me better. At times he was critical, but in a great way. I look back at being a 25-year-old and having someone take the time to say, "Let me refine what you're doing and make you a lot better." Me buying into that certainly helped, but it wouldn't have happened had it not been for that investment in time and care. There's so many people like that along the way, that I can't help but reflect on the journey and be thankful for them. That's another reason why if anyone wants help or advice from me, I'm like, yes, let me be that person for you. There's not enough of that and when I look back at where I came from and how far I have come, it's thanks to other people giving me the tools to get here.