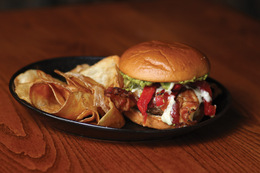 Big-Time Burgers
Our picks for 20 dynamite hamburgers that always hit the spot.
There's just something about a good hamburger that elicits feelings of euphoria. Sure, they may not be the healthiest option for our diets, but how can one resist the temptation to sink their teeth into a juicy burger and be overcome with the onslaught of flavors from the various ingredients lovingly slid between two buns? And from the classic cheeseburger to more modern twists on the American staple, there's no shortage of quality burgers to be devoured around South Jersey. Here we present 20 of our favorites, delectable offerings that prove that a burger can be delicious in many forms when it's done right.
BOURSIN AND SHROOM at The Bistro in Haddonfield
This succulent burger is enhanced with the additions of a creamy, savory herbed Boursin cheese and earthy mushrooms that have been sautéed with white truffle oil, providing wonderful aromatics as you lean in to take each delicious bite.
BLACK AND BLUE at Braddock's in Medford
This beef patty is blackened to perfection for a bit of an extra kick and then cooled off with crumbles of Maytag blue cheese, topped with bacon and placed in between a brioche bun outfitted with a spread of garlic aioli.
PICKLE BACK at BurgerTime in Audubon
Burger aficionados have been rushing to give this place rave reviews for its mouthwatering options. We love this playful number where the beef is wonderfully complemented by the saltiness of bacon and fried pickles, not to mention fried onions and a dousing of barbecue sauce.
POUR HOUSE DELUXE at The PourHouse in Westmont
Every burger at this gastropub is worthy of attention, but we're partial to its namesake made with a brisket and short rib blend, resulting in a tender, juicy burger that melts in your mouth. Covered in American cheese and bacon marmalade, it's easy to see why this eponymous burger takes the crown.
LEFT COAST at Iron Hill in Maple Shade and Voorhees
Good beer and good burgers? Sign us up. This tantalizing turkey burger is served on a potato roll with an array of toppings including Monterey jack cheese, bacon, guacamole, an IPA-Sriracha ranch sauce and leafy, peppery arugula for good measure.
ASTORIA at Farm and Fisherman Tavern in Cherry Hill
This well-seasoned lamb burger comes with soft feta cheese, grilled onion, sliced cucumbers and a tahini ketchup. It's certainly a break from the norm, but chances are after you've tasted it, this one just may become your go-to order.
HANGOVER at The Madison Pub in Riverside
Some folks firmly believe the hair of the dog is the cure for what ails you after a night of poor decisions. We'll opt for sinking our teeth into this expertly constructed burger that doubles as breakfast with pork roll, a fried egg, cheddar cheese and hash browns.
ROMAN at Barnsboro Inn in Sewell
This restaurant may be steeped in history, but the folks in the kitchen are appeasing modern taste buds with this menu offering where the burger is nestled into fresh focaccia and rounded out with provolone cheese, marinated roasted red peppers and finishing touches of a basil mayo.
EL DIABLO at SweetWater Bar and Grill in Cinnaminson
Judging by its name, one could guess that this burger packs a little heat. But don't fret, it's a manageable layered heat delivered courtesy of roasted jalapeños, charred onion and a chili-spiced mayonnaise.
KOREAN BBQ at DaNick's Craft Burgers at FoodieHall in Cherry Hill
This e-restaurant offers a litany of dining options, but don't overlook this Asian-inspired gem. An extremely flavorful bulgogi glaze envelops the beef before it's cloaked with short rib, kimchi and a fiery gochujang mayo.
MACK DADDY at B-UNOS in Burlington and Mount Holly
This popular double-patty burger turns the Big Mac into an elevated nosh with fresh and homemade ingredients. With its shredded lettuce, fried onions, pickles and proprietary secret sauce generously slathered on a seeded bun, you'll wonder how you can ever settle for fast-food burgers again.
MAKE YOUR OWN at Burger Barr in Washington Township
Satisfy any craving with the variety of premium ingredients you'll find here. Brisket blend or Kobe Wagyu patty? Pretzel bun or Texas toast? Smoked gouda or habanero cheddar—or both? With oodles of add-ons and nine different sauces to choose from, the possibilities are as infinite as they are delicious.
INFERNO at The Pop Shop in Collingswood
The Inferno gets its spicy kick from pepper jack cheese and roasted jalapeños, plus sides of salsa verde and chipotle mayo, with caramelized onions and the brioche bun balancing out each mouthful of flavor.
HARVEST at Crust N Fire in Mmultiple locations
We secretly love it when sides are reimagined as toppings, and this burger that adds a handful of tasty sweet potato fries to its layers of fresh avocado, honey ranch and pepper jack cheese is no exception.
AZTEC at Chuck Lager Tavern in Barrington
The celebrity chef-perfected menu here is packed with appetizing options, but it's the Aztec burger we find ourselves ordering again and again, thanks to its inspired, irresistible and complex combination of Cotija cheese, guacamole, maple bacon, roasted peppers and lime aioli.
SCOTTSDALE at Village Pub in Washington Township
Loaded with roasted poblano peppers, Monterey jack cheese, queso fresco, chili pepper almond sauce and smoky poblano aioli tucked inside a sturdy brioche bun, this burger proves that gastropub fare is at its best when every flavor thoughtfully, expertly complements one another.
COWBOY at Pic-a-Lilli Inn in Shamong
Start with a juicy patty, pile on the toppings of bacon, cheddar cheese, barbecue sauce and an onion ring that all make for a perfect mix of sweet and salty, and you've got a burger that hits the spot every time.
DURANGO at Firebirds Wood-Fired Grill in Moorestown
It's no surprise this upscale but unfussy menu includes a burger that's a masterful mix of bold yet balanced flavors, and the chile-spiced Durango burger is sure to please with generous helpings of pepper jack cheese, fried onions and a roasted garlic-ranch dressing that ties it all together.
GARLIC TRUFFLE at Chickie's and Pete's in multiple locations
There's an explosion of flavors to savor in this deeply satisfying burger. With its array of gourmet accoutrements like melty gruyere, garlic truffle mushrooms and a healthy drizzle of truffle aioli, you'd be tempted to eat this one with your pinkies extended if it weren't a veritably two-handed undertaking.
DEAD MAN WALKING at Kaminski's in Cherry Hill
Don't let the ominous name dissuade you from diving into this deliciously indulgent dish, where a burger is placed between two grilled cheese sandwiches and topped with applewood smoked bacon, jalapeños, lettuce, tomato and peppercorn ranch sauce.