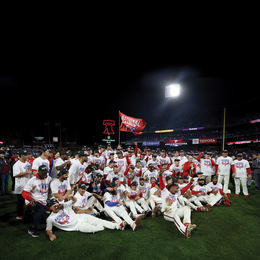 A Magical Run
Reliving the Phillies unforgettable trip to the World Series with the folks who were closest to the action.
Click HERE to view South Jersey locals at the Phillies post season games!
The Philadelphia Phillies appearance in the World Series this year was as unexpected as it was improbable. And while the team may have ultimately fell short of capturing another championship, fans all across the area have surely been left with memories that will last a lifetime.
Now, as we look to move past the difficult defeat and celebrate the success of the season, we wanted to find out what the exciting journey was like for the broadcasters and analysts who have followed the team from spring training to the Fall Classic. And so, we spoke with radio voices Scott Franzke, Larry Andersen and Gregg Murphy as well as TV play-by-play man Tom McCarthy. In addition, we got the thoughts of legendary public address announcer Dan Baker along with the likes of NBC Sports Philadelphia's John Clark, Michael Barkann and Ruben Amaro Jr.
In hearing their perspective on things, it's evident that they were just as pleasantly surprised as the rest of us. It's also clear that they think this wild ride is just the beginning of something special and that the Phillies could be poised for even more postseason success heading into 2023 and beyond.
As someone who spends a lot of time around this team, what was this World Series like for you personally?
"For me, it was one of the best times of my career. The 2007 to 2011 teams were awesome to watch and to be around, but this was all so unexpected and so loaded with big moments. I think getting to experience it with LA again and seeing all of this unfold before my kids' eyes for the first time made it extra special for me." – Scott Franzke, Phillies radio play-by-play announcer
"It has been amazing on so many levels. Partly because it was so unexpected but it has been exhilarating watching how the city and the region has gotten behind the team again. When we were on our run from '07-'11, I never took it for granted but I appreciate the chances to play meaningful games even more." – Tom McCarthy, Phillies television play-by-play announcer
"It was magical. The way it brought the city together, it kind of re-established Philly as a baseball town. The support that the Phillies received; it was over the top. The fans were loud and I don't know if there's any other home baseball park that is more supportive." – Dan Baker, Phillies public address announcer
"I think the best part about the run here in 2022 has been that it was somewhat unexpected. I believe this team would make the postseason from the beginning, but a whole lot has to happen to get two games from a world championship. I'm not sure any of us could've really predicted that. And I think that's what made it so much fun to be a part of." – Gregg Murphy, Phillies radio host
"This past Phillies run helped remind me of how impassioned our Phans are about the beloved Phillies. And that we should never take for granted how special it is to play in the World Series." – Ruben Amaro Jr., Phillies broadcaster and TV analyst, and former general manager
"This Phillies World Series run was one of the most improbable in my lifetime. I can only compare it to the Flyers Stanley Cup final run of 2010. The Phillies were the 12th and final team to get into the playoffs. The Flyers didn't get into the playoffs that year until the final weekend or the final day. The Phillies just flipped a switch in the playoffs and immediately started coming up with big hits, comeback wins and the clubhouse just grew so close together. It was amazing how once they clinched a playoff spot, the pressure was gone and they just went out and had fun playing baseball." – John Clark, NBC Sports Philadelphia reporter
"It's been amazing—exhilarating! When you consider they were eight games below .500 heading into June and that they barely made the playoffs and that there wasn't a third wild card team last season and that they came within two games of a world championship … it was awesome!" – Michael Barkann, NBC Sports Philadelphia pregame/postgame host
The team set the city on fire. Anytime there's a chance for a championship, that's going to bring the fans out. I remember having a conversation with Jim Buck, one of our owners, before we flew down to St. Louis. I said, 'I really hope they can take this St. Louis series because I would love for the players to experience playoff baseball in Philadelphia and see what it's really like. And I think to a man, they were almost in disbelief that it was actually that great with that much energy in the ballpark." – Larry Andersen, Phillies radio color commentator
The team obviously took on a new life during its postseason run, so what was it like to witness not only the team come together, but the fan base as well?
"I've always felt this, because the fans have been so good for me, I want the team to win for the fans. These fans have experienced enough of the agony of defeat; it's been a struggle in all the sports in this town. They put up with all the agony and they are still there supporting this team; it's time they deserve the thrill of victory and that's always been my hope.
"If you look at this city, so much of their week is based on what their sports teams do. And not to degrade other cities, but it's not like that. That's why it's so important for me to let the fans experience or hope they can experience that. And my emotions come out because I am such a fan. I'm a fan of the game, a fan of the team and a fan of our fans. It's all about them and getting a win for them, for me." – Larry Andersen
"I think the month of 'mutual admiration' from fan to player and player back to the fans, is part of what made this so unique. The city was clearly so starved for this, and they made that readily apparent from the very first pitch of that Game 3 versus Atlanta. And you could tell that deep down it really meant something to the players and coaches. I still believe there's nothing in sports quite like the drawn out pace of a pennant chase to bring so many people from so many corners of our communities together." – Scott Franzke
"It was amazing to see the way the fans started believing in the team after not really having the belief that the team could do anything in the playoffs. The NLDS games against the Braves at Citizens Bank Park, the first playoff games in Philly in 11 years, were the loudest games I heard throughout the playoffs. It was really cool to see Philadelphia fall in love with baseball again and I heard from many fathers who said their kids became Philies fans and fans of baseball from the run." – John Clark
"I have always believed that chemistry means a lot when it comes to successful teams. It was clear that this group of players truly became a family and it was tremendously powerful part of this club. And watching the bond that was created between the team and the fans elevated the energy of the city." – Ruben Amaro Jr.
What stands out as your favorite moment from this wild run?
"Two moments. The comeback in St Louis in Game 1 of the postseason and the [Bryce] Harper homer in the final game of the NLCS." – Tom McCarthy
"Bryce Harper's come from behind home run in the eighth inning to clinch the NLCS and a trip to the World Series was the most memorable moment to me. Citizens Bank Park went absolutely wild. … Bryce came through as one of the most clutch players in Philadelphia sports history." – John Clark
"Bryce Harper home run, bottom first inning, game 3 [of the World Series] with [Kyle] Schwarber on first base. I had walked down to section 131, row 15 to check on my family and I thought, 'What the heck, I'll roll [video on my phone] just in case.' When he homered there was so much joy and energy and passion running through everyone in that ballpark. I was out in the aisle hugging strangers! But the best part for me was looking down the row a few seats and seeing my family in absolute heaven. I will never ever forget that night." – Michael Barkann
"There were so many things that so many players did, but there was nothing that touches Harper's home run. That was the ticket to the World Series. There are not words [to describe the moment]. Everybody was just so thrilled. That moment there was the highlight of all the playoffs. People talk about it, like [it was a scene out of a movie]. My first thought was they already made a movie about that, it was The Natural." – Larry Andersen
"Of all the great moments that took place, Bryce Harper's homerun was the premier event. The field conditions were damp and slippery and it looked like fate had intervened against us and we were going to have to go back to San Diego to claim the National League pennant. But my goodness, Bryce Harper delivered and the Phillies came from behind and it was just wonderful." – Dan Baker
"There were so many 'moments' that I think we will look back on and say that was the best moment. Bryce's home run, Segura's clutch hits, Castellanos' sliding catches, etc. But for me personally, it was just getting an opportunity to be part of the organization as it went through each city and celebrated. To be in the clubhouse and watching the celebration firsthand, interviewing the players, getting soaked with champagne, those will be the moments that I'll remember." – Gregg Murphy
Do you think this year's performance has heightened expectations for what's to come over the next few years?
"I felt like this team was going to have larger expectations in 2023, no matter the outcome of this postseason. But I think it will be tough to dissolve the taste of the postseason. So I think the expectations will be loftier when the spring rolls around because we want to keep this feeling for a long time." – Tom McCarthy
"I think it's fair to say that expectations will be heightened in 2023. Certainly when you have the success that the team had this year it's only natural to think how do we finish it off? So yes, I think the fan base will expect a lot, but I know ownership will as well. I think they'll do everything they can and helps in making another magical run in 2023." – Gregg Murphy
"I'm not saying they are going to win the World Series next year, or even be there, but the hope is there. And the players realizing how close they were to winning; the last team to get into the playoffs and the last team standing in the National League speaks volumes for going forward." – Larry Andersen
"I believe that our area is going to see a sustainable run of postseason play by the Phillies, not unlike what took place from 2007-2011. I think that potential exists and I think when you see the moves that Phillies ownership will make to supplement the tremendous nucleus that we have, we are going to be a better team in 2023." – Dan Bake