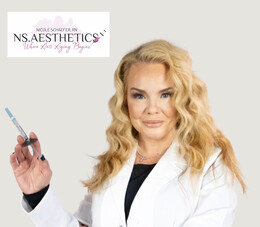 Medical Makeovers 
For many, looking in the mirror means zeroing in on their subjective flaws and dreaming of ways to make them disappear. At NS.AESTHETICS, those dreams can become a reality. 
Since 2018, Nicole Schaefer and her team at NS.AESTHETICS have provided clients with top-notch medical aesthetics and skincare. Schaefer, a registered nurse specializing in aesthetics, brings more than 28 years of experience to the natural-looking cosmetic procedures she performs.
With so much experience, passion and time dedicated to medical aesthetics, Schaefer has mastered a plethora of different procedures to ensure that each client she works with is completely satisfied with their results.
While she says that patients love the variety of services NS.AESTHETICS can provide, Schaefer specifically emphasizes the popularity of Polydioxanone (PDO) thread lifts.
PDO thread lifts come in a few variations, from skin rejuvenation to full-thread facelifting. When combined with dermal fillers and neurotoxins, PDO/PLLA/PCL threads achieve a successful youthful appearance.
"The PDO thread lifts are absolutely amazing. The results are immediate, and they're very long-lasting," Schaefer says, adding that the process of these efficient procedures continues even after clients leave her office.
"The full thread facelift uses bigger threads to actually lift the tissue … those threads integrate into the tissue at about two to three weeks. And then, over the course of about four to five months, they start to dissolve and, as that's happening, your body is producing collagen and elastin," she explains.
While results vary depending on each client and the threads used, treatment from an hour-long session can last anywhere from 18 to 24 months.
NS.AESTHETICS also offers multiple options for cosmetics injectable from lip fillers, radiofrequency skin tightening, neurotoxins, micro-needling and various forms of anti-aging prevention. Of all the procedures Schaefer performs, the 100% natural ones are undeniably what clients find the most impressive.
"I have patients that want to do anti-aging but don't want to do the neurotoxins or don't want to do the dermal fillers. So I offer PRP, which is platelet-rich plasma," she says. "I spin the blood, I take the platelets, I reinject them to help for skin rejuvenation." NS.AESTHETICS also offers amniotic PRP, which consists of "brand-new platelets" with more stem cells and more growth.
Schaefer says that Bio-fill gel, another natural option she provides, is a "wonderful alternative to filler." She heats and cools the blood platelets to form a gel, which she later reinjects into the face for added volume for six to nine months. This can be done for under-eye issues including hollowness and dark circles, and can also add cheek volume and decrease nasal labial fold areas.
The NS.AESTHETICS team knows that, when done right, medical aesthetics can be costly. However, Schaefer wants her services to be as financially accessible as possible for all clients, whether they are 18 or 80. NS.AESTHETICS utilizes Cherry, a financing company that allows clients to receive treatments while paying over time through equal monthly payments.
Through these individualized payment plans, which qualify clients for up to $10,000, there are no hard credit checks and zero percent financing options subject to approval.
"We like to give people something for every budget because aesthetics is expensive. When patients come in, we like to talk with them to see what their goals are," Schaefer says. "They have a budget, so we want to give them the best results and the best treatments at a price that is affordable to them."
It is important to remember that every process varies from person to person, and no medical aesthetics procedure or journey is the same. But, when all is said and done, Schaefer always approaches every client's treatment with one main goal in mind: Make sure that her clients love the results they receive.
And, as one of the recommended providers for the Best Aesthetics Injectors in America's National Directory with nearly three decades of experience, she knows that her dedication to helping every client realize their individual goals is a big reason why she's recognized as a trusted aesthetic professional. Schaefer is also an aesthetic trainer offering customized courses for nurses wanting to break into the field of aesthetics.
"You may need one treatment and you're happy with what you're seeing in the mirror. Or you may do two or three treatments. It all depends on what your goal is, and what your expectations are," Schaefer says. "I love to be with patients every step of the way to achieve their beauty goals together."
P.A.C.E GAIN Trainer and Clinical Educator
National Aesthetics Trainer