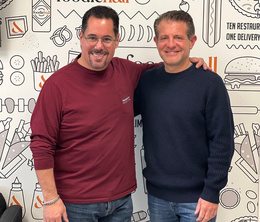 A Match Made in Culinary Heaven
Foodiehall, a takeout/delivery concept offering multiple types of cuisine under one roof, has now added the legendary Geno's Steaks to its impressive lineup.
A cheesesteak from Geno's is on the short list for best sandwiches in the country, and many a South Jersey resident has taken advantage of our proximity to Philadelphia to satisfy a craving for one, no matter what time of day. Soon enough, that hankering will be able to be met without crossing the bridge—or even leaving the house at all.
Foodiehall, a revolutionary concept in dining that has been greeted with rave reviews and plenty of happy customers since launching in Cherry Hill this past May, continues to raise the bar when it comes to takeout and delivery. In addition to the seven original eateries it operates under one roof, it will be welcoming the iconic Geno's Steaks this month, making it much easier for local residents to order from the family-run restaurant that helped establish Philly as the cheesesteak capital of the world.
"Our goal was always to bring in some brands that were not our own, that were really well-known with a great following but had not spread out yet," says Dan Goldberg, one of the founders of Foodiehall. "We needed a cheesesteak place and Geno's is our favorite cheesesteak in the area. It had never expanded outside of Philadelphia, so for us this was the perfect brand to bring in here to add to the other brands we have."
Goldberg and co-founder Nick Ballias first met three years ago at a food event benefiting the Boys and Girls Club of Atlantic City. They were discussing the emergence of delivery services like Grubhub, DoorDash and UberEats when they came up with the idea for Foodiehall, which aimed to solve the dilemma of families and friends who couldn't agree on what type of cuisine to order by bringing several different fares together.
When the pandemic made food delivery the only option for many, they decided to move forward and create Foodiehall, where customers can now order everything from pizza and traditional Italian to tacos, burgers, chicken sandwiches, Asian, and macaroni and cheese.
"The feedback has been great," Goldberg says. "Our idea was not just delivery, but that there were multiple concepts under one roof—essentially a virtual food hall, so that people could order from different concepts and get it all in one pickup or delivery order. What we're seeing is the average customer is ordering from about 2.1 concepts per order, so it's validating our idea that families, couples and friends can never agree on what to order, and this is their solution. There's no more settling for one food—you can get multiple types of cuisine on one order."
Geno Vento, the current owner of Geno's Steaks—and the son of late founder Joey Vento—grew up in Medford Lakes and had long been contemplating a South Jersey location. He is often approached about expanding, but more important to him than the potential financial benefit to such a decision was making sure it was done with the right people.
"I just go with my gut feeling," Vento says. "I've had other opportunities to expand, and some I did and some I didn't do, but when I met with Dan and Nick there was an instant connection. I thought the concept was ingenious because with my friends, we'll want three or four different things when we're ordering, and to get a cheesesteak, a pizza and a rice bowl in one place is awesome.
"Jersey was definitely in our sights and this helped speed the process up. We're really looking forward to it."
Geno's Steaks is now featured in movies and on national sporting telecasts, but Vento says when his dad first opened in 1966, the odds were stacked against him, and not many people gave him a chance at competing with Pat's Steaks across the street.
"He was getting laughed at, but my dad was the type of person who, if you told him he couldn't do something, he would do everything in his power to prove you wrong," he says. "He had a very strong personality, but he was the most giving, loving and caring person. He started with $6 in the cash register and a ninth grade education. He turned that $6 into a multi-million dollar business.
"Now you can go into any country and when you say you're from Philly, people will ask, 'Geno's or Pat's?' I'm very humbled and thankful that we're known all over the world for a sandwich."
South Jerseyans, including many of Vento's childhood friends, are eager to order a Geno's cheesesteak for takeout or delivery. Goldberg's two favorites are American with mushrooms or a cheesesteak hoagie, while Vento recommends the Milano, with American, fried tomatoes and oregano, reminiscent of an old-fashioned pizza steak.
Goldberg says future expansion is in the works, including some other famous brands, as well as other Foodiehall locations elsewhere in South Jersey. He can only hope any future partnerships are as strong as the one with Geno's.
"Working with Foodiehall has been really great," Vento says. "They wanted a good product and didn't want to settle for less. Dan showed me they were taking this seriously and it looks like this is going to be a long relationship with other locations. We're looking forward to the future."
1931 Olney Ave. | Suite 200 | Cherry Hill