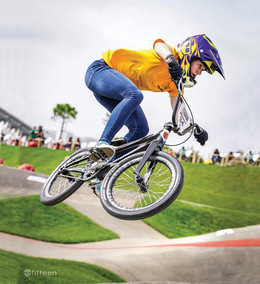 Take the Ride
As BMX pro Payton Ridenour trains for another shot at Olympic glory, she wants to be remembered for more than making magic on her bike.
Payton Ridenour grew up with the same dream most people have—"to be the best I can be" at something. Ridenour's something is BMX (bicycle motocross), a punishing sport that requires of its participants a balance of skill, strength, and focus, as well as ample stores of nerve and toughness. Her career as a professional rider has taken her across the country and around the world, including a 2021 trip to Tokyo for the Olympic Games.
Already in an elite class of athletes, she believes her best is yet to come.
Ridenour has devoted her young life to BMX. She started riding at an early age, having been introduced to the sport by her father.
"My dad used to race when he was younger, on an amateur level," says Ridenour. "He took me to the BMX track when I was five; it was always something my dad and I did together. We connect a lot [through BMX], and we still ride together."
Father and daughter even built a small track—roughly 700 feet—on their two-acre property in Pottstown, Pennsylvania. They refined the track over the course of decade, sometimes spending five or six hours a day shaping it, making it better.
"With winters in Pennsylvania the way they are, everything closes down, so having the track in my backyard allowed me to ride way longer," Ridenour says. "Not a lot of people have a track in their backyard. It helped me be a better rider and work harder."
Ridenour and her bike—she rides for Mongoose—have traveled far and wide in pursuit of her passion. Her trophy case abounds with awards from her junior and professional careers, and she has visited more countries in her 20 years than most will see in a lifetime: Australia, Belgium, Colombia, Japan, the Netherlands, Portugal and Switzerland, among others.
She was six years old when BMX became an Olympic sport. The hazy dream of one day becoming an Olympian began to clarify in 2012 while watching the U.S. Olympic Trials. She then focused on making the Olympic team in 2020, which she admits was "a little far-fetched" considering her age.
"You're not allowed to turn pro in the U.S. until you're 19, so I still had to race amateur here," she says. "I went to do two different world cups in 2019-2020, but I didn't make any finals. Then COVID hit, which was the best thing that could have happened for me in terms of making the Olympic team, because it gave me more time to prepare. I had a lot of downtime, so I did so much training."
When BMX events resumed after the pandemic pause, Ridenour ascended the ranks, though the window of opportunity to earn a spot on Team USA was closing rapidly. She earned her spot in May 2021 at an event in Bogota, Colombia.
"After I qualified, I only had two months until I had to leave for Tokyo, and I trained with my coach up until then to prepare for the Games," she says. "It was a really cool experience. My favorite part was seeing the Olympic Village and just being able to say you were in the Olympics. I hope to go back in 2024. That's my next big goal."
It also explains her current residence. Pottstown will always be Ridenour's hometown, but she and her family recently relocated to Tulsa, Oklahoma, home of the USA BMX complex, which includes Hardesty National BMX Stadium. "Everything I need is here," she says. "I'm going to make the most of it and use this opportunity to take it as far as I can."
She spends hours each day in training, both on and off the track. Just about the only time she spends away from her bike is when she's sleeping.
"Everything I do revolves around my bike," she adds. "Even when I'm not training, I'm usually on my bike, just riding. I'm attached to my bike."
Ridenour is grateful for her parents—Karen and Keith Ridenour—and the sacrifices they have made to help her chase her dream. During a recent phone interview, she also cited several others who have shown her so much love and support: Arielle Martin-Verhaaren, her coach; her "crew from PA," Scott Mechler, Jay Bertles, and Evan Eisenhard; and Rocket, her dog, an illustrated version of whom stars on each page of the children's book Ridenour wrote, A to Z: BMX Style.
"I really just want to be someone people can look up to and be a good role model for other people," she says. "I want to get results, and I also want to be a pro that's approachable if anyone asks a question or wants an autograph. Outside of racing, I try to be a charismatic person and like to help people out at the track. I just want to be a good person, a nice person."