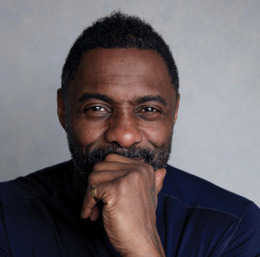 Larger Than Life
Actor Idris Elba continues to command the screen with his two latest roles, which show his commitment to taking on unique characters and building a film career that is anything but ordinary.
Idris Elba has a powerful and visceral screen presence. This is most likely one of the many reasons that Elba is an A-list Hollywood actor who climbed from poverty in an East London canning town.
He was named People's Sexiest Man Alive in 2018, a title that he called "a nice surprise and an ego boost." But his brilliant career, and easy-going attitude, show that he has not let this sex symbol moniker go to his head.
In addition to this accolade, Elba had the honor of being appointed Officer of the Order of the British Empire (OBE) by Queen Elizabeth II in the 2016 New Year's Honors for his services to drama.
He earned a place in the National Youth Music Theatre, thanks to a $1,600 Prince's Trust grant. Early in his career, in order to support himself between acting roles, he worked in jobs such as tire-fitting, cold-call advertising sales, and working night shifts at Ford Dagenham.
Elba worked in nightclubs under the nickname "DJ Big Driis" at age 19, but soon began auditioning for television roles in his early 20s. After several decades in the film business, he has starred in more than 50 movies.
This busy man can be seen in blockbusters and art house films, as well as releasing two albums, founding a production house and launching a clothing label.
He made his directing debut in 2018 with the feature Yardie, about the subculture of London's Jamaican underworld. He has said he could relate to the Black immigrant experience in the novel that the film was based on.
His early acting roles were on the soap opera Family Affair in 1997, the TV serial Ultraviolet in 1998 and the medical drama Dangerfield in 1995.
In his latest films, Beast and Three Thousand Years of Longing, Elba takes great material and elevates it to new heights.
The clearly ambitious man has done the same with movies like Fast & Furious Presents: Hobbs & Shaw, American Gangster, Prometheus, The Thor franchise, The Suicide Squad, Beasts of No Nation and Star Trek Beyond, as well as TV credits in Luther and The Wire. In The Wire, he played drug dealer Russell "Stringer" Bell, and parlayed that success into a flourishing film career.
He also enjoys making animated films. He voiced Chief Bogo in Zootopia, Shere Khan in The Jungle Book and Fluke in Finding Dory.
Discussions about Elba playing the next James Bond have been swirling around the Hollywood grapevine for years, and while it is more than likely that he would make a dapper 007, it would require a long-term commitment that may be unlikely for the performer who has garnered a versatile acting career.
In the thriller Beast, the award-winning British actor faces off with a lion. In the film directed by Baltasar Kormákur, Elba portrays Dr. Nate Daniels, a recent widower, who returns with his daughters to a South African game reserve, where he first met his wife.
What was supposed to be a healing journey turns into a harrowing tale—a safari nightmare—when a majestic lion, a survivor of blood-thirsty poachers, sees all humans as enemies and begins stalking him and his family.
In Three Thousand Years of Longing, an eccentric dark fantasy "cautionary tale" focuses on a scholar, a creature of reason played by Tilda Swinton, and a genie, a creature of emotion and desire, portrayed by Elba. One is very mortal and the other can live indefinitely. So, ultimately, it's about stories—and the power of love—and what they do to us.
Directed and co-written by George Miller, the riveting film is based on a 140-page 1994 novella, The Djinn in the Nightingale's Eye, by A.S. Byatt. While Miller says the film is certainly a "fairy story," filled with metaphor and symbolism, he explains that he sees a lot of truth in it. It works, he says, because of the charisma and chemistry that we feel from and between Tilda Swinton and Elba.
What is your overall take on performing?
I never want to "phone in" a performance. Anything that I put my name on and invest time and creativity doing is worth giving it my best.
What valuable life lessons have you learned that you want to share?
My father taught me to look someone straight in the eye.
Are there any others?
Being an actor also taught me empathy. It's massively important, and that's something I guess I pride myself on being able to cultivate, which probably comes across as confidence but actually isn't. I always play the part, try to look comfortable, and appreciate the work and the fans, but honestly, I don't necessarily love all of the attention.
If you were facing off with a lion in real life, do you think you'd manage as well as your character Nate does in Beast?
I'm going to try and survive this, but I'm not sure that Nate really does great. He's a smart-thinking kind of guy. He's no fighter. He doesn't have that fighting spirit, but this grows in him in the film. I am more about, "Oh, yeah? You want some of me?" So, I think that I would've been eaten a lot earlier in the film.
Who is the actual Beast in the movie—the lion, the father defending his daughters, the poachers, or possibly all of them?
I think "beast" refers to the massive pot of ingredients of all these themes that are thrown in. Calling the lion a beast is to evoke something in the audience. But when you watch the film, it's a bit more than that. The human being becomes the beast in some instances. The poaching becomes beast-like in what it does to the natural environment of the animals.
It's also about mourning his late wife.
Absolutely. There is symbolism in the title. What mourning does when someone dies and how you deal with that in your family truly becomes like a beast, the way it attacks the family structure.
Tell me the story of Three Thousand Years of Longing.
Dr. Alithea Binnie (Swinton) is a prominent academic who is content with her life, but is a matter-of-fact kind of woman—until she encounters a Djinn (genie) who offers her three wishes in exchange for his freedom.
This presents two problems. First, she doubts that he is real, and second, wishes have gone wrong. The Djinn pleads his case by telling her fantastical stories emanating from his elaborate past. Eventually, the accomplished professor is beguiled and makes a wish that surprises them both.
Did you know Tilda Swinton before this movie?
I was a huge fan of Tilda for a long time before we met. This worked well because of a lot of vulnerabilities that we shared with each other. We were in a room sitting opposite each other discussing things about acting, and it's a bit like being in space and taking your first breath without a helmet. It's this reciprocal feeling and Tilda feels equally as welcoming, open and nervous.
What made Three Thousand Years of Longing irresistible to you?
Well, it's a character that I had never attempted or wanted to even try doing. It was controversial in a sense, that the genie is one thing, and Djinn is another thing altogether. And to depict Djinn is like saying, "I'm going to play the devil versus an evil spirit."
So, for me, taking on the Djinn was very, very sort of like, "Whoa OK, I'm going for that." As an actor, the challenge is to bring that to life with an entertaining spin but with a certain amount of authority. I know nothing about Djinns or genies. So, that was also, you know, quite attractive to me.
Also, I got to create an accent that before this film, I think it didn't phonetically exist. It might sound similar to things you may have heard before, but the work that we did in order to create his voice was really exciting to me.
What was different in your approach for this role as a Djinn?
That was really an interesting new road for me. I've played the supernatural and exotic before but not that point of attachment, and that was really interesting. … For me, it would be quite easy to work a kind of stereotype of a Djinn.
But that was not what you were going for here?
No, I was not. You know, Alithea is an academic of a certain age, a woman who lives by herself, you know, we can immediately see all the dangers. And to negotiate those dangers and work with them and to try and avoid them was the task that we all set ourselves to in relation to Alithea, who has shut herself down to a certain extent.
She has made her decision to live alone, to not have the desire, and to be intellectual, to be rational, above emotional. Yet, at that point in her life she felt herself change. I mean, there are all sorts of ways of that being a sort of slightly scary stereotype, and we were aware of that always. And just to try and negotiate that was really an interesting sort of daily workout for all of us.
How do you believe you pulled off this very unique movie?
It was a combination of my influence, Tilda's influence, what George and [writer] Augusta [Gore] laid down as a foundation, and the originality of this character that began to spring and grow. It became our collective influence to build the sort of framework of what became the performance.
There are quite a few messages and life lessons in this film.
I agree. What we learn from this colorful and fantastical movie is that sometimes allowing our imaginations to run wild results in an extremely memorable adventure. The film also encourages us to believe by the end of the movie that the importance of love and the danger of locking oneself away.