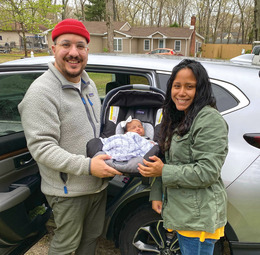 A Noticeable Impact
A look at how some area medical providers are helping patients and improving the quality of health care in South Jersey.
Looking at it in the rearview, the height of the COVID-19 pandemic taught us the importance of many things—cleanliness, health, the everyday face-to-face interactions and activities we were deprived of for months on end—the list is endless. One thing that really came into the limelight was the importance of health care workers, and it's a realization that shouldn't be forgotten just because the worst of the pandemic is now behind us.
No matter the circumstance, these professionals continue to work tirelessly to ensure that every person they come across is cared for each day. Many of these health care heroes are right here in South Jersey, and their continuous contributions to bettering the lives of local residents deserve to be celebrated.
And so we are taking a look at some of the people, providers and partnerships that are worth celebrating as they help move medicine forward in South Jersey.
Reimagining the Future of Medicine
Since Virtua Health and Rowan University announced plans to create the new Virtua Health College of Medicine & Life Sciences of Rowan University, significant progress has been made toward the shared goal of establishing a health-and-education powerhouse that will impact the practice of medicine and promote good health for all.
Supported through an $85 million gift from Virtua Health, the second-largest endowment in Rowan's history, and $125 million dedicated by Rowan, the joint endeavor will attract and expand the university's roster of professionals and students and build research facilities on Rowan's West Campus.
"Both Virtua and Rowan have histories of reinvention, and this next chapter is sure to be incredible," says Dennis W. Pullin, FACHE, president and CEO of Virtua Health.
The new college encompasses three distinct schools: Rowan-Virtua School of Osteopathic Medicine; Rowan-Virtua School of Nursing & Health Professions; and Rowan-Virtua School of Translational Biomedical Engineering & Sciences.
The ultimate goals are to enhance patient care with a team-based approach that keeps health professionals at the leading edge of their vocation; advance South Jersey as a hub for health care, discovery, and research; and focus on person-centered, holistic care that treats people as individuals whose whole being matters more than a single diagnosis.
Family Building
RMA New Jersey provides hope to patients looking to become pregnant through the team's transparent communication, ongoing comfortability and miraculous outcomes.
Katherine Maldonado, a young mother, shared her life-changing experience of family building with help from RMA NJ. After numerous miscarriages and being left "in the dark" by other practices, Katherine and her husband Antonio felt, as Katherine would describe, "hopeless."
"I kind of felt like I was never going to get to the point of having a child," she says. This was over a year ago, before their first consultation with RMA and before meeting Dr. Emily Osman.
Katherine says that she was "in control" of her fertility process while Dr. Osman guided her through different options and made sure that she was comfortable with each decision.
"She was very empathetic and took my feelings into consideration, and the communication was really great," Katherine says. "From my nurse Tori to Dr. Osman and all the nurses there, I just felt really, really supported."
After first trying IUI (intrauterine insemination), Katherine and her care team found success through only one round of IVF (in vitro fertilization). Now, the Maldonado family is up to three members, with 7-month-old Adriana recently welcomed as the newest addition.
Filling a Void
The Rowan Integrated Special Needs Center (RISN) is the first primary care practice dedicated to serving adults with complex special needs. Dr. Wendy Aita, licensed clinical psychologist and co-director of RISN, calls the practice a "medical home" for its often overlooked patient demographic.
"We focus on adults because, typically, children with complex medical conditions or disabilities have access to really good primary care and specialty care. You know, oftentimes, they're going to tertiary centers … but then they turn 18 and they kind of fall off a cliff. All of a sudden they can't stay in their pediatric practices, they can't stay with their specialists," Aita says.
The goal for the RISN team is to "catch those individuals who are starting to fall off that cliff" by decreasing barriers and increasing access to routine medical procedures. The staff provides as much medical care as possible to avoid patients' potential fears of visiting multiple doctors and hospitals. Instead of going to specialists all over the area, patients can build familiarity and relationships with doctors at RISN and receive routine health ncare like bloodwork, vaccinations, EKGs and pap smears.
While the center is devoted to ensuring that the adult special needs community gets the utmost medical care, it also provides support to patients' caregivers, from social work services to primary care.
Transforming LIFE
LIFE, Living Independently for Elders, has allowed seniors in Cumberland County to stay at home rather than move into nursing homes since 2011, and with its recent expansion, even more seniors in South Jersey have this opportunity.
Inspira Health opened a brand new LIFE center in Williamstown to serve as a hub for comprehensive health and social services, which will be provided in participants' homes, virtually and at the center. This expansion allows the impactful program to serve senior residents of Gloucester and Salem counties.
The Inspira LIFE program is offered to senior citizens with ongoing health issues and provides a personalized health care plan to meet these specific needs, which could include different balances of home- and center-based care.
"At Inspira LIFE, our goal is aligned with our participants: to help them stay in the home they love and in their community. Our team strives to be a care partner and advocate for every participant," says Mia Dempsey-Stahl, the program's executive director. "We're excited to expand our services to all of Gloucester and Salem [counties] and provide this unique type of care for our local senior residents and their families."
The services LIFE provides to its participants include, but are not limited to: primary medical and specialty care; prescription and over-the-counter medications; social services; medical equipment and transportation services.