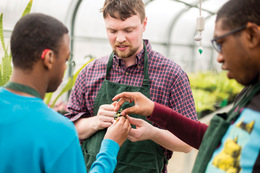 Living Their Best Life
Bancroft supports those with autism and intellectual and developmental disabilities through a variety of programs that enhance their life.
Darren Blough began his career more than 25 years ago as a direct support professional at Bancroft, an organization he returned to and now serves as senior vice president for acute adult services. His reasons for coming back to Bancroft are the same qualities he feels set it apart from others in this area.
"Bancroft is extremely mission-driven. No matter what department you work in, everyone is here for the same reason and that's for the people we serve, and you feel that every day, from whoever you talk to. It's always about those we serve and how to make their lives a little bit better," he says.
Foremost to Bancroft's mission is meeting individuals where they are, something the nonprofit organization has been doing since its inception in 1883. Its diverse programs include special education, vocational training and supported employment, community living programs, day programming, and behavioral support for individuals with autism, intellectual and developmental disabilities and those in need of neurological rehabilitation. These services can be found in Bancroft's 275-plus facilities across New Jersey, Delaware and Pennsylvania, with a dedicated staff totaling nearly 3,000, including clinical professionals, teachers, behavior analysts, case managers, health care providers, social workers, direct support professionals and more.
"We truly have a continuum of care, starting with those who have complex needs, all the way through folks who we can support in an apartment setting with drop-in services. We meet each person where they are and craft services around their specific needs," Blough says.
Blough oversees programs that serve folks with acute behavioral and medical complexities who require an intricate interdepartmental level of service, from medical support to a high level of applied behavior analytic support, some of whom require 24-hour staffing and support.
Communication is key between departments, whether operations, direct support professionals, medical teams or physicians. "These are people who develop very intricate behavior and support plans to make sure that we're helping the people we serve gain skills on a daily basis, as well as trying to help them manage the challenges that they face on a daily basis," he continues.
The people working at Bancroft do make a difference, asserts Blough. "The backbone of Bancroft is really the direct support professionals. They are here, day in and day out, working with the folks who require that high level of care," he says, adding how much they contributed during the pandemic especially. "As an organization that recognizes the employment crisis in the country, it takes a special person to come into this field and provide this level of care in a compassionate way.
"But at the end of the day, the most important member of the team is the family. They're the real experts on their loved one and who can teach us more than we could ever possibly imagine," Blough continues.
Families may first encounter Bancroft and its programs after being referred by the Division of Developmental Disabilities of New Jersey. Blough says it's important for he and other leaders at Bancroft to meet families and the individual they would be serving to see which programs would be the best fit. "We really try to have a thoughtful, deliberate process of getting to know them a little bit more and letting them get to know us, and hopefully, at the end of the day, we have a successful transition into our programs," he says.
Everyone's priorities are different, he continues. "One thing we all have in common is the highest quality of life for the person served. This could be finding meaningful day activities, volunteer opportunities, competitive employment, center-based skill acquisition to help them find employment in the future—it's developing that roadmap to hopefully someday having them out there making a meaningful wage and maximizing their independence, which can be with cooking, self-care, keeping their room clean, whatever it might be," says Blough. "And then we're also working with them to be integrated in their communities, such as going to the movies, the bowling alley, just trying to make sure they get to live life like you or I might want to."
Bancroft also believes in transparency and communication, and families have the opportunity to come visit whenever they wish. "I urge families to explore all of their options if they are seeking services. Do your due diligence, educate yourself and really research the different services because when you make a decision, you're entrusting the care of your loved one to others and the care of the most vulnerable population," he says.