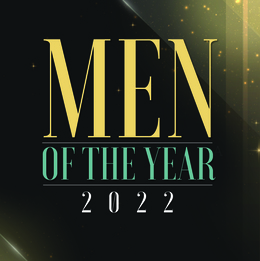 2022 Men of the Year
These 12 honorees continue to have a tremendous impact on South Jersey and beyond with their dedication to worthy causes.
Every November, as we are putting together our annual Men of the Year story, the challenge is not trying to find enough worthy recipients of the honor—the hard part is actually whittling down the list out of so many deserving local residents. All of the notable work being done in our communities never ceases to amaze us, as men in the area find ways to volunteer their time and support charitable causes that are near and dear to their hearts. Whether it's starting a nonprofit geared toward pediatric cancer, assisting with injured wildlife, helping to feed the hungry, promoting diversity and inclusion, or bringing other important issues to the forefront, this year's honorees are making a significant difference in the lives of many while remaining humble.
Man of the Year: Dr. Richard Stefanacci
When their son Richard was diagnosed with a rare form of bone cancer, Ewing's sarcoma, at the age of 13 back in 2006, Stefanacci and his wife Beth were obviously focused on getting the best care possible for him. The fact that they were also looking to help kids and families facing the same ordeal speaks to their selfless attitude and compassion for others.
Within weeks, they established Go4theGoal, a foundation that provides financial support for children battling cancer, grants wishes, develops and implements unique hospital programs and funds innovative research. Although Richard eventually lost his fight with cancer just shy of his 15th birthday, the mission continues to this day and was strengthened when his cousin, Blake, also was diagnosed with a rare form of pediatric cancer in 2010. She bravely fought the disease and is now a senior at the University of Delaware.
"I'm at the other end of the spectrum as a geriatrician, so I never really appreciated the pediatric cancer side," says Stefanacci, a Merchantville resident. "Being at CHOP (Children's Hospital of Philadelphia) on a regular basis and seeing how other families were going through things, and being blessed with the resources we had, we thought there was an opportunity to help others. It started at CHOP and St. Christopher's and now it's at hospitals throughout the country.
"The other thing that I think is unique is that a lot of people start up foundations right at the beginning or when somebody passes, and they'll last for a year or two. Most family foundations don't have much in the way of longevity, so I'm pretty excited about the fact that we've been able to go past a decade in keeping the program alive."
In his professional life as a geriatrician, Stefanacci treats older adults with Alzheimer's and was recently named chief medical officer of TauRx Pharmaceuticals, which is poised to offer significant advancements for those with mild to moderate forms of the disease. Stefanacci has always been passionate about his work but especially since losing his father to dementia earlier this year.
He is also dedicated to Go4theGoal, and is proud that the foundation consistently enlists assistance from the community and schools through initiatives like Lace Up 4 Pediatric Cancer, which allows athletic teams from the youth to professional levels to contribute to the mission. Stefanacci is grateful for Beth's work as executive director and the involvement of their other children, Christopher, Morgan and Nicolas, along with extended family members and friends.
Finally, he makes it a point to remember the person who Richard was and not just the disease he fought. His son was an active participant in extreme sports and loved school so much that he enrolled in high school a year early at Camden Catholic after being diagnosed with Ewing's sarcoma.
"He went there and was kind of the life of the party, even though he had to miss a bunch of days for chemo, surgery and radiation," Stefanacci says. "He was always everybody's best friend. He liked to do inline skating on the streets in Philadelphia and in Love Park … and he was also into snowboarding. He was definitely my ski buddy. The others I have to force out to the slopes, but he would be with me for first tracks and last tracks."
Mario Partee
Partee describes the holiday season as the "Super Bowl" for food pantries, but the truth is that hunger insecurity is an issue throughout the year in South Jersey, especially in the wake of inflation and rising grocery prices. He always considered it more of an inner city problem until working for the Food Bank of South Jersey from 2008-2010 and realizing that there were people in need in his hometown of Winslow Township and plenty of other local communities. So he and his mother, Dianne, started The Community Care Food and Clothing Pantry in 2011, a nonprofit that serves anyone in need of food and clothing, with no minimum income requirements. Utilizing space in a building adjacent to their church, the organization follows a client choice model, allowing visitors to shop and select the items they need, and focuses on healthy items, particularly during Produce Tuesdays, when they offer fresh fruit and vegetables. "Food pantries have changed and are offering a variety of foods and healthy options, and we wanted to be the leader of that in our area," Partee says. Partee's mother passed away in 2017, and at that time he considered shutting down operations. But he decided to press on to continue helping as many people as possible—especially seniors, who often have to choose between paying for medication or food and other household items. "The volunteers keep showing up month after month and they pushed me along," he says. "They helped me fight through the grief I was experiencing and they're just wonderful. I have about a hundred volunteers who work in all kinds of programs, whether it's Produce Tuesdays, mobile delivery or working with our seniors. They're a great group of people and they're of all ages."
Richard Stagliano
For more than 45 years, Stagliano has dedicated himself to the human services field, and he is currently the CEO at Center for Family Services, a nonprofit that has grown tremendously under his leadership and provides innovative programs in the areas of mental health, substance abuse recovery, early childhood education, workforce development and more throughout the state. A licensed clinical social worker and marriage and family counselor, he considers his life's work to be a true calling and more than just a job. Stagliano is a frequent guest speaker, a faculty member at the Rutgers University School of Social Work, and an advocate for increased resources, system improvements and attention for all of those with psychological and social problems. He is proud of the advancements that have been made in his field, including men being engaged and more receptive to help. "Despite the increase in challenges, like the opioid crisis or COVID, I am so amazed at the progress we've made in reducing the stigma related to mental health services, to substance abuse treatment, and even racial relations," he says. "There has been racial tension, but I think we are chipping away at accepting diversity and realizing that professional help can have an impact and make a difference. When I think of my career over 40-plus years, I've seen a lot of progress and I think we're going to see more in the next 40 or 50 years."
Richard Jones
Jones has always considered himself an animal lover, but more of the domestic kind, like the dogs and cats his family had as pets. He never had any experience whatsoever with wildlife until he and his wife Pam decided to volunteer at Woodford Cedar Run Wildlife Refuge as a way to give back to the community in retirement. "I thought maybe I could wash dishes and clean floors behind the scenes," he says, "and then on day one I went into the hospital and met Lori [Swanson], the director, and she said, 'Welcome. Here's a squirrel.'" In the 10 years since, Jones has worked with a wide range of animals, from baby foxes to great horned owls and red-tailed hawks, animals that were perhaps abandoned or hit by a car or even stuck in a soccer net at a local park. He has learned how to properly hold and feed them, and has even become a trainer to prepare different birds to be around people for educational presentations. A longtime Medford resident who also volunteers at a horse farm with his wife, Jones received the New Jersey State Governor's Jefferson Award in 2021 for his contributions to animal welfare, and shows no signs of slowing down. "We're very committed to Cedar Run and they keep us young," he says. "It's such a rewarding feeling: You're helping animals, you're helping people learn about animals and the importance of wildlife in our area. I enjoy it so much—my wife and I both do."
Michael Nash
Nash will not graduate from Rowan University until this spring, but he has already accomplished more through his philanthropy than most people twice his age. Being active in that regard was a lesson he learned as a boy from his parents and other family members, including his grandfather, a pastor. "I just always wanted to be a beacon for change and be a voice for people who didn't have the courage or the resources to speak up," he says. A native of Mount Laurel, Nash has blossomed during his time at Rowan, where he is a senior political science major. He is the founder and undergraduate coordinator of The Men of Color Alliance (MOCA), which aims to increase the retention of minority male students at the university and has allowed him to create important dialogue with the administration. He is also the vice president of the Black Student Union and the treasurer of the NAACP Rowan Collegiate Chapter, and has been involved in charitable efforts through those organizations, such as a back to school drive earlier this year. Nash also served as an intern and later a legislative aide to state Sen. Troy Singleton, where he learned the value of community outreach and developed leadership skills. Nash, who is contemplating law school or graduate school after graduation, can possibly see himself running for office someday, but his ultimate goal is to continue making a difference. "I just try to focus on taking it day by day, always being an advocate for the people around me and trying to be that person who can bring others into spaces they weren't able to get into before," he says. "Hopefully that change can come, and I believe that it will come."
Cesar Garcia
Garcia's passion for baseball traces back to his homeland of Nicaragua, and the sport remained a big part of his life when he came to the U.S. with his family and settled in Camden. After competing in high school and college, he was able to stay involved as a coach and trainer, and today he works with players from the youth level to college and even minor- and major-leaguers at Indoorance Sports Academy in Berlin. Having formed important relationships and built a career through baseball, he decided to pay it forward to the younger generation, starting in his native country. Every year, he runs a goodwill mission to Nicaragua, where he holds a free baseball clinic, feeds the players and their families, and donates new and used baseball equipment, which has even enabled his hometown to start its first youth baseball league. The entire trip is funded by Garcia and his siblings, but seeing the joy on the kids' faces is worth it, especially since he knows what it's like to grow up using a broom stick as a baseball bat. "The fact that I can give these kids a glove and a ball so they can have a catch, I'd be crazy not to do it," he says. "I'm not a millionaire or anything, but I'm able to do it and therefore I'm going to continue to do it. Hopefully we can grow it in the future, get some funding, invite more kids and help the girls too by adding softball." Garcia, who also works in community outreach at Cooper University Health Care, is holding an event in December in Camden to spark interest in baseball, and he is in the process of starting a nonprofit called Sports GIFT (globally inspiring futures together).
William Gruccio
Gruccio participates in so many different charitable causes and civic organizations that he sometimes loses track himself, but he wouldn't want it any other way, and whenever he commits to one, he does so completely and with his full heart. A native of Vineland, he returned to Cumberland County after graduating from Rider University with a mission to start his career and give back to the community where he was raised. He is the founder and president of Renati Solutions, a public relations firm that works with private companies across the country in a wide range of industries, and is also the co-founder of All Key Solutions, a payment processing company. But he is even more excited about his efforts outside of work, as a supporter of Big Brothers Big Sisters and the Boys & Girls Clubs of America. He is a board member of the Inspira Health Network Foundation, the fundraising arm of the hospital, and a trustee of the Italian Cultural Foundation of South Jersey. He is also on the board of the First Harvest Federal Credit Union, the CEO Group and the Southern New Jersey Development Council, and is a member of the Chamber of Commerce of Southern New Jersey and Tri-County Rotary, among others. "It's just as important, if not more important, than my work," Gruccio says of his volunteerism. "My mom was a very active community leader and she's a role model of mine. I hope I can achieve half of what she's done."
Damien Ghee
Community service was ingrained in Ghee at a young age, since his father was a police officer and his mother worked in the court system and both became pastors actively involved in a number of causes. He and his wife Suzanne are now doing the same for their three children, as they set the example of giving back in various ways and even get the kids involved when possible, like a recent turkey drive the entire family participated in leading up to Thanksgiving. Ghee serves as chair on the executive board of directors for the People's Emergency Center in Philadelphia, which provides support for families experiencing homelessness, and as vice chair of the Virtua Health Foundation, which provides services such as a mobile grocery store for low-income residents of Camden. Ghee, who grew up in Camden and Sicklerville, also plays an important role at TD Bank, where he is the regional vice president of the Greater Philadelphia Lending Group. A lifelong advocate for diversity, equity and inclusion, he is the executive lead for the Black Employee Network within the bank, and has been part of recent efforts to increase access to capital for Black- and minority-owned businesses and to educate the Black community about services available to them. "To me, it's about being proactive in the community, understanding what the needs are and not just waiting for something to happen," he says of his efforts both through his job and away from work. "Being an advocate for that, helping to raise money and having that connectivity to the community where we all came from is important."
Harry Platt
This past April, Platt had what he calls one of the most memorable experiences of his life when he traveled to Warsaw, Poland, and even into Ukraine itself to help deliver critical supplies to refugees from the war-torn country. He was amazed by the spirit of the people, who refused to leave their homeland. "They were coming out to get supplies and going right back in, back into a war zone," he says. "They easily could have come out and stayed out, but their ties to their community, their belief in their independence and who they wanted to be really overshadowed that and they put themselves in harm's way to defend their country." Platt is no stranger to giving back, though usually he concentrates his efforts much closer to home. He first got involved with the Jewish Federation of Southern New Jersey as a founding board member of the Young Leadership Council and later served as president of the organization. He chaired the 1721 Building Committee, which developed Weinberg Commons in Cherry Hill, a facility that houses seniors and independent adults with special needs, with a similar project now underway in Newfield. Platt is also helping to create a security force for faith-based organizations in the area in response to increased hate crimes. A Voorhees resident, he is the former mayor of the town, and he is the manager and vice president of Platt Memorial Chapels, where his father Bernie is still active. Platt and his wife, Hilary, are the parents to Jaclyn and Jacob and are members of the Katz JCC and Congregation Beth El.
Tim Jennings
Inspired by his parents, who he calls the hardest-working people he's ever known, Jennings has always been a go-getter, whether starting his own company, supporting countless causes in South Jersey, or discovering his latest passion, an interview program he created and hosts on Instagram. In 1998, he founded Telecorp Inc., a full-service IT management company currently being rebranded as Telecorp Technologies, and its success has allowed the Woodbury resident to dedicate time to his community and numerous nonprofits. He has volunteered on the board for the Woodbury Athletic Association, helped raise money for various sports programs and coached multiple teams in soccer, basketball and softball, and is a board member and volunteer for Harbaugh Village/George's House in Mullica Hill, which helps displaced families by giving them tools and resources to get back on their feet. Other organizations he is proud to support are Project Refit, The Ike Foundation, Gloucester County Habitat for Humanity and Family Promise, and he was recently honored with the Heritage Award from St. John of God Community Services for his altruism. In 2020, he started Walkin' and Talkin' with Tim, in which he conducts fun, informal interviews with local leaders and influential people in South Jersey to provide unique insight into the guests and serve as motivation for younger professionals. "Having the ability to give back or help anyone is truly a gift," he says. "I'm truly grateful to be able to work with so many amazing charitable organizations. I feel it's all of our responsibility to help whoever we can, whenever and wherever we can. We rise together."
Darren Blough
Bancroft has long been a leader in South Jersey in providing a continuum of care for children and adults with severe autism and intellectual and developmental disabilities, and that's because of the special people who make up its staff, like Blough. He started his influential career in the field more than 25 years ago as a direct support professional at Bancroft, and later ascended to leadership roles at behavioral health care providers throughout the region. He eventually made his way back to where it all started and now serves as senior vice president and leader of Bancroft's acute adult services program. Outside of work, he has taken on important positions at a number of organizations, including the New Jersey Association of Community Providers, where he is a past board president and currently chairs the legislative and policy committee. Blough is vice chair of the Nonprofit Development Center of South Jersey and a board member of the inaugural New Jersey State Board of Applied Behavior Analysts Examiners. He takes pride in mentoring future generations of social workers through his supervision of field students from his alma mater, Rutgers University, along with Widener and Fordham.
Fred Wasiak
During a typical conversation with Wasiak, it is common for him to repeat more than once that "nobody in New Jersey should go to bed hungry," and it is clear that he believes in that message wholeheartedly. Since being named president and CEO of the Food Bank of South Jersey in 2018, he has helped lead that mission, overseeing all aspects of the largest hunger-relief organization in the region, from financial sustainability to operational efficiency, community engagement, advocacy, staff enrichment and board development. He has guided the Food Bank during challenging times, first with the pandemic and into issues with war in Europe and inflation, but has managed to steer the nonprofit in the right direction and help as many people as possible with strong leadership skills and innovative strategies. Wasiak was previously the owner of Humanics Consulting before joining the Food Bank and spent 27 years in various roles at YMCAs in New York and New Jersey. The father of three children with his wife Betsy, Wasiak has also served on the board of directors for numerous nonprofit organizations.