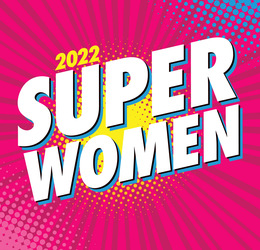 Super Women 2022
We're honored to introduce 15 women who are selflessly dedicated to their South Jersey community and neighbors.
No matter how old you are, where you come from or the resources you have access to, you can be someone else's helping hand or guiding light. This year's roster of Super Women is proof that all you need to be the change you want to see—and inspire others to follow—is having your heart in the right place and finding a cause worth fighting for.
WOMAN OF THE YEAR: Kyle Ruffin
Ruffin believes strongly in community volunteerism and has invested a great deal of time
serving on local boards and committees. She is a founding member and the current president of Impact100 South Jersey, a women's collective giving group raising money for nonprofits serving Burlington, Camden, Gloucester and Cumberland counties that has awarded more than $826,000 to 14 organizations since 2017. As a result of her work Ruffin received the 2021 Willoughby Award from Philanos, the leading National Women's Giving Circle Network.
Ruffin sits on the boards for the Community Foundation of South Jersey and African American Heritage Museum of Southern New Jersey. Her previous board participation includes Settlement Music School (Central Board and Camden Branch Advisory Board) and Hispanic Family Center of Southern New Jersey. She is a member of Samaritan's Inclusion & Diversity Committee and has served on Virtua Health System's Board Nomination Diversity Committee. Ruffin also wrote In Stroke's Shadow: My Caregiver Story, chronicling the time she spent as sole caregiver for her mother who suffered three strokes and highlighting the complexities and cultural expectations of caregiving.
Julie Beddingfield
After Beddingfield moved to New Jersey in 2006, she began using her environmental lawyer experience to serve on the Haddonfield Environmental Commission for eight years, five as chair. She chaired the group that formed Sustainable Haddonfield in 2010, overseeing the work necessary to attain silver-level certification from Sustainable Jersey and receive grants to develop sustainable projects. Beddingfield was included in Haddonfield's Women in the Community Proclamation in 2013 and named Sustainable Jersey's first Sustainability Hero in 2015. She also served as a member of the Haddonfield Civic Association's board of governors from 2012 until this year and treasurer from 2016.
In 2015, Beddingfield retired from law and opened Inkwood Books. Through her community ties, she works with numerous literacy groups to provide books, author events and reading opportunities in the community. She currently serves on the board of the Camden County Pop-up Library. The pop-up library's mission is simple: to give away free books in areas of need. Among its many efforts include stocking more than 80 "Book Arks" (large little-free libraries) in Camden.
Shani Nuckols
Nuckols co-leads the New Jersey chapter of Moms Demand Action for Gun Sense in America, a nonpartisan volunteer-driven organization fighting for public safety measures reducing gun violence.
She helped launch a South Jersey moms group in 2016 that grew to nearly 2,000 volunteers from Camden, Burlington and Gloucester counties in just under three years. She helped build longstanding partnerships with organizations like outreach program Cure4Camden, and worked with the Camden County Board of Commissioners to raise awareness around gun violence through public campaigns.
Since 2019, Nuckols has advocated for stronger gun laws and helped pass three packages of bills, which include: an Extreme Risk Protection Order to protect at-risk people from accessing firearms in their homes and harming themselves or others during times of vulnerability; background checks on all private firearm sales; funding to support hospital-based violence interruption programs; and protocols that allow the attorney general to hold gun manufacturers accountable for irresponsible sales and marketing.
Nucklos has also managed a STEM scholarship program for women at Saint Joseph's University and led an effort to build school gardens at Haddonfield's elementary schools.
Stefanie Levine Cohen
After a career in law firm marketing and strategic planning, Levine Cohen turned to a full-time focus on writing and community service in 2000. Most of her community engagement has been centered around spiritual, education and service-based organizations. She spent decades as part of lay leadership at Congregation M'kor Shalom, where she served as president from 2010-2012. She remains active as a legacy past president at the newly formed Congregation Kol Ami in Cherry Hill, where she provides mentorship to new leaders and takes on occasional projects. She also served on the Moorestown Friends School board for nine years.
Levine Cohen also volunteered as a friendly visitor and end-of-life vigil team member with Samaritan Hospice, an experience she says was emotionally and spiritually life-changing. Currently, she serves on the board of Samost Jewish Family and Children's Service (JFCS), is a charter member of Impact100 South Jersey and has served on the leadership council since its inception. She is a co-founder and board member of Meditation4Leadership, considering it a great privilege to amplify the voices of others doing great work to improve our society.
Shanta Smith
Smith proudly bears many titles but her community activist involvement through Black Lives Matter New Jersey (BLMNJ, not affiliated with the global organization) is among her most impactful. She has been an activist for most of her life and now her work, education and lived experiences have helped her become a powerful voice for the betterment of the Black and Brown communities not only in New Jersey but across America.
In addition, Smith works tirelessly with her colleagues to connect those community members to legal support and representation, and access to a variety of services and everyday needs like groceries, clothing, and children and baby supplies.
Smith has helped people access safety in immediate danger, including domestic abuse. Every month since the pandemic, with an aim to build a sense of community and family, Smith has led BLMNJ to provide fresh meals, snacks and personal items to over 100 people, an effort that's bolstered by establishing a food pantry and fostering trust among vulnerable communities. In recent months, a community closet of like-new clothing has been added to that community support.
Emily Orel
Emily Orel grew up with an intrinsic responsibility to become a good friend and an active member of the community. Once her children were enrolled at Moorestown Friends School (MFS), Orel threw herself into both volunteering for and hosting a range of events, and serving on major committees. She is currently a board trustee and chair of the development committee at Moorestown Friends School (since 2015), and Orel and her husband Howard established an endowment contributing to the cost of a student's tuition.
Since 2018, Orel has been a member of Impact100 South Jersey, a collective women's philanthropy that helps create meaningful local change. Initially serving on the Education Grant Review Committee and evaluating nonprofits' grant proposals, Orel was selected as Events Committee chair in 2018, served as vice president from 2019-2022, and worked closely with their president and incredibly engaged Leadership Council to help grow from 74 members to 200, award $826,000 in grants and design a more structured organization with an effective strategic plan.
Rebecca Rosenau
Rosenau was born to be a social worker: She joined the Samost Jewish Family and Children's Service (JFCS) more than 15 years ago as an intern and never left, working her way up to her current leadership role.
And if COVID-19 were a test of leadership, Rosenau would have passed with flying colors. She immediately rose to the challenge in the face of looming unknowns, leading the JFCS Senior Services Department with positivity and determination to quickly pivot and implement new methods of service provision.
Rosenau's vision is laser-focused: making the world a brighter, better place for older adults. Through her work ethic, supportive nature and open-door policy, she models what a leader should be. Over the years, she has bolstered her staff as JFCS ushered in new services, including Café Connection, LGBT Aging with Pride, a Low Vision Support Group, House Calls and Cooking Companions. She encourages collaboration with other organizations and expanding the JFCS footprint through speaking engagements and outreach events.
Rosenau brings the Jewish concept of tikkun olam—repairing our world—to everything she does.
Dr. June DePonte Sernak
Dr. Sernak had several careers before her current position as the Statewide Diversity Leadership Officer at The Center for Family Services. Her background and doctoral research guided her to engage agencies throughout New Jersey in creating cultural competency plans critical to workplace culture and service delivery by sharing inclusive education using culturally and linguistically approved standards, as Dr. Sernak believes education is the great equalizer and creates a pathway to proficiency in the cultural continuum. As an advocate for diversity and inclusion, she also shares her time devoted to equal rights for all women as the Alice Paul Institute's first Indigenous chair of the board, continuing the narrative of diverse women in suffrage.
Dr. Sernak has also been an avid supporter of Joint Base McGuire, Dix, Lakehurst as an Honorary Commander Emeritus and board trustee of the Burlington County Military Affairs Committee. At the core of her work is the multicultural history of her father's Native American legacy from the Powhatan Renape tribe and her mother's African-American and Sicilian ancestry, helping her appreciate the similarities and differences that shape our perspectives.
Dr. Keisha Stephenson Taylor
Dr. Taylor Is the Senior Director, Alumni & Postsecondary Engagement at NAF, a national network of leaders in education, business and their communities working together to ensure high school students are ready for college, careers and the future. Her mission is to develop connections and pathways between educators and business leaders so they support the next generation of leaders and educators.
She has spent 20 years volunteering in the community, from PTO board secretary and vice president, to trustee of the Mount Laurel Public Education Fund, currently as president. Dr. Taylor is also a board member for Learning Forward NJ, focused on effective professional learning in the classroom. She is president of her children's nonprofit, Science for Sick Dayz, which builds science kits for hospitalized children.
Dr. Taylor is chair of the Chamber of Commerce Southern New Jersey's Ambassador Committee and on the board of trustees for Perkins Center for the Arts. She also mentors young professionals as they navigate the workforce. Listening, making connections, and sharing ideas and opportunities is essential to Dr. Taylor, and how she leads and contributes to her community.
Hala Al-Shawaf Barson
Shawaf Barson co-founded technology firm VoIP Doctors Business Telecommunications to address unmet demand for cybersecurity-focused, solutions-driven, efficiency-centered telecommunications services with fair and transparent billing practices. She is a passionate believer in leveraging technology to empower organizations and their workforces.
As an avid and career-long volunteer, Shawaf Barson is active in community development. She is engaged in several non-profit boards and committees, with a focus on the arts, access to behavioral health and addiction treatment services, and diverse STEM entrepreneurship/career readiness.
She is chair of the Small Business Council and an ambassador for the Chamber of Commerce of Southern New Jersey. She earned certification for VoIP Doctors as a Women's Business Enterprise to connect with other organizations that seek leadership, learning and mutual growth in diverse entrepreneurship. She is also a Women's Business Enterprise Center EAST NextGen Committee leader and an active member of Impact100 South Jersey.
She is currently gathering support to develop an Art as Therapeutic Practice community program that can be implemented simply and effectively at low-to-no cost in behavioral health/addiction treatment centers that may or may not already have formal art therapy programs.
Kathleen Noonan
Noonan is CEO and president of the Camden Coalition. The citywide alliance of care providers, health and social services organizations, and community representatives, the coalition aims to deliver better care to individuals with complex health and social needs by developing and testing care management models and redesigning systems in partnership with consumers, community members, health systems, community-based organizations, government agencies, payers and more with the goal of achieving person-centered, equitable care.
In 2008, Noonan co-founded PolicyLab at the Children's Hospital of Philadelphia (CHOP) to connect clinical research with real-world health policy priorities. She is adjunct faculty in the pediatrics division at the Perelman School of Medicine and serves as mediator in numerous public-impact cases concerning health and human services.
Previously, Noonan was: associate director of the Center for High Impact Philanthropy at the University of Pennsylvania; clinical associate professor at the University of Wisconsin Law School, where she started and directed a government law clinic; and a senior associate and engagement manager with the consulting arm of the Annie E. Casey Foundation.
Rosy Arroyo
Arroyo, a first-generation Mexican-American, believes in building social capital and creating opportunities for youth and families to succeed.
As the Camden County Youth Services Commission Administrator and Community Engagement Reentry Coordinator, she works with the youth and families of South Jersey. Arroyo manages a commission of dedicated stakeholders to design and monitor youth programs, and has helped drive strategic plans to assist in the overwhelming reduction of youth arrests and court filings. She works closely with law enforcement and school districts to assist in the development of prevention and diversionary programs through a lens of racial equity. Currently, Arroyo is working to implement a restorative and transformative justice hub in Camden.
Arroyo is also the first Latina on the Cherry Hill board of education and a member of the Lambda Theta Alpha Latin Sorority Incorporated, recently serving as chair of its national political education initiatives focused on supporting Latina women in politics. She provides educational supports for undocumented families looking to gain citizenship, and supports the creation of opportunities for youth and families to be successful.
Jo-Ann Weiner
Weiner is founder and CEO of forensic accounting practice J. L. Weiner & Associates. She believes that as a business owner, it is her responsibility to give back to other women. Inspired by the challenges she faced in reaching her own goals, Weiner has made it her mission to help others succeed and see their own education goals come to fruition, which includes encouraging experts to openly discuss today's most challenging issues and make that conversation accessible to a wider audience.
To accomplish this, she started Women, Words, and Wisdom, a nonprofit 501(c)(3) corporation. The mission of the organization is twofold: to inform women of current issues affecting them so they can make informed and beneficial life choices; and to provide scholarships to college students in financial need that can be used toward their college education.
Women, Words, and Wisdom's mission is accomplished by holding an annual luncheon calle the Panel of Power Celebrating Women, where issues of the day are tackled by experts in the field. In addition, scholarships are awarded each year to college students in financial need.
Isabelle Berger and Anjali Soni
Cherry Hill students Isabelle Berger and Anjali Soni have made it their mission to help others. With special interests in the healthcare field, the two started their nonprofit organization, Comfort Kits for Chemo Care (CKCC), once COVID isolated the young patients at the Children's Hospital of Philadelphia (CHOP) from their usual stream of supportive visitors. The two raised money for the kits by selling homemade dog treats, which funded 50 care packages to show love and support to children undergoing chemotherapy. Motivated by their donations, Soni started working at Nothing Bundt Cake, contributing 100% of her earnings to CKCC while Berger expanded Dog Treats for Chemo Care. A year later, the pair returned to CHOP to donate 168 more kits.
Now sophomores, Berger and Soni are still hard at work raising funds while creating and distributing customized comfort kits. They both devote 100% of their income to CKCC. With the support of local businesses and their community, the two teens hope to continue growing and expanding their donations to bring comfort to the area's youngest chemotherapy patients.