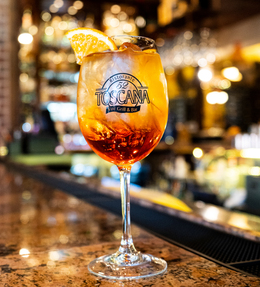 Something's Cooking
With a brand-new bar and beautiful outdoor space, an exciting dining concept and the traditional favorites customers have always loved, Toscana 52 of Cherry Hill continues to stand out from the crowd.
Mario Longo may have been born over 4,000 miles away from South Jersey, but there is no question that the native Italian has developed quite the affinity for his adopted home. As a resident of Cherry Hill for 50 years and counting, many of those spent running restaurants in the township, he has become not only a trusted source for delectable cuisine but also a valued member of the community.
His commitment to the area is evident at Toscana 52 of Cherry Hill, which has been a go-to spot for romantic date nights, family dinners and festive gatherings of all kinds since 2006. The restaurant recently underwent massive upgrades, including a slight tinkering with the name, but the one thing that hasn't changed is Longo's passion for great food and giving guests a memorable experience.
"This is my pride and joy," he says. "I still love coming to work every day. It keeps me young."
Formerly known as Toscana of Cherry Hill, the name was modified to reflect an exciting new dining concept that incorporates influences from all over the globe while maintaining the traditional Italian favorites that people have come to expect from the family-owned and -operated eatery. But that isn't the only difference, as Longo and his team also embarked on exciting additions at a time when the restaurant business in general was at its lowest.
"Originally it was a BYO, but we're very proud that we spent a significant amount of money renovating the restaurant, creating both an indoor/outdoor area with an enclosure and a new bar with approximately 20 seats," Longo says. "We're happy to have a very good regional and international wine list and we've had a lot of luck with people coming in and enjoying the bar.
"When COVID started, we decided to take the time while business was really slow to do the construction, believing that things would turn around. Fortunately, the past year has been very good and people are really enjoying our refined outdoor area."
The outside space sits in front of the entrance and features a canopy of lights, heaters for crisp autumn days and drop-down plastic paneling to protect guests from wind or rain. Of course, demand for al fresco dining grew during the pandemic, but even as COVID has slowed, many people still prefer eating outside on a nice day.
"We noticed there really aren't a lot of places in the area where people can sit outside, enjoy the breeze and have a meal," Longo says. "We liked the idea of providing that for people, and we worked with the shopping center to create a beautiful space. We have a waterfall with a pond that we keep stocked with koi, and overall it's a nice, peaceful environment."
Visitors from near and far have also appreciated the "52" concept, borrowed from the family's restaurant in Feasterville, Pennsylvania. The idea is to visit a different city or region each week and offer food and drink specials related to that part of the world.
Italy is certainly well represented, but they have also included places like Germany during Oktoberfest along with New York and Barcelona.
"We have a dedicated menu with a wine pairing and popular dishes, both appetizers and entrees, from that particular area," Longo says. "People love it and seem to order off that menu more than anything else. Sometimes you find a restaurant that you really like and you go there all the time, but you end up getting sick of the menu because you've eaten your favorite items so many times. The 52 menu gives customers a chance to experience something different."
No matter which menu patrons are ordering from, they can expect high quality, including fresh fish delivered daily, such as red stripe, oysters, wild bass, dover sole and sushi-grade tuna. Toscana is also revered for its homemade pasta like gnocchi, ravioli and tagliatelle, as well as desserts made daily by the chef.
Because of that attention to detail, Toscana has always been a popular spot for corporate holiday parties, and many businesses from Cherry Hill, Marlton and other surrounding towns are already getting on the schedule for the upcoming season. Sample banquet menus on the restaurant's website make it easy for customers to get an idea of what to expect for their event, but the offerings can also be customized to their unique needs.
Just about any type of gathering can be accommodated.
"We also constantly have requests for baby showers, rehearsal dinners, bridal showers—you name it," Longo says. "We've had plenty of huge parties and everyone is always overflowing with praise afterwards."
From local residents who have been fans of Toscana for years to those who are looking for a new favorite eatery, Longo and his family welcome everyone to their new space with open arms.
"I feel like our following is stronger than ever," he says. "More and more people are coming out, which we're so happy about, especially with the way the economy is going. We feel fortunate that people are still supporting us."
Toscana 52 of Cherry Hill
1990 Route 70 E. | Cherry Hill