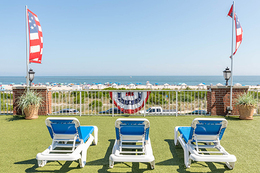 Falling for Cape May
Autumn is still a wonderful time of year to visit the Shore, and The Grand Hotel will make it a trip you won't soon forget.
As residents of South Jersey and beyond are well aware, Cape May has been a prime destination for summer vacations for decades thanks to its mix of Victorian charm, the finest dining at the Shore, wholesome family entertainment for the kids and plenty of nightlife options for the adults.
A lesser-known secret, however, is that this seaside town has all of that and more to offer in the delightful fall months. Even though Labor Day has come and gone, there remains plenty of time for either a relaxing getaway or an action-packed trip to Cape May, and The Grand Hotel is happy to welcome guests of all ages no matter what kind of adventure they are seeking.
Located steps from the beach, The Grand has a variety of luxurious accommodations—including two-story townhouse suites—with all of the creature comforts of home. The full-service hotel features a number of amenities, from a restaurant and bar to fitness room, arcade and ballrooms. Visitors do not have to leave the property to find the escape they are looking for, or they can explore area attractions such as the Washington Street Mall with top-notch shopping and dining venues. The little ones are sure to enjoy an excursion to the Cape May County Park & Zoo or Morey's Piers on the nearby Wildwood Boardwalk.
"The fall in Cape May is still very beautiful," says Kelly-Ann Kripfgans, marketing & special events coordinator at The Grand. "The weather is mild and we keep our beach service open into September. We have our pool and pool bar where you can get cocktails and lunch open through Columbus Day weekend. We also have the indoor pool with a hot tub. Families traveling in the offseason will find plenty to keep them busy."
For those scheduling a corporate event, work retreat or class reunion, The Grand has more than 17,000 square feet of unique function space with panoramic views of the ocean. Of course, the property is a huge hit for weddings, from memorable ceremonies on the beach with the bride and groom's toes in the sand to four different ballrooms of varying sizes with award-winning cuisine for the reception. A stunning outdoor sundeck is available as well and the open-air space helps promote safety during the time of COVID-19.
"We've always had the sundeck but in the past year people have really liked that option because it's out in the open and it just makes people feel more comfortable," Kripfgans says. "It's nice because with the weather being so mild through October, we can still utilize the space. In case of inclement weather we always have a backup plan and can move you inside."
Hemingway's, the hotel's on-site restaurant and bar, serves breakfast, lunch and dinner and is well-known for prime cuts of steak and locally sourced seafood along with a wide range of creative, American-style appetizers and entrees.
"It's definitely very convenient for all the guests staying at the hotel, but it's also a huge hit among the locals," Kripfgans says. "Every week on Wednesdays Hemingway's offers our famous prime rib, which is always the busiest night of the week. Hemingway's offers a large bar and televises all the sports games, including the Eagles and Phillies. Also, at Hemingway's as part of your wedding package you can choose to add on an after-party there, where you can do a Philly cheesesteak station or other fun late-night snacks for your wedding guests. That's nice because weddings normally end at 10 o'clock but you can continue to celebrate down there."
The Grand is currently running its Fabulous Fall Getaway special, with options for two-, three- or five-night packages. Depending on the length of stay, guests receive either a $50, $100 or $200 resort credit that can be redeemed anywhere from Hemingway's to the pool bar to the gift shop. There is also the Thanksgiving Ocean Holiday Celebration, available from Wednesday. Nov. 24 to Saturday, Nov. 27 that comes with lodging, breakfast and dinner, including a traditional Thanksgiving feast.
Whether it's a holiday party or just a brief fall getaway, now is the time to discover what Cape May and The Grand have to offer after the crowds have dispersed and the wonderful autumn months have arrived.
"We see the same families and couples year after year," Kripfgans says. "Some have been staying with us for over a decade, and then all of a sudden their kids or grandkids are getting married here. We would love to see new faces as well. This truly is one of the most fun times of the year."
The Grand Hotel
1045 Beach Ave., Cape May
(800) 257-8550