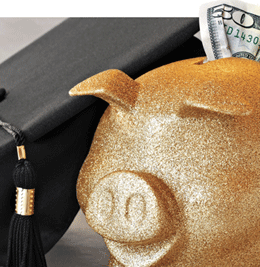 Finance 101
If you thought applying for colleges was tough, just try paying for one! Local advisers offer tips on how to save the smart way.
College tuition is expensive and only getting pricier with each passing semester. Add housing, textbooks, dining hall meals and other fees, and the expense can be downright astronomical. "A child born this year, 2011, based on the last 20 years increasing costs, will spend $521,000 for four years [at a private college]," says Stan Molotsky, president and chief executive at SHM Financial Group in Voorhees, Collingswood and Lakehurst.
Knowing how to properly save this small fortune goes a long way toward easing this burden. Fortunately, there are plenty of options for students and their parents.
Dedicated savings accounts, mutual funds and financial aid can all take a bite out of the big bill; the hard part is finding the best option for your family.
Earl Marks, senior vice president and Mount Laurel branch director of RBC Wealth Management, stresses the importance of starting early to save for college. "As soon as [the parents] begin thinking about having a child, they should be thinking about saving money," says Marks.
There are savings vehicles specifically designed for parents in this position, and each has its own advantages. "The most tax-efficient way to [save] is through what is called a 529 plan," says Molotsky. The plan allows parents or grandparents to deposit money in a minor's account. For educational purposes, the principal and interest can all be withdrawn tax-free. "[That] doesn't necessarily mean college; it could be a trade school or some other accredited institution," Molotsky notes. He adds that another unique property of these savings accounts is that, while the investment is effectively removed from the parent's or grandparent's estate, the investor still owns the account and may retrieve the money if necessary. The parent or grandparent would then be taxed accordingly.
While parents and grandparents typically are the largest contributors to college funds, students of any age may participate in the saving process, too. Molotsky says that each student's circumstance and age will determine what type of savings or investment option is most logical. A mutual fund may make sense for students who have years to save before college, while a savings account is most practical for a student a year or so away from college.
Unfortunately, some parents are not able to start saving for a college fund when their child is born. If this is the case, "they have to put away more dollars in a fewer number of years," says Marks. "Depending on your risk tolerance at that point of time, your financial adviser can direct you toward equities, mutual funds, bonds or CDs."
Financial aid can help relieve the burden of higher education, but navigating the process can pose a substantial challenge. Students "should start to look at financial aid as soon as they think they are going to go to college," says Marks. "They should be aware of financial aid and how the system works."
An important factor in a student's financial aid prospects will be the expected family contribution (EFC). A college financing adviser can work with parents to minimize the EFC through tactics such as delaying any gifts, spending down the child's assets before the parents', or stashing money in a 401(k) so that it may not be counted among eligible assets. Molotsky also notes that, in addition to federal financial aid, many colleges offer other grants, loans and work-study positions, so students should consult each school individually.
Saving for college doesn't have to take over your life. The process can be lengthy, but with the right help and knowledge, it's very feasible.
"It's a complicated process," says Molotsky. "The earlier the parent or the grandparent can start planning for this, the easier it will be down the road, especially with the accelerating cost and the very high probability of higher inflation as the years move along."
Money Matters: Your Guide to Financial Advisers
A Special Advertising Section from the pages of South Jersey Magazine
DVFG Advisors
Rick Clifford, CLU, ChFC
Rick Clifford has over 22 years of experience as a financial advisor. Areas of expertise are fee-based financial planning, wealth management, social security planning and retirement income solutions.
Mount Laurel
(856) 446-2293
Clifford.Rick@dvfgadvisors.com
Financial Advisors of Delaware Valley
Michael Einhorn
With over 20 years of experience in the financial industry, Michael Einhorn assesses each client's unique situation, identifies key obstacles and critical goals, and designs strategies for success in helping his clients grow and protect their wealth. He advises entrepreneurs, executives and professionals on reaching their most personal goals.
Marlton
(856) 985-2211
Einhorn.Michael@faodv.com
RBC Wealth Management
Earl Marks, CFP®
While saving for college sounds difficult, many families conquer college financing. However, it's retirement that is often ignored after college has been paid for. Being prudent about both saving and spending is key to a secure financial future. A variety of fixed income products are good strategies to help you start a systematic savings habit.
Mount Laurel
(856) 840-6640
Earl.Marks@rbc.com
The SHM Financial Group
Stan Molotsky
We have over 50 years of financial expertise. Located locally, the SHM Financial Group has an experienced staff of estate planners, CPAs and financial professionals focusing on retirement planning, family tax planning and estate planning. Providing financial counseling and services since 1958.
Voorhees
Collingswood
Lakehurst
(866) 665-6875
SHMFinancial.com
Published (and copyrighted) in South Jersey Magazine, Volume 7, Issue 12 (March, 2011).
For more info on South Jersey Magazine, click here.
To subscribe to South Jersey Magazine, click here.
To advertise in South Jersey Magazine, click here.