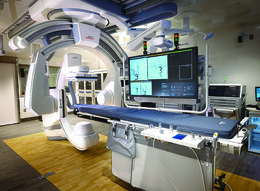 What's New in Neurology 
From implementing the latest research to utilizing the most modern technology, South Jersey's neurological experts are always looking for the best ways to improve their patients' outlooks, from faster recovery times to better long-term prognoses. 
No matter the branch or specialty, today's medical practitioners share a movement toward a number of growing trends that define modern medicine: embracing technological advancements; utilizing state-of-the-art tools; implementing breakthrough, rigorously tested research; incorporating AI into medical, exploratory and surgical procedures; understanding how manifestation of ailments and the success of any subsequent intervention are unique each patient. It's all shaping the future of health care.
That future is guided by the goal of providing an improved patient experience with increasingly optimistic diagnoses and prognoses, highly individualized treatments, less invasive procedures and rapidly diminished recovery times.
The neurological sciences are on the cutting edge of medicine's marvels, and South Jersey's medical professionals are finding success in both applying new approaches and outfitting their facilities with revolutionary new equipment, all of which aim to deliver improved patient outcomes.
Ajith Thomas, MD, is Cooper Medical School of Rowan University's (CMSRU's) neurosurgery department chair, as well as Cooper University Health Care's chief of neurosurgery and a professor of neurosurgery at CMSRU. He brings a four-point treatment focus to neurosurgery: vascular; brain tumors; chronic disorders like epilepsy and Parkinson's disease; and the spine.
Thomas says that he knows firsthand just how dedicated Cooper is to being at the forefront of not only treating complex neurological issues but also delivering that technological capability to the region. He points to one of the most recent indicators of that: Earlier this year, when Cooper opened its Acute Stroke and Neuro Interventional Suite, it put the nation's first neurointerventional suite of its kind right here in the Philly metro region. The angiographic suite offers the advantage of a full CT scanner to help make procedures safer, more efficient and shorter, minimizing patient risk overall.
"It is the most important thing that Cooper has done," he says, adding that one of the capabilities its advanced imaging allows for is the ability to remove blood clots from the brain.
Having that kind of world-class care right in our own backyard is much to the region's benefit, he notes. And when every second is critical in neurological emergency care, facility proximity is an invaluable asset.
"When it comes to blood vessels in the brain, time is very important," Thomas affirms.
Carolyn Tassini, PT, DPT, CBIS, rehabilitation supervisor and board-certified neurological physical therapist at Bancroft NeuroRehab, notes that much of today's progress is born of the necessity in treating a population that's living longer and seeing better long-term prognoses because "there have been so many advances that people are surviving medical events more than they ever have before."
Looking more and more at individualized treatments that specifically target what a patient needs most and what they respond to best are also significant factors in developing a course of treatment. In neurological physical therapy, it also determines how far a patient is pushed to redevelop the skills and neural pathways that will restore the quality of life they're tirelessly working toward.
"In the neuroscience end of it, they're looking at some of the different biomarkers that are out there that can help give an idea of response to rehabilitation," Tassini says. "It's like how we understand in pharmacology that medicines can interact with an individual based on some of their biochemistry. They're continuing to understand how [those biomarkers] can impact people's physical rehabilitation. … In our facilities, we've been really pushing this high-intensity training, which supports the direction literature is going. If you think about it like going to the gym and working out, the only way to get better is to work the body hard so it responds."
Combining procedures with a proven track record, technology with a less-invasive design and treatment with an individually tailored execution is also shaping the course of neurosurgery. Dr. Thomas notes that even previously developed procedures updated with modern medical capabilities are on the table when it comes to developing a patient's treatment plan.
Take, for example, a treatment from the '80s that's seeing a neurosurgery resurgence. For advanced treatment of brain aneurysms and blood-vessel abnormalities that reduce oxygen flow to the brain, like arteriovenous malformation's dangerous tangle, the decades-old approach is now being "taken to the next level" with today's capabilities.
"It's like a bypass for the heart, but for blood vessels to the brain," Thomas explains. "We are exploring ways to do it now that are beneficial to the patients. … It's still a little nebulous, but we're working with people on the cutting edge of this to bring in and develop a new technology that will measure the actual oxygen levels in the brain to determine who will benefit from surgery."
And while time is of the essence when it comes to treating the brain, it's also something that modern advancements can give back to neurosurgery patients by way of the speedier recoveries and diminished hospital stays allowing them to return to their lives as quickly as possible. Much of it is owing to the tech, from diagnostic scans to targeted laser treatments, that allows for less-invasive procedures to become possible.
Technology—from everyday wearables that add a layer of patient monitoring that generates increasingly valuable personal data to the far-reaching applications of AI—has myriad uses helping the region's neuro professionals deliver better, speedier care to their patients, as well as assist in patient education.
"If someone has wearable technology, you can integrate that into a treatment session," Tassini says. "But educating them and their family members is important so they know what they're looking for and how to use it."
"AI software has multiple implications," Thomas adds. "It can diagnose a problem without the doctor being present. It allows the transmission of the data immediately to the people who need to be involved in their care, instantaneously. This then allows us to prepare for the patient to come here in the most expedient manner possible."
Looking ahead, utilizing robotic precision will become increasingly the norm—and is something that Thomas says is part of Cooper's vision of embracing the medical technology of the future today. He does, however, see it more as a tool than a viable replacement of flesh-and-blood medical professionals.
"For surgical techniques, one of the things you want to start using is a robot," he explains. "A robot will help us with something like spine surgery in many ways: It is more precise, it reduces the time for surgery, it minimizes the amount of tissue destruction because it's less invasive, so patients recover faster."
He also notes that both augmented and virtual reality tools are finding their place in the medical field, especially when it comes to training tomorrow's doctors and surgeons, while the MD Anderson Cancer Center at Cooper offers access to everything from trials exploring potential treatments for cancers with bleak outlooks to working with tools like the Gamma Knife, another non-invasive method for treating brain cancers and disorders.
With much being done and more being understood every day to help the region's residents in need of high-quality, life-changing neurological—or any—care, there is one stubborn hurdle to patient treatment that Tassani would like to see keep pace with what science makes possible instead of creating barriers to accessibility.
"Insurance becomes a bit of a challenge because people who are living with the deficits from a neurological injury sometimes have these limited resources from a therapeutic standpoint or from their insurance," she says. "That's a doozy when you know they could benefit from something that could take a long time. We know it can take years and years and years for the brain to change."