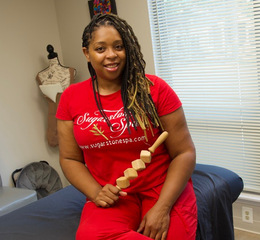 A Relaxing Road to Recovery
At Sugarstone Spa, owner Lysa Danielle and her team bring the benefits of medical massage to oncology, lymphedema, and post-surgical patients.
Most people are well aware of the wonders that a spa massage can provide in delivering much-needed relaxation or relieving stress after a challenging week at work. But the important health benefits of a medical massage as part of a comprehensive, goal-oriented treatment plan, particularly for those suffering through a serious disease or recovering from surgery, are sometimes overlooked by the general public.
Lysa Danielle, the founder and owner of Sugarstone Spa: Post Operative, Lymphatics, and Oncology Recovery Massage Centre, is doing her part to change that narrative. One of the first things she learned during her schooling was that massage therapy is a legitimate health care profession, contrary to any negative stigmas that may exist. As she began her career and worked in palliative care and hospice, she became further knowledgeable about the ways massage can positively impact mental health as well as Alzheimer's and Parkinson's patients.
But it wasn't until a serious issue hit her own home that Lysa really sprang into action. About four years ago, her husband was diagnosed with a deep vein thrombosis, causing a blood clot in his leg. She knew she had to do something to help him and became immersed in research.
"I didn't know much at that time about the lymphatic system," she says. "So I started looking into it, learning more and realizing how underappreciated it is, what it does and what it does not do. … I learned that if someone has an acute blood clot, which means it can move around, you don't do any sort of massage because it can cause the blood clot to travel to the lungs and lead to a pulmonary embolism. But if someone has a chronic blood clot, which means it's attached to the vein, then it's not going anywhere and massage can bring circulation back to the area. That was personal for me because of my husband's situation, so I kept diving further into it."
Lysa eventually became a Certified Lymphedema Therapist allowing Sugarstone Spa to cater to the growing list of clients seeking her services, aiming to improve their quality of life. Initially she ran a mobile massage service before opening her first brick-and-mortar location in Voorhees in 2020 and moving to Cherry Hill earlier this year.
The majority of Sugarstone Spa's clients are oncology or lymphedema patients, people recovering from plastic surgery, as well as pre- and post-natal patients (while pregnant women cannot receive lymphatic massage, Lysa is also trained in prenatal massage and is a doula).
"There are different techniques and different pressures for each type of massage," Lysa says. "But the end goal is all the same: to wake up your lymphatic system and get it reinstated to yourself within a certain amount of sessions, so that it does everything I'm doing during the massage, once again on its own, without me."
Lymphedema causes swelling in the arms and legs, usually as the result of cancer treatment and lymph node removal. Lysa and her team do a thorough examination and consult with the client's medical team before beginning complete decongestive therapies, which aim to reduce the swelling, increase mobility and optimize overall health. They teach the patients how to self-bandage, get them measured for compression garments and help them get a handle on the condition.
Lysa has also gone the extra mile by becoming a post operative specialist to assist with a wide variety of needs following surgery.
"For anybody who's had any sort of surgery, whether it's an elective like a tummy tuck or a breast lift, or a medical surgery like a mastectomy or a gastric bypass, it affects your lymphatic system," she says. "So that's when clients will come in for either a lymphatic massage for general wellness, a medical massage or a post-op massage."
No matter what the reason is for a visit to Sugarstone Spa, clients can expect a nurturing and calming atmosphere. They walk into a café upon entry and can help themselves to a complimentary snack or beverage before meeting with the lead associate and having any of their questions answered. They then start their session in a spacious treatment room, and depending on where they are in their treatment plan, may move on to the training room to take advantage of a treadmill and strength equipment. The entire experience is so soothing that it is quite common for guests to make themselves at home.
"We have clients who come early intentionally just so they can decompress before they go into the treatment portion, and we have clients who will stay an extra 15 minutes just to prepare themselves to go back to the craziness of their lives," Danielle says.
Having that type of impact, and hearing the positive feedback she constantly gets from clients, makes the business worthwhile for Lysa. She is excited to keep growing and serving patients who may never had known about the option of medical massage, all in a Zen-like space.
"We worked very hard to give a luxurious feel to a medical situation," she says. "I did not want clients coming in and feeling like they were walking into a doctor's office and thinking about the ailments that they have or the surgery they just had. This is a very relaxed, spiritual and intimate environment."
Sugarstone Spa: Post Operative, Lymphatics, and Oncology Recovery Massage Centre
1930 Route 70 E., Building X-115 | Cherry Hill
(888) 677-2683
SugarstoneSpa.com