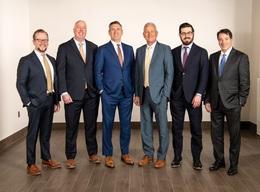 The Advisor Is In
With a career spanning more than 30 years of wealth-advisory experience, Peter Berlin of Claritas Financial Partners is both personally and professionally adept at advising physicians on how to best prepare for retirement. 
An experienced financial planner skillfully navigates their clients' portfolios through the highs and lows of market cycles. They know how to balance risk aversion with meeting long-term goal and foster the kind of client/advisor relationship that help them understand each individual's specific needs.
Getting to know those clients takes more than the occasional, obligatory check-in conversation. Peter Berlin, a wealth advisor who brought more than 30 years of experience to Claritas Financial Partners in November 2020, says it's about really hearing what a client is—and, sometimes, is not—communicating.
"I think you have to be a really good listener," he says. "You have to listen to what the client is saying, and you have to draw out what they're not saying. You need to understand what is making them tick. You need to understand their risk tolerance and what factors they may or may not be verbalizing that may come into play to develop the financial plan. This leads them to an investment strategy that's going to be consistent with their goals, their risk tolerance and their timeframes."
In addition to learning how to deliver individually tailored financial advice to his clients, those decades of experience have allowed Berlin to naturally develop a specialty area- helping physicians create an investment strategy. This strategy is critical as they plan for retirement, whether they work for a hospital, a private practice or their own practice.
"When you start in the business, more often than not, you're more generalized in terms of your clientele and, as you bring on clients, over time, you develop niches," he observes.
Advising physicians is a specialized area in which Berlin has not only professional but also personal experience. His wife works in healthcare and his two oldest children are current medical residents in hospitals. He's watched them maneuver through the uneven terrain of a financial landscape that begins deep in the red before "ramping up very quickly."
"What is really different about a physician is from where they start," Berlin explains. "When they go through medical school, most of the students are taking on significant student loan debt, so they start their careers with a debt load, and the compensation they initially receive during their residency through their fellowship is not usually consistent with the debt load they have. After their fellowship years, their compensation increases dramatically."
He continues: "We start off with making sure that a physician, even as a resident, really understands what their current situation is, how to manage their loan liability if they have that, working with them to determine what the correct repayment plan would be, making sure they understand their options, and then really getting them to start saving sooner while they have that opportunity and get through the struggles of the loan repayment years. And then they have their larger compensation, which really determines what their game plan is as a professional."
Berlin also notes that, when dealing with doctors, financial risks aren't the only ones his clients are up against. "They have a lot of risks associated with their career, so we do need to make sure that they understand the risks and are taking the proper precautions."
Armed with a well-established specialty, Berlin began looking for a change a few years ago and that's when he found Claritas Financial Partners. At the time, Claritas was made up of Managing Partner Brian Lynn, Partner John Fessler, Partner Jim Pacheco, and Operations Manager Rob Costello. With a recent addition of Wealth Advisor Nick Bevad, the team has a very solid group.
"When I met with Brian and his teammates, we very quickly hit it off," Berlin recalls. "We're all consistent with what we want to accomplish. It was really important that we all get along and have an overlap in our strategies and know how each other works. I also wanted colleagues who had the experience but also ran the spectrum in terms of age."
Working with a team that's varied in both strengths and age was especially important to Berlin. After all he'll retire one day too, and wants to make sure his clients are in reliable hands. A lot of younger clients want to be with an advisor for a long period of time," he says. "Having a team that is going to be around for a long time makes for a very good handoff so my clients won't have to revisit what they're doing with a new team."
Joining the Marlton-based firm has presented an opportunity to nurture closer client relationships. That's one of the biggest upsides of working with a small firm.
"We have more time to spend with our clients because we're not managing an extremely large practice," notes Berlin. "We know and recognize clients when they walk into the office or call, we know their children, we know where their kids are going to college, and we know when they lose a parent. We get to know a lot about our clients' lives—I think that's a big difference you get from working with a firm that focuses on the client and works together as a team."
Claritas Financial Partners
1 Holtec Drive, Suite 101, Marlton
(609) 888-6779
ClaritasFinancialPartners.com
Securities and advisory services offered through LPL Financial, a registered investment advisor. Member FINRA/SIPC.
CRPC conferred by College for Financial Planning.