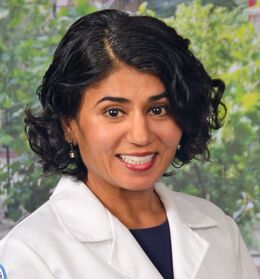 Driving Medicine Forward
Jefferson Outpatient Imaging offers subspecialty radiology in multiple areas, allowing South Jersey residents to receive high-quality reads without crossing the bridge.
Subspecialty radiology has become increasingly important and in-demand since the early 2000s, with many radiologists pursuing additional fellowship training to focus on a specific disease, age group, body part or organ system. This expertise often leads to better imaging reads, with subtle differences being detected or nuances discovered that can make a world of difference moving forward.
No health system in the region has embraced the trend more than Jefferson Health, which has world-class subspecialty radiologists not only in Philadelphia, but here in South Jersey at its two Jefferson Outpatient Imaging (JOI) locations in Marlton and Washington Township. Dr. Shuchi Rodgers, Chief of Radiology for Jefferson Health – New Jersey, is proud of her team's role in this significant medical development.
"If you are able to pursue your passion, it's natural that you will enjoy your work and become good at it, because it's something you love to do," she says. "My philosophy is to find the passion amongst the radiologists who are working at Jefferson New Jersey and often that dovetails with the specialty they have chosen to pursue. I would like to have radiologists primarily working in the areas they have designated as their passion. They stay abreast of the literature, guidelines and recommendations and it benefits the patients to have a radiologist who is an expert at reading their imaging tests."
Dr. Rodgers walks the walk as well, as she specializes herself in body imaging and ultrasound. Jefferson has subspecialists in cardiothoracic, mammography, neuroradiology, abdominal imaging, musculoskeletal radiology, interventional radiology and more.
There are different reasons for radiologists to become interested in a certain specialty, and it leads to a better outcome for the patient.
"Perhaps it was an experience they had when they were in medical school or when they were growing up," Dr. Rodgers says. "I know several radiologists who were touched by breast cancer in their family, so they were motivated and highly inspired to go into mammography as a specialty. There are a variety of reasons and the fact that Jefferson New Jersey has subspecialty reads is such a great advantage for coming here to get your imaging test performed and interpreted."
The protocols at JOI are the same as Jefferson's renowned radiology department in Center City, and the specialists in Philadelphia also have access to the images for South Jersey patients, leading to fast, accurate results that help the ordering provider make informed decisions about the next step. Dr. Rodgers stresses the importance of collaborating with the referring doctors and keeping communication lines open.
"I think that's critical for a successful partnership," she says. "The only way we can meet the imaging needs of the ordering providers is to make sure we touch base and get feedback to figure out how we can support them. We have strong relationships with our ordering providers and we're in constant communication with them. My email signature has my cell phone number and I'm always available and always striving to do better to provide the best for our patients."
JOI's presence in Burlington and Gloucester counties makes it easy for South Jersey residents to get their tests done without having to cross the bridge, battle traffic and pay high fees for parking. There is affordable outpatient pricing and most insurances are accepted.
"I'm also a patient of my own imaging center," Dr. Rodgers says. "I recently had my mammogram at Jefferson Outpatient Imaging Washington Township and I had an outstanding experience. Parking was easy, the staff was very welcoming, there was no delay in getting my imaging test performed and it was very comfortable and stress-free. I would definitely come back next year."
JOI is committed to using state-of-the-art equipment and offers everything from 3T wide bore MRI to 3D mammography and CT lung cancer screenings. Same-day or next-day appointments are often available because, as Dr. Rodgers points out, "we know that sometimes things come up that require expedited imaging and we accommodate our patients."
Dr. Rodgers has been an attending radiologist for more than 15 years and recently celebrated her one-year anniversary in her role at Jefferson. She is pleased with the progress her team has made, even in the lingering wake of the pandemic, and is excited to see what they continue to accomplish together.
"I have a vision that we will continue to grow and be able to expand our hours, expand our locations, offer even more advanced imaging and have a larger footprint in the South Jersey area," she says. "I love South Jersey and I think the patients are wonderful. I would love to see us expand and be able to touch even more communities."
Jefferson Outpatient Imaging
243 Hurffville-Cross Keys Road, Suite 102 | Sewell
999 Route 73 N., Suite 101 | Marlton
3T Wide Bore MRI | Arthrography | CT | CT Lung Screenings |Calcium Scoring
3D Mammography | Ultrasound | MSK Ultrasound | X-ray | DEXA
(215) 503-4900