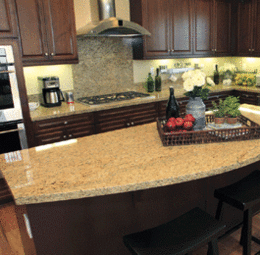 The Right Recipe
The hottest trends in kitchens are making the hub of any home a more stylish place.
There's a reason that, at a party or family get-together, everyone seems to gather in the kitchen. It's the heart of your house, a place to cook, entertain and eat meals together. The latest trends in kitchen remodeling include something to suit any style, from demur country to sleek modernism. Local experts share some of the hottest new products on the market, along with their advice on how to get the most out of the renovation process.
High-tech appliances
The latest appliances not only look cool—they come loaded with ways to make daily life easier. For example, touch-activated faucets—which turn on with just a tap of the hand or arm—effectively eliminate the spread of bacteria via grubby faucet handles, notes Lisa Davis of Ferguson Bath, Kitchen and Lighting Gallery in Cherry Hill. The bowl of your sink may be overdue for an upgrade too, Davis says. She suggests tossing the old double-bowl basin for a new, long stainless-steel single bowl that will fit all your pots and pans.
Stoves have also made strides, Davis notes. One popular product is the induction range. It is, she says, "an electric type of cooking, instead of gas, but gives you the capability to cook as if you were using gas." That is, it offers greater temperature control.
Quirky extras
One increasingly popular feature that doesn't cost a lot is a pot filler, an extra faucet that minimizes the hassle of carrying pots of water from sink to stove. "A pot filler is a cold water line that runs to a faucet that's attached to the wall behind a stove," says Cindy Cipriani, co-owner of Cipriani Remodeling Solutions in Woodbury. It can also offer a focal point above the stovetop, she notes. "You would then design a backsplash around that…. It's a real conversation starter."
A fresh façade
Giving your kitchen cabinets a facelift doesn't necessarily mean a complete overhaul. If your cabinets are in good shape, Cipriani suggests simply having old cabinets refinished and then swapping out old handles for new ones, such as a brushed nickel that would match stainless-steel appliances. Otherwise, Cipriani says, get a major upgrade by simply replacing the doors. "New doors, new drawer fronts and new fronts to the cabinets, that costs about half as much as it would to get all new cabinets reinstalled," says Cipriani.
A furniture-like feel
Steve Matteo, owner of Matteo Family Kitchens and Flooring Inc. in Woodstown says that trends for spring include bright and light colors. If your cabinets need a total makeover, Matteo suggests going with off-white, creamy tones, overlaid with chocolate brown glazes in the corners. The result, he says, is a warm, furniture-like feel. "People want to look at their kitchen as a nice piece of furniture, as opposed to a big stack of cabinets," says Matteo.
To that end, designers can examine your home's architecture and décor, to match cabinets with your house's theme, allowing for a more cohesive look. "Wood type and colors should be selected to complement the flooring, countertop, walls and existing spaces," says Skip Rudderow, owner of Main Street Cabinet Co. in Moorestown.
Quartz counters
Countertops take plenty of abuse, so it's important to find a product that's both fashionable and functional. "Granite countertops have always been the standard for a warm high-end look, but we are seeing an increase in quartz countertops, which offers less maintenance than granite," says Rudderow. "There are more manufacturers of quartz products lately, and this is creating more competitive pricing, which favors the homeowners." Such countertops also add value to a home, as compared to that battered Formica.
Stone underfoot
If you're looking to redo your flooring, there are several factors to consider, most importantly what style will be conducive to your everyday life. Are the kids' soccer cleats leaving mud trails? Has Fido brought some backyard dirt into the house? Mike Brindisi, owner of Brindisi Builders in Marlton, says that he sees more customers leaning toward natural- and faux-stone tile. "This is because of durability and longevity," says Brindisi.
"They are easier with spills [and have] less chance of damaging the floor with dropping something. On a stone-style tile, you will damage the product more then the floor," he says. Brindisi also points out that, because this type of tile flooring has variegated coloring, it hides any dirt.
Quality parts
When you're re-doing your kitchen, the plumbing is not the place to skimp. Going with high-quality parts can alleviate future headaches, not to mention expenses, says Michael Shiles, service division manager of Hutchinson Plumbing Heating Cooling in Cherry Hill. "You have builder-grade faucets and then you have a better line faucet.
Sometimes they look the same, but they are not the same internally. One has plastic parts and one has stainless steel parts. You need to watch the builder grade faucets; they will not last like the higher quality faucets," he says. For a clean and solid plumbing job, Shiles urges homeowners to make sure they hire a licensed contractor and that all of the building and plumbing codes are filed.
Home Sweet Home: Your guide to improvement and décor
A Special Advertising Section from the pages of South Jersey Magazine
Brindisi Builders
We are the remodeling industry's preferred provider of quality products and personalized services. Whether it is a new addition, a kitchen or a bathroom, our family of highly trained craftsmen are committed to exceeding our clients' expectations. Our commitment will be reflected in workmanship, professionalism, ethics, swiftness and courteousness.
Marlton
(877) 284-5353
BrindisiBuilders.com
Cipriani Remodeling Solutions
Cipriani Remodeling Solutions puts its customers first, delivering a high quality renovation and an efficient and friendly experience. Owner Jay Cipriani's philosophy is to "do what we say and make our customers our priority." With Cipriani, you get the expert you want, the craftsmen you need and the partner you expect.
Woodbury
(856) 853-8398
CiprianiRemodelingSolutions.com
Eddie B. Plumbing, Inc.
Your full-service plumbing contractor. From kitchen remodeling to leaky faucets … we do it all!
Cinnaminson
(856) 273-0099
EddieBPlumbing.com
Ethan Allen
Ethan Allen, the internationally known name in interior design and home furnishings, has an entire staff of interior design experts at the customer's disposal to help you grow your own home style. From the timeless design of the American Classics Collection to the Italian-inspired Tuscany Collection, Ethan Allen has a vast selection of timeless pieces and inspired furnishings.
Maple Shade
(856) 667-7333
EthanAllen.com
Ferguson Bath, Kitchen & Lighting Gallery
Ferguson showrooms offer you the largest range of plumbing fixtures, lighting and appliances from quality names, the latest trends and cutting-edge styles. Our Showroom Consultants offer the best expertise in the business as they understand design, the building process, and budget planning.
Cherry Hill
(856) 489-5620
Ferguson.com
Hutchinson Plumbing Heating Cooling
Approximately 35 percent—one-in-three furnaces and hot water heaters—fail a safety test! The remedy to potential dangers and high utility bills? A free, no obligation, Home Health, Safety & Energy Audit. It's a complete, attic-to-basement exam, which probes for health/safety faults and energy-saving opportunities during this 90-plus minute review. A partial list includes: carbon monoxide, CO detectors, proper ventilation, mold, insulation, ductwork, furnace and air conditioner efficiency, and performance of existing units.
Cherry Hill
(877) 488-2410
HutchBiz.com
Jersey Pools & Spas
We're known for distinctive pools and award-winning designs along with exceptional service and knowledge. Call now for a complimentary quote and get started!
Medford
(609) 654-4886
JerseyPoolsAndSpas.com
Main Street Cabinet Co., LLC
We design and sell Plato Woodwork custom and semi-custom cabinetry for the entire home: kitchen, bath, office and bar. Our design process assures clients are getting a high quality product at a good price, and our services are available to the northeast region of the U.S.
Moorestown
(856) 234-3400
MainStreetCabinet.com
Matteo Family Kitchens & Flooring Inc.
Matteo's Kitchens & Flooring specializes in expert kitchen construction and redecoration. We are a one-stop shop, offering in-house custom counter tops, cabinets, and professional flooring work. Matteo's expert designers work closely with customers to ensure they get exactly what they want, at a price they can afford.
Woodstown
(856) 769-2490
www.MatteoKitchens.com
Swim-Mor Pools & Spas
We are Southern and Central New Jersey's premier custom in-ground swimming pool builder since 1967. Our focus is to make the whole process as carefree and painless as possible!
Serving South Jersey
(800) SWIM-MOR SwimMor.com
The Closet Gallery
Closet Gallery creates custom systems and solutions specific to your needs and personal routines, with results that are both functional and visually appealing. Along with organization, they can create design elements customized for your perfect environment.
Medford
(609) 714-8282
TheClosetGallery.com
Young's Landscape Management
Young's has been on the cutting edge of the industry for nearly 20 years, providing high quality craftsmanship in the design and installation of outdoor living environments. Its professional team creates landscapes with lush and colorful plantings complemented by custom hardscape areas, including patios, walkways, fire pits and outdoor kitchens. Touches of accent lighting and water features add even more life to the home's exterior. The result: a beautiful, relaxed and comfortable outdoor living space for everyone to enjoy.
Moorestown
Lumberton
(609) 654-5441
YoungsLandscape.com
Published (and copyrighted) in South Jersey Magazine, Volume 7, Issue 12 (March, 2011).
For more info on South Jersey Magazine, click here.
To subscribe to South Jersey Magazine, click here.
To advertise in South Jersey Magazine, click here.