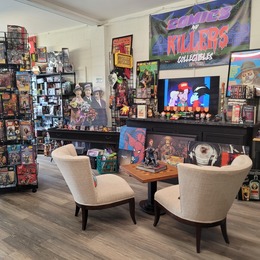 A Kid at Heart
At Comics & Killers Collectibles, owner Eric Yelowitz shares his lifelong passion for comics, toys and everything pop culture in a store where geeking out is not only accepted, it's encouraged.
When Eric Yelowitz was growing up in the 1980s and '90s, the term "nerd" was used in a derogatory fashion to label someone who maybe was a little bit out of the ordinary. It has since evolved into a badge of honor for those who consider themselves super fans of various forms of pop culture, and Yelowitz is the first to admit that he belongs in that category.
He will proudly share, for example, that he rented the same Teenage Mutant Ninja Turtles VHS tape a hundred if not a thousand times as a boy; that the 1989 Batman movie starring Michael Keaton and Jack Nicholson still ranks as his favorite film of all time; and that he can occupy himself for hours building creations out of Legos.
Clearly, Yelowitz has maintained his child-like wonder even as he's become an adult and a father to three daughters, with another baby on the way. Sitting in an office all day was never going to suit his personality, which is why he took the leap to follow his dream earlier this year and opened Comics & Killers Collectibles, a store filled with everything from comic books to action figures to movie props and so much more.
"I've always been into comics, I've always been into art, and I've always been into toys and collectibles," Yelowitz says. "I'm not just a guy who owns a toy store—I have tons of statues, figures, Bobbleheads, posters and movie programs all over my house. I was working a 9-to-5 job and I was miserable, and I decided I preferred to do something I loved to do."
Yelowitz, who grew up in Marlton and now lives in Lumberton, started by selling items from his own collection out of his basement before finding a storefront on Route 38 in Hainesport. He officially opened in July and word has quickly spread about his unique offerings.
"I've heard from a lot of people that there isn't anything like this place in the area," he says. "There are a lot of big-box chain stores but not many places to go for toys and comics. There are very few places around that have a lot of the stuff that we have."
One could spend an entire afternoon at Comics & Killers Collectibles perusing toys such as die-cast airplanes, plushies, Matchbox and Hot Wheels cars. There are also hard-to-find VHS tapes and a huge catalog of books ranging from the Goosebumps series all the way up to signed Stephen King novels. Visitors can discover antiques like vintage lamps and clocks, advertisements from the late 1800s and early 1900s, and all sorts of knickknacks. "You name it, I'm pretty sure I have it," Yelowitz says.
As much as the store caters to serious collectors and enthusiasts, however, Yelowitz is equally excited to welcome those new to the hobby and especially children of all ages. A kid at heart himself, he goes out of his way to make youngsters leave happy.
"If you have children and they want to start reading comic books, they can come in for our 'Free Comic Book Fridays,'" he says. "As long as they behave during the week, they do their homework and they're under 10, they can come in and get free comics every Friday. If your child wants to get into collecting Hot Wheels cars, we have Hot Wheels ranging from $2 apiece all the way up to $200 apiece for serious collectors. We have mystery starter collection bags, where you pay $10 and get a little bag of tchotchkes. We also have mystery packs of cards and Pokémon bags. I want to get as many of the younger generation into collecting as I possibly can."
Yelowitz is backed by his family, including his father and uncle, who are teaching him the ropes about running a business, along with his significant other and their three girls, ages 15, 14 and 6. Like their dad, they all have a passion for pop culture, from Stranger Things and video games to princesses.
Not surprisingly, Comics & Killers Collectibles supports charities like the Ronald McDonald House and is active in the community, including sponsorship of an upcoming classic car show in Eastampton. Yelowitz loves to give free items to kids at conventions too, like the recent Dunder Con, a gathering of cast members from The Office in which he provided a merchandise booth.
At the end of the day, he just enjoys meeting like-minded people, whether they're 40 or 10. He encourages South Jersey residents to stop by Comics & Killers Collectibles, where he will educate newcomers to comics about his favorite titles, teach fellow collectors how to sell their own items, and even pick up some tips himself from kids about the current pop culture landscape.
"Anything that we can do for the community and local people, that's what we're here for," he says. "That's why I opened this store. I didn't want it to just be a place for people to buy stuff; I want people to hang out, check out my collection and talk to me about nerdy things. I want people to come in and have a great time, because that's what it's all about. It's not just a store, it's an experience."
Comics & Killers Collectibles
1459 Route 38, Unit 4 | Hainesport
(856) 316-9813