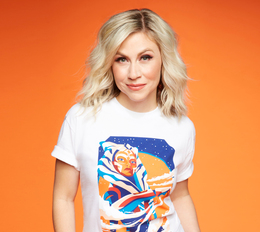 Hometown Heroine
Orlando native and Star Wars fan favorite Ashley Eckstein shares her memories of growing up Disney and her rise to success.
Growing up in Orlando, Ashley Eckstein attended Dr. Phillips Elementary School, Southwest Middle School and Dr. Phillips High School. The talented performer has since gone on to star in numerous films and television shows. Eckstein is best known for voicing the role of Ahsoka Tano throughout the Star Wars franchise, beginning with Star Wars: The Clone Wars in 2008.
In addition to acting, Eckstein is also an author, having written several books, including It's Your Universe: You Have the Power to Make It Happen. In 2010, she started her own fandom fashion line, Her Universe. She is married to former major league baseball player David Eckstein, and the couple resides in Orlando. A Disney fanatic at heart, it's no surprise that their home is largely decorated in the theme of Alice in Wonderland, Ashley's favorite movie.
South Jersey Magazine recently spoke to the incredibly outgoing actress and entrepreneur about her beloved hometown, her exciting career and her inspiring fashion line.
Were you interested in the performing arts from an early age?
Yes, I was. I began taking singing lessons in elementary school, then joined the drama club at Southwest Middle School and started doing theater there. That's actually how I got my first television job. SeaWorld came to our middle school and did some casting for a television show called Shamu TV. Fortunately, I got the role and was able to be a part of the television show, which was on the Discovery Channel every Saturday morning, nationwide. I then continued to pursue theater in the magnet program at Dr. Phillips High School.
I understand you spent a lot of time at Disney World as a child.
Yes, my dad was a Disney cast member my entire childhood. We moved to the Orlando area when I was about 18 months old and he worked for Disney through my senior year of high school. You can definitely say I was raised Disney. Having a parent who was a cast member meant we got to take advantage of so many of the amazing opportunities that Disney provides for its cast members and their families. Many of my firsts were at Disney—I learned to swim at Disney, I met Santa Claus for the very first time at Disney, I performed live in front of an audience for the very first time at Disney. Disney definitely instilled in me that the dreams you wish really can and do come true. I like to say that Disney is in my DNA.
And you were a Disney cast member as well?
Yes, I was. Back then you could become a cast member as young as 16, and so when I turned 16 that's all I wanted—to be a Disney cast member. I didn't want a car, I just wanted to become a Disney cast member. Fortunately, as Disney magic would have it, they were holding auditions for entertainers literally on my 16th birthday at my high school so I went and tried out to become a Disney performer and the rest is history!
Is it true that you and your husband David held your wedding reception at Disney World?
Yes, we did. My husband is also from Central Florida—he was born and raised in Sanford, so we had our wedding ceremony at the All Souls Catholic Church in Sanford, the very church that he was brought up in. After the ceremony, we had Disney Magical Express buses take everyone to and from the church to Disney's Yacht and Beach Club where we had the most magical Disney fairytale reception I could have ever imagined. It was definitely a dream come true.
Can you tell us a little about your husband, David Eckstein?
I am definitely the luckiest girl in the world to have found my Prince Charming. He is the most amazing man and an incredible baseball player who won two World Series titles—one with the Anaheim Angels in 2002 and one with the St. Louis Cardinals in 2006, where he was also the World Series MVP. His story is incredible as he's one of the shortest players to ever play major league baseball. Every step of the way people told him that he would never make it but he never gave up and defied the odds. He was an amazing baseball player but he makes an even better husband and I am very fortunate that he is my best friend and we do everything together.
Did the two of you meet in Florida?
Oddly enough, we actually met in California. We met when David was playing for the Anaheim Angels and essentially, we were set up by mutual friends. However, in a Hollywood twist, my publicist reached out to the Angels, at the recommendation of my friend, and asked David to be my date for a movie premiere. Fortunately, he said yes and the rest is history. We grew up just 35 minutes apart but had to travel cross-country to actually meet.
You have played some memorable characters but are probably best known for your work as Ahsoka Tano. Is it true you have been voicing this character since 2008?
Actually, I was cast in 2006 and we recorded the show for two years before it ever came out. It actually premiered in movie theaters with a movie called Star Wars: The Clone Wars in 2008 and then immediately went into a television series on Cartoon Network, because this was before Disney bought Star Wars. But Ahsoka Tano made her worldwide debut in 2008. I've been working this character for 16 years and it's been absolutely incredible. She has changed my life.
Tell us about the character.
From a story perspective, Ahsoka Tano was a padawan of Anakin Skywalker, who eventually became Darth Vader. For those who aren't familiar with Star Wars terminology, a padawan is a student. So, Ahsoka trained under Anakin during the Clone Wars and she went on to become one of the most powerful characters in Star Wars. She eventually left the Jedi Order and became one of the founders of the rebellion in Star Wars. Ahsoka is just a great character through and through and she represents the light side of the force, she represents hope, and she represents all that is good. People have really fallen in love with her over the years because we've had so much time to really develop this character between Star Wars: The Clone Wars and Star Wars Rebels.
How much of yourself is in this character?
In many ways, Ahsoka is me. I feel very fortunate to have originated this character because I was cast to just be myself. Originally, they wanted Ahsoka to have an Icelandic accent and I did a pretty terrible Icelandic accent in the audition, but they saw me just being myself in between the takes and felt like I epitomized what they wanted for the character. When I was cast, to be honest, I was kind of shocked and asked how I got the part. They said, "Well, we don't want you to do the Icelandic accent but we cast you for you—we just want you to be yourself." I feel very lucky that I have been able to bring my own heart and soul and personality to this character.
You recently appeared at MEGACON. What do events like that mean to you?
People often ask me what my favorite part about being in Star Wars is and by far it is my Star Wars family. One of the lessons you learn in Star Wars is that your family is not just the one you are born into but it's also your found family. Through the Star Wars cast and everyone who works on the show and all of the fans, I really feel like I've gained a Star Wars family all over the world. So, it's very special for me to be able to go to conventions like MEGACON and meet my Star Wars family—whether they are fans who have been with us from the beginning or fans that just found us during the pandemic. Star Wars and Ahsoka represent hope and I feel so fortunate to be a part of something that has changed so many people's lives. It's really an honor for me to meet fans and get to know them as we bond, in some way, over this story we love so much.
When you meet with fans at an event like MEGACON, are you there as Ashley or Ahsoka?
I very much realize I am a reflection of Ahsoka and it's an honor and a privilege that I do not take lightly, and so when I show up at these events, my goal is that the young fans that come up to meet me feel like they just met the real-life version of Ahsoka Tano.
Can you tell us a bit about your fashion line, Her Universe?
It started with just a simple search for a T-shirt. As a female Star Wars fan, I wanted Star Wars clothes that were made for me but quickly came up empty-handed. This was back in 2008-2009 when I realized that Star Wars clothes for women and girls really didn't exist. I was told to be happy with a men's size small because women and girls would not buy Star Wars merchandise made for them. I knew that couldn't be true because everywhere I went, I saw female Star Wars fans so I started doing more research and at that time, I found out that 45% of all sci-fi and fantasy fans were women and girls and that 85% of all consumer purchases were being made by women. I thought, "Well, those numbers are not adding up—if you make us stuff, we will buy it."
So, I got the idea to start a fashion line for female fans. What really pushed me to do it was that in my research, I read story after story of women and girls being bullied terribly for just being themselves—being female Star Wars fans—and I thought that's no way to live. Being a Star Wars fan is like being a fan of Disney, like I said earlier: It's in my DNA, it's not just a trend. It's not something you're into one day and out of the next; it's a part of you and if you're not able to be yourself it's really hurtful. So, I wanted to create a safe place, a community where female fans could step into the spotlight and say, "I'm a girl and I like Star Wars." I knew nothing about starting a fashion business or about licensing but I asked myself what would Ahsoka do and the answer was, Ahsoka would stand up for female Star Wars fans. So I founded my company Her Universe in June of 2010. We started with just nine T-shirts and grew from there. I've been fortunate to add pretty much every single license at this point. I mean, we do Star Wars, Marvel, Disney, Warner Bros., Universal and DC and all sorts of other stories and franchises, and I feel very fortunate that Her Universe has been able to grow the way it has. And now, we do fandom clothes for women, girls, men, boys, unisex—there is something for everyone.
You and your husband recently stayed at the Star Wars: Galactic Starcruiser. What was that experience like?
It was absolutely incredible. You know, as a Star Wars fan there's nothing like it, there's really no comparison because nothing else like it exists today. When you are there, you're not just watching Star Wars, you're not just seeing something that looks like Star Wars, you are actually living Star Wars for two full days. It is an immersive vacation experience unlike anything else and I can safely say it was two of the best days of our entire lives.