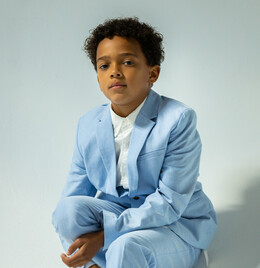 Call to Action
Activism-minded actor Leo Abelo Perry aims to entertain and inspire.
Even at the tender age of nine, actor and activist Leo Abelo Perry knows how to make an indelible mark on the world.
The Doylestown native stars with Zach Braff and Gabrielle Union as fraternal twin Luca Baker in the hilarious remake of the 2003 family comedy, Cheaper by The Dozen, currently available on Disney+. The uplifting story follows the Bakers, a multicultural family of 12 that navigates a chaotic home life, while running the family's unique restaurant.
In addition to his acting career, Perry is passionate about shedding light on social injustices through his podcast, The Activators! He may be still in grade school, but this thoughtful and inspiring young man has already begun to fight for causes that are near and dear to his heart.

Q&A
Why did you want to make Cheaper by the Dozen?
Having 10 kids around me was great. I had the chance to hang out with more kids than I've ever met before, so that was fun because I love making new friends. I feel like we really bonded as a family. … I got to have more time with my [on-screen] twin, Mykal-Michelle Harris, who played the part of Luna, and I really connected with her.
What message do you think people could get from your movie?
Don't judge people based on what their family looks like. It doesn't matter if you have 10 kids or one, it's still a family. … To me, family feels as if your heart was cracked open. I would say that family brings love.

Did you watch Cheaper by the Dozen with your family in Philadelphia?
We did! … My mom and I ended up hosting a screening with a small group of friends and family at my home in Bucks County. We really did it up. We got a red carpet, made a "step and repeat" [backdrop], and made sure to add the names of two organizations that are doing amazing work on the backdrop. The two I chose were Rainbow Labs, a storytelling and mentoring organization for LGBTQIQ+ youth, and Choose Love, a refugee organization that's doing a lot of work with BIPOC Ukraine refugees. As people walked on the carpet, my uncle, mom, and I acted as paparazzi and snapped family pics, and I interviewed everyone by asking them, "What are you wearing?" We made a Cheaper by the Dozen trivia game and ate pizza. I have missed East Coast pizza so much.

Tell me about working with Zach Braff and Gabrielle Union.
It was crazy getting to know him [Braff]. I had watched, like, two episodes of Scrubs, barely. It was the funniest time working with Zach. He's, like, the kindest person ever. It was amazing to work with him; it was the best opportunity I ever had. … Gabrielle Union was also great. She gave us a lot of advice, so I think I'm very grateful for her advice, and I think her advice made me a lot better at acting. She helped us focus, which can be hard on set.

Do you know what you are doing next?
My next project is The Activators!, the podcast I have where I interview activists that are changing the world by using what they love to spread more love. I have been doing it for one season and we just got the second season. The Activators! is such a fun and inspiring project. I'm so grateful to work with the amazing company, A Kids Company About, that always speaks up for kids when it comes to talking about real-life issues. We interview kid activists, who "do what they love, to spread more love." I also started something called Dance for Justice. I love dancing, and I wanted to do more for racial equity. So, I combined my two passions in hopes to raise money and awareness for organizations like Black Lives Matter.
I hope that my podcast will make a positive impact on kids and their families so they can get more involved when it comes to social injustice. There's a lot going on in the world right now, and I believe that emotionally it is hard to understand it all.

What are your favorite places to go on vacation?
We go to Long Beach Island on the Jersey Shore for vacation and hang out. It's a family tradition that we do every summer, and it is the most fun ever. There are 20 family members, and we go to the beach, ride bikes, and play a lot of games. We are a game family. It's a blast.

What advice would you give someone who wants to become an actor?
Even if someone tells you that you can't do this, you can always follow your heart and pursue your dreams.