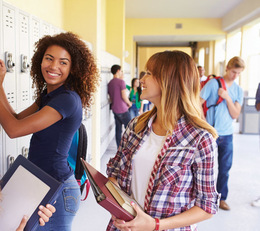 Back in Session
The 2022 Public High School Report Card
This school year just feels different. After two years of juggling learning with the pandemic, students are entering into the fall with a fresh start and a more familiar scholastic experience. Sure, there are bound to still be some bumps in the road ahead, but as the restrictions brought on by COVID continue to lessen things are returning to normal.
To help get ready for the year ahead, we are taking our annual look at how South Jersey's public high schools measure up in several key academic areas using information gleaned from the New Jersey Department of Education. Focusing on the tri-county region, we gathered vital data in key areas like average SAT scores, graduation rates, AP classes and student-to-faculty ratio.
What's more, we spoke a few local administrators to see how they are using the lessons learned during the pandemic to enhance the high school experience for students and give staff the support they need to lead South Jersey's bright young minds. Faced with COVID's lingering effects and a teacher shortage, our area schools are meeting the challenges head-on and fostering environments that allow students to thrive and reach their full potential.
| | | |
| --- | --- | --- |
| | | |
| Cherry Hill High School East | | |
| | | |
| | | |
| Washington Township High School | | |
| | | |
| Kingsway Regional High School | | |
| Cherry Hill High School West | | |
| Haddonfield Memorial High School | | |
| Northern Burlington County Regional High School | | |
| | | |
| Clearview Regional High School | | |
| | | |
| Collingswood Senior High School | | |
| | | |
| Pemberton Township High School | | |
| Burlington Township High School | | |
| | | |
| | | |
| Delsea Regional High School | | |
| Gloucester City High School | | |
| Rancocas Valley Regional High School | | |
| West Deptford High School | | |
| Winslow Township High School | | |
| Bordentown Regional High School | | |
| | | |
| Gateway Regional High School | | |
| | | |
| Haddon Township High School | | |
| | | |
| | | |
| Highland Regional High School | | |
| | | |
| Woodbury Junior/Senior High School | | |
| Deptford Township High School | | |
| | | |
| | | |
| Haddon Heights Junior/Senior High School | | |
| | | |
| Burlington City High School | | |
| Florence Township Memorial High School | | |
| Audubon Junior/Senior High School | | |
| | | |
| | | |
| | | |
| | | |
| | | |
| | | |
| | | |
| | | |
| Woodrow Wilson High School | | |
| | |
| --- | --- |
| | |
| Haddonfield Memorial High School | |
| | |
| | |
| Cherry Hill High Scholl East | |
| | |
| Florence Township Memorial High School | |
| | |
| | |
| Clearview Regional High School | |
| Haddon Township High School | |
| Kingsway Regional High School | |
| | |
| Audubon Junior/Senior High School | |
| | |
| | |
| | |
| Delsea Regional High School | |
| Pemberton Township High School | |
| Washington Township High School | |
| Burlington Township High School | |
| Gateway Regional High School | |
| Haddon Heights Junior/Senior High School | |
| Northern Burlington County Regional High School | |
| Cherry Hill High School West | |
| Maple Shade Regional High School | |
| | |
| Rancocas Valle High School | |
| Gloucester City High School | |
| | |
| | |
| Bordentown Regional High School | |
| West Deptford High School | |
| | |
| | |
| Collingswood Senior High School | |
| Highland Regional High School | |
| | |
| | |
| Woodbury Junior/Senior High School | |
| | |
| | |
| Deptford Township High School | |
| | |
| | |
| | |
| Winslow Township High School | |
| Burlington City High School | |
| | |
| | |
| Woodrow Wilson High School | |
| | |
| --- | --- |
| | |
| Haddonfield Memorial High School | |
| | |
| Cherry Hill High School East | |
| | |
| Clearview Regional High School | |
| Northern Burlington County Regional High School | |
| | |
| | |
| | |
| | |
| Kingsway Regional High School | |
| Haddon Township High School | |
| Haddon Heights Junior/Senior High School | |
| | |
| Bordentown Regional High School | |
| Burlington Township High School | |
| | |
| Collingswood Senior High School | |
| Rancocas Valley Regional High School | |
| | |
| Florence Township Memorial High School | |
| Audubon Junior/Senior High School | |
| Burlington City High School | |
| Gateway Regional High School | |
| Washington Township High School | |
| Delsea Regional High School | |
| | |
| Cherry Hill High School West | |
| Woodbury Junior/Senior High School | |
| | |
| Deptford Township High School | |
| Pemberton Township High School | |
| | |
| West Deptford High School | |
| | |
| | |
| Highland Regional High School | |
| | |
| | |
| | |
| | |
| Winslow Township High School | |
| | |
| | |
| | |
| | |
| Gloucester City High School | |
| | |
| Woodrow Wilson High School | |
| | |
| | |
| --- | --- |
| | |
| Burlington City High School | |
| | |
| Woodrow Wilson High School | |
| Collingswood Senior High School | |
| Gateway Regional High School | |
| | |
| Haddon Township High School | |
| | |
| | |
| | |
| | |
| | |
| | |
| Winslow Township High School | |
| Burlington Township High School | |
| | |
| | |
| | |
| Woodbury Junior/Senior High School | |
| Audubon Junior/Senior High School | |
| | |
| Cherry Hill High School West | |
| | |
| | |
| | |
| Delsea Regional High School | |
| Gloucester City High School | |
| Haddon Heights Junior/Senior High School | |
| Highland Regional High School | |
| | |
| | |
| | |
| | |
| Pemberton Township High School | |
| Washington Township High School | |
| West Deptford High School | |
| Bordentown Regional High School | |
| Clearview Regional High School | |
| Northern Burlington County Regional High School | |
| | |
| | |
| | |
| | |
| | |
| | |
| Rancocas Valley Regional High School | |
| Kingsway Regional High School | |
| Florence Township Memorial High School | |
| | |
| Cherry Hill High School East | |