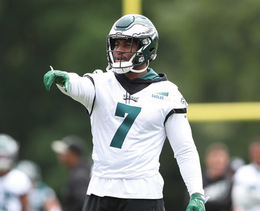 Long Road Home
Camden native Haason Reddick's path to NFL stardom was filled with obstacles, but the rocky journey has brought him back to the area as a key piece of the Eagles' defense.
Sports sagas tend to involve twists and turns. In Haason Reddick's life and career, those twists and turns have taken the Eagles' South Jersey-born edge rusher into and out of a daunting series of seeming dead ends, to where he sits now—entering his prime and emerging as a recognized NFL star for his hometown team after signing a three-year, $45 million contract in free agency.
"Man, it's exciting to be home," Reddick said before letting out a relieved sigh at his first press conference as an Eagle, back in March. The Eagles' NovaCare facility, where the press conference was held, stands just a few miles across the Delaware from Camden, where Reddick was born and raised. "Thrilled. When I realized I would be coming here, I was overwhelmed with emotion."
In Eagles training camp this summer, Reddick showed the speed and power that allowed him to compile 23.5 sacks over the past two seasons, the fifth-best total in the league in that span. The Eagles are looking to Reddick to revitalize a pass rush that lagged last season. The Birds' total of 29 sacks ranked next-to-last in the NFL.
"He's been more than what we thought, and we thought very highly of him, obviously," says Jeremiah Washburn, who coaches the Eagles' edge rushers. "Just his attitude, his energy, his professionalism, much less his physical skillset, has been a really big addition for us."
Washburn says Reddick "has unusual strength for his size (6-1, 240). And he's sudden, which is a big deal, because the windows to rush [the passer] are so tight in the NFL. He's got that 'wiggle' that really helps quite a bit."
Sitting at a conference table in the Eagles' practice facility recently, Reddick reflects on how his own persistence, his mother's firm guidance, his father's strong athletic focus, a few kindly coaching mentors, and a little luck guided him through his complicated journey.
Reddick is very happy to be home, but he acknowledges that after five NFL seasons, he didn't approach free agency last winter with the express goal of becoming an Eagle.
"At the end of the day, I wanted to go somewhere where I was understood and I was going to be used to the best of my ability," he says. "That was my biggest thing; now that I was back on the edge, I wanted to continue to stay there."

The trail of Reddick's journey runs from his native East Camden, through a disappointing high school career for the Haddon Heights Garnets, to walk-on disappointment at Temple, to eventual stardom for the Owls, to getting drafted 13th overall in 2017's first round by the Arizona Cardinals, to three frustrating seasons of underachievement playing out of position as a drop-back linebacker, back to stardom when allowed to return to pass rushing, then through a year treading water in Carolina before free agency led him home.

Mom Didn't Push Sports

RaeLakia Reddick, Haason's mom, is a Camden native and Woodrow Wilson grad who still works in the city in early childhood education, but lives in Mount Laurel. She recalls her only son as "happy, always smiling. Did well in school, from beginning to end. Lots of honor roll ceremonies.
"Did I think he was going to be an athlete? Absolutely not. My focus was more on education. Sports were secondary. I looked at sports as an outlet for kids in the city, as it is, indeed. Fairly early on, we did see that he had talent athletically, and his father introduced him to football."
Haason confirms that his dad, Raymond Matthews, "got me into football, took me to all my practices, games, stuff like that. My mom, she supported, she came out to the games, but her thing, she was more focused on the school aspect of things, getting an education. … Together they did a very good job of helping me get to where I've gotten now."
Life's first major turn came when it was time for Haason to enter high school. Raymond was living in Haddon Heights at the time, and as her son became a teenager, RaeLakia wanted him to experience a world beyond Camden.
She says the switch was "more so for academics" than for sports. Haason has a slightly different explanation.
"It was for a better environment," he says. "I was growing up, starting to be able to make decisions for myself. Certain guys … my mom just wanted better for me. Her and my dad came up with a plan to have me move in with my father. It was a big thing for me, a big change. I had never lived with my father before that. But a lot of good things came out of that.
"We ended up becoming closer then; instead of spending the weekend with him, I was spending every day with him. Working out, my drive, my mentality, everything just changed. I became more driven, more determined, had some stronger foundations and codes, and just basically learned to be a man.
"My father, he taught me basically how to be a man, how to survive in this world. The city we come from, it's hard to make it to 18. [He taught me] how to survive, how to handle myself in certain situations, things like that."
It wasn't necessarily a smooth transition. Reddick played cornerback as a sophomore, but didn't get that much into school life beyond the tree-lined football field that sits to the side of the stately main school building.
"I kind of had some friends, but for the most part, I just kept to myself," he says. "I was more into 'get my day over, get into football practice.' Those were the highlights of my day."
Reddick might have forged tighter bonds at Haddon Heights had injuries not derailed his junior and senior seasons, putting his dream of playing college football in jeopardy.

"Injuries came around," he recalled, including a broken femur that kept him off the field all through 11th grade, then a torn knee meniscus that limited him to four games the next season. "At one point in time, I did think football was over for me."

Walking on

With very little high school film to show college recruiters, Reddick was on his own when it came to taking the next step. It didn't help that neither RaeLakia nor Raymond had any experience with football recruiting or even the college application process.
RaeLakia had gone to community college. Raymond had played receiver at Clarion University in Clarion, Pennsylvania, but through an unusual set of circumstances.
As a teenager, Raymond "was actually incarcerated, playing football in the yard," Haason says. A guard had a connection to someone at Clarion, so Raymond went to college and played football, but his path hardly helped his son.
"They never had the knowledge of the whole process," Reddick says. Raymond and Haason did know a coach, though, Fran Brown, who was working as a graduate assistant at Temple. Brown, now coaching defensive backs at Georgia, was a Camden High grad.
"That's how we learned the process about walking on," Haason says. "I thought football was over. I didn't even apply for college until, like, June.
"My mom, she was basically like, 'You gotta get up off my couch and go do something.' I only filled out two applications—Rutgers, which denied me, and Temple, where I got accepted."
Even then, though, the path didn't get straighter or smoother.
Reddick had been a cornerback early in his high school career at Haddon Heights, and at 6-feet, 180, that was where he initially was posted at Temple. But he really didn't have a position. He was there to help the scholarship players practice.
"Walk-ons are looked on as disposable," he says. "They use you for blocking drills. You're like a football dummy. … Tackling demonstrations, all that kind of stuff."
Reddick was moved around, wherever Temple needed a body for practice. "I kinda worked my way through every level on the defense. I was a walk-on, I didn't have a scholarship," Reddick recalls. "They saw my talent, and because I was a walk-on, they were like, 'We can try him here! We can try him there!'"
Then there was the matter of money, for a non-scholarship student. RaeLakia took out a loan so that Haason could have a meal card.

After his freshman year, head coach Steve Addazio threw Reddick off the team "for reasons I couldn't even explain," Reddick says. "That was a hard thing, not being able to tell my parents why I was being kicked off the team. One of the guys told me I was being kicked off for seven reasons. I asked him what were the reasons? Tell me? He told me, 'I don't have to explain that to you. Get your stuff and leave.'"
So, Reddick left the dorm. But RaeLakia was not going to let him not finish college, whether he was a football player in a dorm, or not.
"I wasn't shocked, I wasn't surprised," that Haason wanted to come home, she says. "I had heard the story of a lot of children, a lot of young adults, when they first go away from home, first go away to college, they get a little nervous. Things get a little rocky, they get discouraged. That's not what we're doing. What are the options, if you come back home? You're staying at Temple, so are you going to commute every day?
"We are going to continue what we start. That's it. That is all."
Any potential resistance from Reddick evaporated when he got a call from Brown, the Temple coach from Camden who'd helped him get a shot at college football. Addazio had left, for Boston College. Matt Rhule was the new Temple coach, and he and Brown had history.
"One day, Fran gave me a call," Reddick says. "He said, 'Hey, listen, the old coach, he left. New coach coming in, I know him. I'm going to get you back on the team. We can use your talent.'"

From there, Reddick's path straightened, for a while. He moved to edge rusher and dominated. Temple came through with a scholarship. As a senior, Reddick was first-team All-AAC, led the nation in tackles for a loss, and led the Owls with 10.5 sacks. He also got his criminal justice degree, something RaeLakia was not going to let him go without, even as it became apparent he would become a high NFL draft pick.

Wandering in the Desert

The 2017 NFL draft was held in Philadelphia, in front of the Museum of Art on the Benjamin Franklin Parkway. RaeLakia thought this might portend Reddick being drafted by the Eagles. He had a different theory. Both of them turned out to be wrong.
"Thought I was going to the Bills at first, but they traded down, KC traded up, KC picked Patrick Mahomes," Reddick recalls. Soon he was on the phone with one-time Temple coach Bruce Arians, who was welcoming Reddick to Arizona. The Cardinals took him one slot before the Eagles' turn arrived; they ended up with another edge rusher, Derek Barnett, who has not been as productive as Reddick.
RaeLakia and Raymond accompanied Haason to his first visit with Arizona. RaeLakia then moved out West to help her son with the transition, and the Cardinals really seemed to be enthusiastic about their top pick.
Cardinals general manager Steve Keim extolled Reddick as "a young man who's dealt with a lot of adversity and has answered the bell every step of the way." Addressing Raymond and RaeLakia, Keim said: "Obviously the job that you have done raising your son has put him in this position today. So, thank you."
But the Cardinals, like some NFL draft analysts, looked at Reddick's 6-1, 237-pound frame and saw a standup linebacker who would drop into coverage, not a pass rusher. Three miserable seasons ensued, for Reddick and for the Cards, who went 16-31-1 from 2017 through 2019.
"It was really hard, man," he says. "I never got the chance to grow inside the same defense. My first three years, I had three different coaches (Arians, Steve Wilks and Kliff Kingsbury). I had (two) different defensive coordinators (Al Holcomb and Vance Joseph)."
Mostly, though, he was not a standup linebacker, size notwithstanding. "I asked if I could be moved back," Reddick says. "Going into my fourth year, they didn't pick up my fifth-year option. I felt I didn't have anything to lose."
At first the team just moved him to another stand-up linebacking spot, but one where he wouldn't drop into pass coverage as much. But then star pass rusher Chandler Jones went down with a biceps tendon tear.
"Chandler Jones unfortunately got hurt. They put me at D-end, I started making plays," Reddick says. "We had lost our star pass rusher and needed somebody to step up. I stepped up."
But his contract was up at the end of that 2020 season, and the Cardinals weren't willing to bankroll a long-term deal off one solid season, which had followed three years of disappointment. It turned out, at that point, nobody was willing to make the commitment Reddick sought. He ended up with a one-year contract in Carolina, whose coach was his Temple savior, Matt Rhule.
"I didn't know what to expect from Carolina," Reddick says. "I was coming off a big year, I thought things might have been better for me, deal-wise, but it wasn't there. A lot of people wanted to see what I could do. Rhule and the staff there, they knew me from Temple, they knew my ability.
"Once I only received a one-year deal from them, I kind of figured it wouldn't be too long term. My best option would be to display great football again [and go back into free agency]."
This, Reddick did, notching 11 sacks to back up the 12.5 he totaled for the Cardinals in 2020. But the rebuilding Panthers went 5-12 last season, and they weren't in the mode of signing a big-money deal with veteran pass rusher. Back to market.

The Eagles quickly emerged as a contender. Conversations with head coach Nick Sirianni and defensive coordinator Jonathan Gannon convinced Reddick they knew who he was and how to use him.

Giving Back to Camden

Now that he's home, Reddick has plans that extend far beyond the confines of Lincoln Financial Field. In July, he held a youth football camp in Camden, in the shadow of the Ben Franklin Bridge.
"I see myself in them," he said that day to NBC10 News, looking over a field full of kids from Camden. "Hopefully, I can inspire the next Haason Reddick, the next child, the next great athlete to come out of the Camden-Philadelphia area."
Asked recently about his plans to help, Reddick says: "I just want to be around as much as I can. Besides my football camp, which I just brought back this year [after a COVID interruption], I'm going to start doing a back-to-school drive every year as well. Thanksgiving I usually give out food—I'm happy to actually be here this year and be able to do this in person for the first time. My father and my mother usually handle that aspect of it.
"Christmas, I donate money and [give out] a bunch of toys. I've been doing that a couple of years now. Last year was my first year doing it at the new Subaru [headquarters] in Camden.
"The way they do it, the schools ask the kids what they want for Christmas, like a wish list. And then they go pick off things from the list to try to make it a special Christmas for them."
Camden remains close to Reddick's heart, he says. "It's home for me. It's the city that helped raise me."
He added that the city's reputation doesn't match reality. "In recent years, crime has actually been down. … I'm from Camden and I just want to help build it up."
It took a while, but he's now in a position to do a lot of good there.