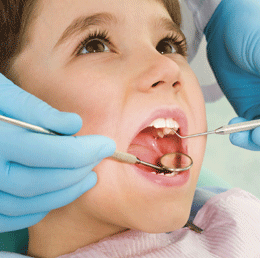 All Smiles
Local pros offer parents advice on how to tame the dreaded dental visit.
Between the tray of gleaming dentist's tools, the sound of the drill and the mystery of X-rays, a trip to the dentist can feel like a child's worst nightmare. But dentists stress that there are many measures parents and dentists can take not only to ensure a positive experience in the dentist's chair, but also to start the child on the path to a lifetime of healthy teeth.
The first question, though, is when to visit the dentist. According to the American Dental Association, a child should see a dentist at the eruption of the first tooth or before the child is 1, says Dr. Christopher Esposito, of Esposito Family and Cosmetic Dentistry in Medford. He urges parents to get their children seen by a dentist in their early years. "Typically the eruption of the baby teeth and how well they are maintained plays a big role in how the permanent dentition will come through," Esposito says.
Then, choosing the right dentist for your child is the vital first step. Look for "somebody who is very experienced at dealing with children, because they require a very different approach, from the second they walk in the door, than an adult patient," says Dr. Teresa Addiego of State of the Art Smiles in Marlton. Many parents wonder whether they should take their child to a pediatric or family dentist. Esposito notes that children should see a pediatric dentist as an infant. By age 3, the option is open to see a general dentist.
Still, the most important aspect of dental care happens at home. Not brushing and flossing well enough can lead to plaque buildup and cavities. Esposito stresses the importance of good homecare, flossing and a twice-daily brushing routine. "Depending on the age of the child, a younger child should be supervised by an adult until they are about 6 or 7.
That's important because most of the time young kids want to get in and get out and get it done. It's important that the parent goes back in and gets the areas the child may have missed," says Esposito. Brushing for two minutes is recommended, as is holding the brush at an angle toward the gum line, to sweep plaque away from the gums.
Besides routine checkups, children should receive fluoride treatments, sealants and x-rays when visiting the dentist for a checkup.
Addiego suggests children should start to receive fluoride treatments as young as 3 years old, as long as a child can spit out excess fluoride. She recommends treatments—which these days come in the form of mild-tasting fluoride varnishes painted onto teeth—every six months until the child is 16.
Another way to protect a child's teeth is a sealant treatment. "A sealant is a resin coating that's placed on the chewing surface of back tooth. It fills in all the deep pits and grooves, so that bacteria cannot hide and form decay," says Addiego. She notes that children typically get this treatment when their 6-year-old molars come in, but this depends on how cavity-prone the child is.
Another preventative measure is X-rays, which Addiego recommends annually. "X-rays are the only way we can tell if cavities are forming between teeth. If they are between teeth, we can't see them when we do an exam. Also with children, we can make sure the permanent teeth are forming correctly under the gum line, so we can anticipate any problems," says Addiego.
While young children aren't thinking about the long-term effects of bad oral hygiene, parents should be aware. Esposito says that the bacteria in your mouth can have an effect on your overall health, and bad dental hygiene has links to diabetes and heart disease.
As to making sure your child has a positive experience at the dentist, the most important thing parents can do is lead the way. "The biggest thing parents can do is basically never speak negatively about a dentist visit, even before going to the dentist with the child," says Esposito. He suggests bringing your child along with you to your dentist appointment, so the child can see what a dentist's office looks and smells like. "The more pleasant experiences they have in the beginning, the better long-term relationship they will have with the dentist," he says.
Perfect Teeth: Dental Care Resource Guide
A Special Advertising Section from the pages of South Jersey Magazine
ABC Dentistry
Dr. Singer's philosophy is that a pediatric dentist can have a profound effect on the lives of young children. We provide the utmost care and attention. Call now for an appointment.
Voorhees
(856) 783-3515
ABCChildrensDentist.com
Dr. Alan Meltzer & Associates
Dr. Alan Meltzer, a clinical professor and world-renowned dental specialist, is proud to live and practice in South Jersey. Patients travel from all over the United States and beyond due to his outstanding results. He continues to lecture on periodontology and dental implant procedures on six continents.
Voorhees
(856) 772-9444
DrAlanMeltzer.com
Offices of Dr. Euksuzian, D.M.D., P.A. and Dr. Braatz D.M.D.
Our focus of dentistry is preventive care combined with advanced aesthetics, resulting in healthy beautiful smiles that everyone loves. We provide the highest quality of dentistry, making our practice special.
Medford
(609) 953-4300
DrEuksuzian.com
Drs. Rosen & Dworkin, P.A.
Our experience has been that a young child will be more willing to accept treatment by a hygienist or dentist if he/she comes along when an older sibling or parent is having a cleaning.
Marlton
(856) 983-7732
RosenDworkin.com
Esposito Family & Cosmetic Dentistry
Short Term Ortho (STO) is adult orthodontic treatment aimed at giving adults a great-looking smile in an average time of six months. People who have crooked teeth now have an attractive solution!
Medford
(609) 654-0029
EspositoFamilyDental.com
Lassin Dentistry
For teeth whitening, dental implants and better health, Lassin Dentistry in Cherry Hill features the latest dental technologies and patient amenities to provide patients the best in comfort and care. Most insurance plans welcomed.
Cherry Hill
(856) 795-8080
LassinDentistry.com
Euksuzian Orthodontics
Our mission is to provide beautiful smiles and happy hearts in a fun and affordable environment.
Medford
(609) 654-0600
Moorestown
(856) 234-2992
BracesByDrE.com
State of the Art Smiles
Using lasers, we can replace the use of needles and drilling for crowns, fillings and more. You can be pain-free at your next dental appointment. No shots, no drilling, no pain … no kidding!
Marlton
(856) 985-1800
StateOfTheArtSmiles.net
Published (and copyrighted) in South Jersey Magazine, Volume 7, Issue 12 (March, 2011).
For more info on South Jersey Magazine, click here.
To subscribe to South Jersey Magazine, click here.
To advertise in South Jersey Magazine, click here.