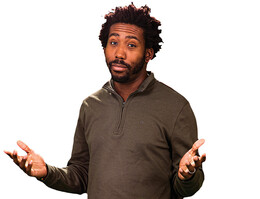 Tuned In
After spending decades working behind the scenes in radio, South Jersey native Tyrone Johnson has become on the area's most popular sports talk hosts.
Tyrone Johnson remembers the exact moment at age 12 when he decided what he wanted to do with the rest of his life. He was inside his childhood home in Pennsauken when he and his brother decided to turn on an old AM radio left behind by the previous owners. The radio had sat untouched for almost four years, but once they spun the dial and Johnson heard sports talk coming over the airwaves for the first time, he became instantly hooked.
"My parents always listened to music, so I never knew that [people talking sports on the radio] existed. From that point on, it was the only thing I ever wanted to do," says Johnson, who now finds himself as one of Philadelphia sports talk radio's most popular figures as a fixture on 97.5 The Fanatic.
After getting his start in with WIP as a producer back in 1999, Johnson bounced his way around the industry taking jobs in different markets and in different formats, including stints with Wall Street Journal Radio, The Blaze, iHeartMedia and WHYY. In the fall of 2016, he joined The Fanatic and rose through the ranks from a behind-the-scenes producer and weekend host to become a key component of longtime sports talker Mike Missanelli's afternoon drive-time show, which was also simulcast on television.
With the sudden news of Missanelli's departure from the station recently, Johnson has been thrust into the spotlight even further, taking over the daily hosting duties while the station puts together its new show. Johnson, who also co-hosts Sixers Outsiders on NBC Sports Philadelphia, is rumored and expected to be a central figure in the new afternoon lineup.
While Johnson wouldn't budge on breaking any news about what his immediate future holds, the Bordentown resident did talk to us about life on the radio and how growing up in South Jersey helped shape his career.
Covering sports in the area where he grew up…
That was the dream; it wasn't just to do it anywhere, it was to do it here at home.
Parting ways with a longtime colleague and friend…
Mike Missanelli is a legend and will forever be on that Mount Rushmore of Philadelphia sports talk. No one will ever replace him, just like no one will ever replace [WIP's] Angelo [Cataldi]. They are there forever. So, it's always sad when you see those kind of things happen and it's absolutely sad that it ever had to end for Mike.
On what makes for good radio…
The stronger the relationships are off the air, the better it will be on the air. And I think the chemistry part is something that a lot of radio stations and shows don't recognize anymore because people have become so disposable. They are not realizing that continuity really matters and closeness really matters. Too often in this business they think they can grab random people and put them together and not give them enough time to gel together.
How South Jersey helped shape his career…
If I grew up anywhere else, I would have probably turned on that radio, heard something I didn't like particularly that much and would have pursued something else.
When you are a kid [in this area] sports is everywhere. You go anywhere and people are talking about sports and that's not the case in other places. The way it's so synonymous with our existence absolutely makes a big difference.
The rewarding aspect of the job and the part he could do without…
The most rewarding part is making people laugh, that's always fun [laughs]. Radio is so hypothetical—we know people are listening, but you can't directly see or hear them. You are talking into this microphone and hope it goes out to the world, so the fact that people respond and laugh, that part is the most gratifying for me.
The toughest part is the negativity for negativity's sake. Because something bad happened in the past people think that means something bad is going to happen today. And I try to think of every day as a new opportunity. Does that always work out? Obviously not. Do I end up disappointed at times with that attitude? Absolutely. But I wish that we had a little more collective hope despite the fact that we've had bad history, because bad history can change.
Expanding the topic of conversation beyond sports…
I think it's important because sports fan aren't only sports fans. Now there are topics we shouldn't go near, but these are well-rounded people so I think it's important to appeal to them in just more than one way. I would like to, over time, create a friendship, a partnership where we are on the same page and understand one another. I don't think we can fully understand one another if we just talk about one subject and there's obviously a lot more in the world to talk about than just sports.