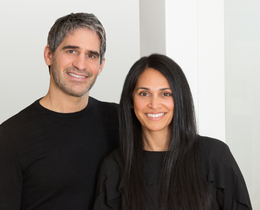 Orthodontics is Changing. Here's What You Should Know.
Your questions answered by Dr. Segal and Iyer
In recent years there have been significant changes in the orthodontics marketplace. Some "teeth straightening" services are now being offered from sources where no orthodontist is involved in the treatments.
Teeth straightening "kits" are being marketed like cosmetics. Some companies develop treatment plans without ever examining the patient, which is never a good idea. What's more, their patients go through treatment with no direct supervision, so the plans cannot be modified as needed along the way to achieve optimal results.
That's not all. Economic and competitive pressures have pushed some providers to shift their focus from delivering excellent care to cost minimization. When less effort is put into planning and delivering treatment, results suffer, and smiles aren't what they should be.
The image on the left is of a patient who came to us shortly after completing orthodontic treatment elsewhere. The gap between the upper and lower teeth is referred to as an open bite. Spaces between the upper teeth were closed during treatment, but the open bite was not improved. The patient was told that there is nothing that could be done about it, short of surgery. In fact, her bite was still open because she had molars that were misaligned in such a way that they were affecting her bite. This problem can be solved orthodontically. We are retreating her now, and her progress is shown in the image on the right. She will soon have the kind of beautiful smile she wanted all along.
This is but one example of a shift we've seen towards "generic" treatments. More and more often, teeth are being straightened with little regard to how the resulting smile complements the patient's face. One factor contributing to this trend is the increase in the number of providers who only straighten teeth occasionally. These providers don't ways have the training or experience needed to create customized smiles.
At Segal and Iyer we don't believe in "one-smile-fits-all" orthodontics. We create smiles only after taking each patient's unique features and preferences into account. We offer a range of options—including accelerated treatments—that aren't available from most other local providers. We achieve smiles that are as functionally sound as they are beautiful. And as you would expect, our top-rated orthodontists personally manage your entire treatment from beginning to end.
While the aforementioned industry changes have provided patients with more options, it has also left them with a greater responsibility to protect their own dental health, and that of their families. If you or someone you know are considering orthodontic treatment, speak with the provider and be sure to ask these important questions.
Q: "How many patients have you treated orthodontically?" When it comes to something as important as your smile, you might prefer not to be a guinea pig.
Q: "Are you a Diamond Invisalign provider?" Diamond status is granted to the top 1% of all Invisalign providers nationwide, based on the number of patients they treat. Diamond Plus status indicates a practice is amongst the leading Diamond providers. Experience is important because your Invisalign results depend on how your orthodontist plans and manages your case. To find an Invisalign provider near you visit www.invisalign.com and use the "find a doctor" tool in the upper right corner.
Q: "Will a doctor be monitoring my progress thoughout the treatment?" This shouldn't be an option, it should be something the doctor insists on for every patient.
Q: "Do you offer treatment with braces?" Although Invisalign is very popular, it's not always the best treatment option. Look for a provider who offers a full range of options.
You should also ask to see examples of their work. Many orthodontists have before and after photos or smile galleries on their websites. Finally, check their reviews on Google and other sites. Patients are more than happy to share their experiences, and their reviews can be very enlightening.
You only have one smile. Be sure to give it the treatment it deserves—the first time.