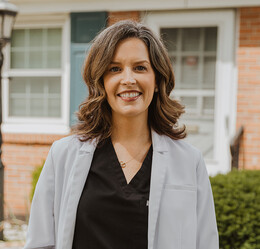 A Reason to Smile
Now running her own practice for the first time, Dr. Courtney Cleary has established a warm environment where patients can expect exceptional care and friendly treatment.
Like all dentists, Dr. Courtney Cleary is determined to have each and every one of her patients walk out of her office with the best smile possible. Thanks to her cheery disposition and approachable nature, they're just as likely to be grinning from ear to ear on their way in and throughout their visit, too.
Dr. Cleary, who has been positively impacting the oral health of South Jersey residents for more than a decade, is now doing so as the owner of her own practice, Cleary Dental Family & Cosmetic Dentistry, in her adopted hometown of Haddonfield. She was handpicked by her good friend, Dr. David Nepa, to take over his flourishing business when he decided to sell last year, based on their similar philosophies and affable personalities.
"It's so funny, every patient who comes into the office is friends with Dr. Nepa in some way, shape or form," Dr. Cleary says with a laugh. "They'll say, 'I hang out in the coffee shop with Dave,' or 'I play pickleball with him.' Everyone knows Dave from something and I'm similar. I've kept many of my previous patients from Gloucester County and a lot of them have my cell phone number.
"Anyone who comes in, we treat them like friends and family—that's my goal. I believe in treating people the way you want to be treated and making them feel as comfortable as you can. That's how I run my practice and Dr. Nepa was the same way."
A native of Bucks County, Pennsylvania, Dr. Cleary attended Fairfield University before moving on to the University of Medicine and Dentistry of New Jersey—now known as Rutgers University School of Dental Medicine—where she graduated at the top of her class. For the past 11 years, she has honed her craft at Dental Associates of Pitman, working under the tutelage of Dr. Richard MacFeeters.
While perfectly happy in that role, she also assumed more leadership responsibilities as she progressed in her career, and in the back of her mind yearned to run her own practice. Dr. Nepa, who she had met through a dental study club, casually mentioned one day that he was looking to move into full-time teaching, and "the stars aligned."
"I feel really lucky that we had that conversation that night and I was in the right place at the right time," Dr. Cleary says. "I am very grateful and appreciative that he allowed me to purchase this practice and trusted me with his patients."
She adds that she was more than ready for the challenge, thanks to her previous experience. "I worked for a great guy, Dr. Richard MacFeeters, and now that I own my own practice I realize that he carved out a lot of time for me and taught me about dentistry, managing people and running a business. I learned so much from him."
Cleary Dental sees patients of all ages for regular checkups as well as more complex cases, and can handle everything from fillings and crowns to dentures, dental implants, extractions, TMJ pain, veneers and even Botox injections. Dr. Cleary's mission statement is to provide exceptional care and service, with a focus on education and preventative methods, in a warm environment where everyone is respected and valued.
That carries over to her staff, including seven employees of Dr. Nepa's practice who stayed on, several who followed Dr. Cleary from her previous office and several new hires, Dr. Nick Persicketti among them.
"You spend a majority of your time at work so you should enjoy what you do and the people you work with," Dr. Cleary says. "That's one of our goals: to be a team, help each other out and treat our patients like we want to be treated. We have a good vibe going on here."
The move to Haddonfield, where she lives with her husband Michael and their two young sons, has not only improved Dr. Cleary's commute but also allowed her to catch important milestones in her children's lives, such as kindergarten graduation. She also stresses that her husband's backing has meant the world to her.
"To run a business, be married, have two kids and have a life on top of that, life is complicated and we overbook ourselves," she says. "Luckily, I have my husband, who is super supportive and helps with the kids at home and helps with the house. We are truly a team and I am so grateful for that, because I don't know if I could do it without him."
With that foundation in place, Dr. Cleary is looking forward to continuing to grow her practice, welcoming longtime patients of Dr. Nepa's and newcomers to the office. She is particularly excited about the cosmetic and restorative services she offers, which can be a game-changer in someone's life.
"I enjoy the complex cases, the strategizing and the game planning," she says. "When you can change someone's whole appearance and confidence, it's amazing."
Cleary Dental Family & Cosmetic Dentistry
501 N. Haddon Ave., Suite 7 | Haddonfield
(856) 528-8607