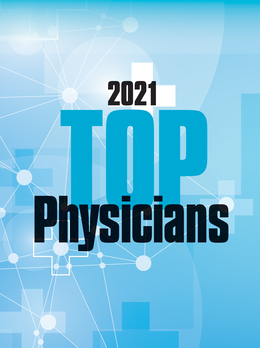 TOP PHYSICIANS 2021
Here are your Top Physicians of 2021!
While the pandemic has been the topic of conversation for the medical world for well over a year now, the fact of the matter is many area doctors have been going above and beyond to treat their patients well before COVID-19 ever became a part of daily lexicon. That is why each year we like to celebrate these selfless individuals for the trusted care they provide and the manner in which they do so. Our Top Physicians list—as chosen by their peers and our readers—features some of the foremost doctors you'll find in South Jersey and advancements in medicine have only strengthened their capabilities to keep us healthy and happy.
Click HERE to view the digital edition!
Aesthetic Medicine

Allergy & Immunology

Dr. Danielle Brenza

Sewell

(856) 218-4848

Dr. Demetri Karanzalis

Moorestown

Dr. Amy Krachman

Hammonton

Dr. Pooja Malik

Mullica Hill

Dr. Anu Momi

Voorhees

(856) 809-0909

Dr. Kristina Siliunas

Moorestown

Dr. Donna Wilcox

Moorestown

Dr. Eric Bantz

Medford

Dr. George Belecanech

Woodbury, Mount Laurel

Dr. Eugene Gatti

Marlton

Dr. Michael Gentlesk

Voorhees

Dr. Marc F. Goldstein

Mount Laurel

Dr. Jinping Guo

Marlton

Dr. Robert Perin

Woodbury

- - - - - - - - - - - - - - - - - - - - - - - - - - - - -

- - - - - - - - - - - - - - - - - - - - - - - - - - - -

Alternative Medicine

Anesthesiology

Dr. Jong Shin

Cherry Hill

Dr. Glenn Dragon

Serving South Jersey

(800) INSPIRA

InspiraHealthNetwork.org

- - - - - - - - - - - - - - - - - - - - - - - - - - - - -
- - - - - - - - - - - - - - - - - - - - - - - - - - - -

Bariatric Surgery

Dr. Emeka Acholonu

Serving South Jersey

(888) VIRTUA-3

Dr. Louis Balsama

Serving South Jersey

(856) 589-0600

Dr. Adam Goldstein

Serving South Jersey

Dr. Marc Neff

Cherry Hill

Dr. Rohit Patel

Serving South Jersey

| | |
| --- | --- |
| - - - - - - - - - - - - - - - - - - - - - - - - - - - - - | |

- - - - - - - - - - - - - - - - - - - - - - - - - - - -

Cardiology

Dr. Vic Bahal

Mullica Hill

Dr. Renee Bullock-Palmer

Serving South Jersey

Dr. Nasser Chaudhry

Serving South Jersey

Dr. Maria Duca

Serving South Jersey

(888) VIRTUA-3

Dr. Kurt Kaulbach

Serving South Jersey

(800) INSPIRA

Dr. Steven Kernis

Washington Township

Dr. Richard Kovach

Serving South Jersey

Dr. Todd Mendelson

Serving South Jersey

Dr. Mark Moshiyakhov

Serving South Jersey

Dr. Donald Orth

Serving South Jersey

(888) VIRTUA-3

Dr. Rajendra Patel

Voorhees

Dr. Ralph Russo

Serving South Jersey

(888) VIRTUA-3

Dr. Robert Singer

Serving South Jersey

(888) VIRTUA-3

Dr. Talya Spivack

Serving South Jersey

(888) VIRTUA-3

Dr. Daniel Tarditi

Serving South Jersey

Dr. Howard Weinberg

Cherry Hill

Dr. Denise Zingrone

Serving South Jersey

- - - - - - - - - - - - - - - - - - - - - - - - - - - - -
- - - - - - - - - - - - - - - - - - - - - - - - - - -

Cardiothoracic Surgery

Dr. Walter Boris

Serving South Jersey

(888) VIRTUA-3

Dr. Paul G. Burns

Serving South Jersey

Dr. Arthur Martella

Serving South Jersey

(888) VIRTUA-3

- - - - - - - - - - - - - - - - - - - - - - - - - - - - -
- - - - - - - - - - - - - - - - - - - - - - - - - - -

Chiropractic

Dr. Joe Albarelli

Cherry Hill

Dr. Kathleen Baumgardner

Marlton

Dr. Sylvia Bidwell

Moorestown

(856) 273-1551

Dr. Charles Carabasi

Marlton

(856) 983-3373

Dr. Barry Coniglio

Mantua

Dr. Devon Coughlin

Marlton

Dr. David L. Jones

Voorhees

Dr. Neil Liebman

Pennsauken

Dr. Jessie Liebman

Marlton

Dr. Michael O'Keefe

Medford

(609) 654-4299

Dr. Grant Parnagian

Moorestown

(856) 234-6373

Dr. Molly Phillips

Westmont

- - - - - - - - - - - - - - - - - - - - - - - - - - - - -
- - - - - - - - - - - - - - - - - - - - - - - - - - - -

Dermatology

Dr. Andrea Baratta

Hainesport

(609) 288-6884

Dr. Ronald Bernardin

Voorhees

Dr. Andrea Buck

Medford

Dr. Megan Caruso

Serving South Jersey

Dr. Grace Chung

Haddon Heights

Dr. Kelli Danowski

Marlton

Dr. Sandra Elder

Marlton

Dr. Justin Green

Serving South Jersey

Dr. Karen Harkaway

Delran, Northfield

Dr. Sandra Kopp

Cherry Hill

Dr. Robin Levin

Mount Laurel

Dr. Nicholas LoPresti

Haddon Heights

Dr. Robert Sollitto

Voorhees

Dr. Birgit Toome

Marlton

- - - - - - - - - - - - - - - - - - - - - - - - - - - - -

- - - - - - - - - - - - - - - - - - - - - - - - - - - -

Ear/Nose & Throat/ Otolaryngology

Saba Aftab

Serving South Jersey

(856) 435-9100

AdvocareENTSpecialtyCenter.com

Dr. Howard Bresalier

Multiple Locations

Dr. Roy Carlson

Serving South Jersey

(856) 602-4000

Dr. Naomi Gregory

Voorhees, Sewell

Dr. Ashmit Gupta

Serving South Jersey

(856) 602-4000

Dr. Patrick Hall

Serving South Jersey

(856) 602-4000

Dr. Scott Schaffer

Serving South Jersey

(856) 435-9100

AdvocareENTSpecialtyCenter.com

Dr. Edward Scheiner

Serving South Jersey

(856) 602-4000

Gabriel Wong

Serving South Jersey

(856) 435-9100

AdvocareENTSpecialtyCenter.com

Dr. Stephen Tai

Serving South Jersey

(856) 435-9100

AdvocareENTSpecialtyCenter.com

- - - - - - - - - - - - - - - - - - - - - - - - - - - - -
- - - - - - - - - - - - - - - - - - - - - - - - - - -

Emergency Medicine

Dr. James Bonner

Serving South Jersey

(800) INSPIRA

Dr. Thomas Brabson

Atlantic City

- - - - - - - - - - - - - - - - - - - - - - - - - - - - -

- - - - - - - - - - - - - - - - - - - - - - - - - - -

Endocrinology

Dr. Joseph Fallon Jr.

Stratford

(856) 309-DOCS

Dr. Patricia Luceri

Marlton

Dr. Vincent Savrese

Serving South Jersey

(888) VIRTUA-3

Dr. Parveen Verma

Serving South Jersey

(888) VIRTUA-3

- - - - - - - - - - - - - - - - - - - - - - - - - - - - -
- - - - - - - - - - - - - - - - - - - - - - - - - - -

Family Medicine

Dr. Anthony Michael Albert-Puleo

Medford

Dr. Nancy Bierman-Dear

Delran

Dr. Jennifer Caudle

Washington Township

Dr. Danielle Cooley

Cherry Hill

Dr. Claudine DeDan

Mullica Hill

Dr. Lisa DiMedio

Turnersville

Dr. William Furey

Haddon Heights, Voorhees

Dr. David Gehring

Woodbury

Dr. David Hassman

Berlin

(856) 767-0077

Dr. Joseph Hassman

Berlin

(856) 767-0077

Dr. Michael Hassman

Berlin

(856) 767-0077

Dr. Donna Laughlin Pherribo

Hammonton

Dr. Jason Lotkowski

Serving South Jersey

(800) INSPIRA

Dr. Allan Magaziner

Cherry Hill

Dr. Jay Mirmanesh

Marlton

Dr. John Mirmanesh

Marlton

Dr. Bac Nguyen

Serving South Jersey

(800) INSPIRA

Dr. Kenneth Panitch

Haddonfield

(856) 354-2211

Dr. Keith Radbill

Cherry Hill

Dr. Anthony Salvo

Hammonton

Dr. Chona Santos Miranda

Hammonton

Dr. Roberta Scherr

Delran

Dr. Gregory Stiefel

Serving South Jersey

(800) INSPIRA

Dr. Meagan Vermeulen

Stratford

(856) 309-DOCS

- - - - - - - - - - - - - - - - - - - - - - - - - - - - -

- - - - - - - - - - - - - - -- - - - - - - - - - - - -

Gastroenterology

Dr. Robert Coben

Cherry Hill, Woodbury

Dr. Samuel Giordano

Serving South Jersey

Dr. Nicholas Orfanidis

Woodbury

Dr. Jorge Prieto

Woodbury

Dr. Ahmed Shehata

Cherry Hill

- - - - - - - - - - - - - - - - - - - - - - - - - - - - -
- - - - - - - - - - - - - - - - - - - - - - - - - - -

- - - - - - - - - - - - - - - - - - - - - - - - - - - - -
- - - - - - - - - - - - - - -- - - - - - - - - - - - -

General Surgery

Dr. Umur Atabek Serving South Jersey Dr. Nauveed Iqbal Serving South Jersey (800) INSPIRA InspiraHealthNetwork.org Dr. David J. Lynch Serving South Jersey (800) INSPIRA InspiraHealthNetwork.org

Dr. Timothy Pilla

Serving South Jersey

(800) INSPIRA

Dr. Michael Sasso

Serving South Jersey

(856) 589-0600

Dr. Jamaal Shaban

Serving South Jersey

(888) VIRTUA-3

Dr. Lori Timmerman

Serving South Jersey

(888) VIRTUA-3

- - - - - - - - - - - - - - - - - - - - - - - - - - - - -
- - - - - - - - - - - - - - - - - - - - - - - - - - -

Geriatric Medicine

Dr. Thomas Cavalieri

Stratford

(856) 309-DOCS

Dr. Anita Chopra

Stratford

(856) 309-DOCS

Dr. Terrie Ginsberg

Stratford

(856) 309-DOCS

Dr. Lilianne Quinlan

Williamstown

Dr. Elisabeth Seigert

Moorestown

- - - - - - - - - - - - - - - - - - - - - - - - - - - - -
- - - - - - - - - - - - - - - - - - - - - - - - - - -

Hematology/ Oncology

Dr. Tami Bach

Mickleton, Woodbury Heights

Dr. Seth Berk

Serving South Jersey

(609) 702-1900

Dr. Maurice Cairoli

Serving South Jersey

(609) 702-1900

Dr. Priya Gor

Voorhees

Dr. Richard Gordon

Voorhees

(856) 435-1777

Dr. Generosa Grana

Serving South Jersey

Dr. Ruby Hanna

Voorhees

(856) 435-1777

Dr. James Lee

Serving South Jersey

(609) 702-1900

Dr. Rachel Levenbach

Serving South Jersey

(609) 702-1900

Dr. Noah Lindenberg

Serving South Jersey

(856) 475-0876

Dr. Carl Minniti Jr.

Mickleton

(856) 423-0754

Dr. Trina Poretta

Voorhees

(856) 435-1777

Dr. Erev Tubb

Serving South Jersey

(800) INSPIRA

Dr. Stephen Wallace

Serving South Jersey

(609) 702-1900

Dr. Stephen Zrada

Multiple Locations
Infectious Disease

Dr. Vakula Atthota

Serving South Jersey

(800) INSPIRA

Dr. Anjum Karim

Serving South Jersey

(888) VIRTUA-3

Dr. Sandra Paluzzi

Serving South Jersey

(888) VIRTUA-3

Dr. John Peterson

Serving South Jersey

(888) VIRTUA-3

- - - - - - - - - - - - - - - - - - - - - - - - - - - - -

- - - - - - - - - - - - - - - - - - - - - - - - - - - -

Infertility

Dr. Jason M. Franasiak

Marlton

(856) 267-8100

Dr. Oumar Kuzbari

Serving South Jersey

Dr. Louis Manara

Voorhees

Dr. Stephen Sawin

Serving South Jersey

Dr. Peter Van Deerlin

Serving South Jersey

Dr. Lauren E. Weissmann

Serving South Jersey

- - - - - - - - - - - - - - - - - - - - - - - - - - - - -
- - - - - - - - - - - - - - - - - - - - - - - - - - -

Internal Medicine

Dr. Linda Aquilino

Serving South Jersey

(800) INSPIRA

Dr. Magdala Chery

Serving South Jersey

Dr. Keith Damerau

Cherry Hill

(856) 479-9400

Dr. Nicholas A. DeMaria

Sicklerville

(856) 728-1181

Dr. Eduardo F. Enriquez

Voorhees

(856) 874-0202

Dr. Minhaz Karim

Serving South Jersey

(888) VIRTUA-3

Dr. Marshall Lauer

Collingswood

(856) 854-7800

Dr. Jennifer M. LeComte

Stratford

(856) 309-DOCS

Dr. Anthony J. Leone

Haddonfield

(856) 428-1890

Dr. Judith Lightfooot

Stratford

(856) 309-DOCS

Dr. Richard G. SantaMaria

Voorhees

Dr. Varun Verma

Serving South Jersey

| | |
| --- | --- |
| - - - - - - - - - - - - - - - - - - - - - - - - - - - - - | |

- - - - - - - - - - - - - - - - - - - - - - - - - - -

Nephrology

Dr. Anthony Brown

Serving South Jersey

Dr. Savita Butani

Serving South Jersey

Dr. Robert Chvala

Serving South Jersey

(888) VIRTUA-3

Dr. Chaitali Dey

Serving South Jersey

Dr. Virginia Irwin Scott

Serving South Jersey

(888) VIRTUA

Dr. Devang Lodhavia

Voorhees

Dr. Beckie Michael

Marlton

(856) 988-8800

Dr. Brian Michel

Serving South Jersey

Dr. Brett Rosenthal

Serving South Jersey

Dr. Richard Specter

Serving South Jersey

- - - - - - - - - - - - - - - - - - - - - - - - - - - - -
- - - - - - - - - - - - - - - - - - - - - - - - - - -
Neurology

Dr. Manzoor Abidi

Maple Shade

Dr. Russell Abrams

Cherry Hill

(888) 985-2727

Dr. Steven M. Bromley

Serving South Jersey

(856) 546-2300

Dr. Amy Colcher

Serving South Jersey

Dr. Indrani S. Hightower

Serving South Jersey

(856) 546-2300

Dr. Mark Mintz

Serving South Jersey

Dr. Keith Preis

Serving South Jersey

(856) 546-2300

Dr. Jesse Thon

Serving South Jersey

Dr. Stephen Vanna

Maple Shade

- - - - - - - - - - - - - - - - - - - - - - - - - - - - -
- - - - - - - - - - - - - - - - - - - - - - - - - - -
Neurosurgery

Dr. Patrick Connelly

Cherry Hill

Dr. R.J. Meagher

Mullica Hill

(856) 336-9808

PrincetonBrainAndSpine.com

Dr. William Mitchell

Mount Laurel

- - - - - - - - - - - - - - - - - - - - - - - - - - - - -
- - - - - - - - - - - - - - - - - - - - - - - - - - -

Obstetrics & Gynecology

Dr. Geoffrey Bowers

Voorhees

Dr. Donna D'Elia

Voorhees

Dr. Debra Epstein

Maple Shade

Dr. Roberta Felsenstein

Voorhees

Dr. Michele Godorecci

Voorhees

Dr. Eric Grossman

Voorhees

Dr. Byron Hapner

Serving South Jersey

Dr. Karen Krieg

Stratford

(856) 309-DOCS

Dr. Wendy Martinez

Voorhees

(856) 770-9300

Dr. Stacy McCrossen

Mount Laurel

Dr. Emily Ricci

Moorestown, Voorhees

Dr. Anthony Salerno

Stratford

(856) 309-DOCS

Dr. Stuart Shalit

Serving South Jersey

(888) VIRTUA-3

Dr. Michael Snyder

Delran, Mount Laurel

- - - - - - - - - - - - - - - - - - - - - - - - - - - - -

- - - - - - - - - -- - - - - - - - - - - - - - - - - -

Ophthalmology

Dr. Brandon Ayres Marlton Dr. Sander Cohen Moorestown Dr. Mary Jude Cox Voorhees Dr. Elizabeth Dale Marlton Dr. John D. Dugan Voorhees Dr. Howard Friedberg Woodbury Dr. Elissa Hassman Berlin (856) 767-0077 AdvocareBMA.com

Dr. Carl Hyder

Serving South Jersey

Dr. Michael Kresloff

Collingswood

(856) 854-4242

Dr. Michael Pro

Marlton

Dr. Irving Raber

Marlton

Dr. Courtland Schmidt Jr.

Marlton

Dr. Bruce Schnall

Voorhees

- - - - - - - - - - - - - - - - - - - - - - - - - - - - -
- - - - - - - - - - - - - - - - - - - - - - - - - - - - -

Orthopedics

Dr. Michael Barrett

Haddonfield

Dr. Patrick M. Kane

Serving South Jersey

(800) 385-7472

Dr. Andrew J. Miller

Serving South Jersey

(800) 385-7472

Dr. Mark S. Rekant

Serving South Jersey

(800) 385-7472

Dr. John Salvo

Marlton

- - - - - - - - - - - - - - - - - - - - - - - - - - - - -

- - - - - - - - - - - - - - - - - - - - - - - - - - - - -

Orthopedic Surgery

Dr. Luke Austin

Marlton, Sewell

Dr. Brad Bernardini

Serving South Jersey

Dr. Robert Dalsey

Haddonfield

Dr. Ryan Danowski

Serving South Jersey

(888) VIRTUA-3

Dr. Lawrence Deutsch

Serving South Jersey

(856) 222-4444

Dr. Brian P. George

Serving South Jersey

Dr. Christopher Kepler

Marlton, Sewell

Dr. Jonas Matzon

Marlton

Dr. Fred McAlpin III

Serving South Jersey

(856) 690-1616

Dr. Kam Momi

Serving South Jersey

(856) 222-4444

Dr. Evan O'Brien

Woodbury

Dr. Laura Ross

Hainesport

Dr. Mark Schwartz

Mount Laurel

Dr. Mark Testaiuti

Serving South Jersey

(856) 222-4444

Dr. Eddie S. Wu

Serving South Jersey

(856) 690-1616

- - - - - - - - - - - - - - - - - - - - - - - - - - - - -
- - - - - - - - - - - - - - - - - - - - - - - - - - - - -

Pain Management

Dr. Niti Cooper

Serving South Jersey

(856) 690-1616

Dr. Shailen Jalali

Sewell

Dr. Scott Jarmain

Serving South Jersey

(856) 222-4444

Dr. Young J. Lee

Cherry Hill

(888) 985-2727

Dr. John Park

Sewell

Dr. Robert Todd Rinnier

Serving South Jersey

- - - - - - - - - - - - - - - - - - - - - - - - - - - - -

- - - - - - - - - - - - - - - - - - - - - - - - - - -

Palliative Medicine

Dr. John Bertagnolli

Stratford

(856) 309-DOCS

Dr. Stephen Goldfine

Serving South Jersey

(800) 229-8183

Dr. Sara Pagliaro

Serving South Jersey

(800) 229-8183

- - - - - - - - - - - - - - - - - - - - - - - - - - - - -
- - - - - - - - - - - - - - - - - - - - - - - - - -

- - - - - - - - - - - - - - - - - - - - - - - - - - - - -
- - - - - - - - - - - - - - - - - - - - - - - - - - -

Pediatric Specialties

Dr. Nicole Aaronson

Serving South Jersey

Dr. Shara Bialo

Serving South Jersey

Dr. Jeffrey W. Campbell

Serving South Jersey

Dr. Aaron Chidekel

Serving South Jersey

Dr. Daniel A. Doyle

Serving South Jersey

Dr. William Emanuel

Serving South Jersey

Dr. Stephen J. Falchek

Serving South Jersey

Dr. T. Ernesto Figueroa

Serving South Jersey

Dr. Rochelle Haas

Serving South Jersey

Dr. Alana B. Jones

Serving South Jersey

Dr. Persephone Jones

Serving South Jersey

Dr. Rebecca Ramirez

Serving South Jersey

Dr. Steven B. Ritz

Serving South Jersey

Dr. Alvin Su

Serving South Jersey

Dr. Vikas Uppal

Serving South Jersey

- - - - - - - - - - - - - - - - - - - - - - - - - - - - -
- - - - - - - - - - - - - - - - - - - - - - - - - - -

Pediatrics

Dr. Lawrence A. Ahr

Voorhees

Dr. Pierre Coant

Deptford

Dr. Eileen Condren

Stratford

(856) 309-DOCS

Dr. Joseph DelGiorno

Blackwood

Dr. Aaron T. Dorfman

Serving South Jersey

Dr. Bruce Gooberman

Cherry Hill

Dr. Stacey Hammer

Serving South Jersey

Dr. Esther Harris

Cherry HIll

Dr. Leonard Kaplan

Cherry Hill

Dr. Christina Lampone

Sewell

Dr. G Lee Lerch

Gibbsboro

Dr. Christopher J. Long

Voorhees

Dr. Edwin Lopez Bernard

Galloway

Dr. Angelo Minutillo

Deptford

Dr. Cyrus Mohazzebi

Cherry Hill, Sicklerville

Dr. Anthony F. Napoli

Voorhees

Dr. Florence Rosen

Cherry Hill

(856) 428-5020

Dr. Apurva S. Shah

Voorhees

Dr. Bruce Taubman

Cherry Hill

(856) 428-5020

Dr. John B Tedeschi

Cherry Hill, Collingswood

Dr. Rey Velasco

Cherry Hill, Collingswood

Dr. James Weidner

Haddonfield

- - - - - - - - - - - - - - - - - - - - - - - - - - - - -
- - - - - - - - - - - - - - - - - - - - - - - - - - -

Physical Medicine and Rehabilitation

Dr. Theodore Conliffe

Marlton

Dr. Chioma Ezeadichie

Serving South Jersey

Dr. Michael Molter

Sewell

Dr. Anupam Sinha

Marlton

Dr. Teena Varghese

Cherry Hill

Dr. Kenneth Wu

Marlton

Dr. George Young

Marlton, Sewell
Plastic Surgery

Dr. Alex Au

Serving South Jersey

(888) VIRTUA-3

Dr. Sean Bidic

Mullica Hill

Dr. Anthony Corrado

Cherry Hill

Dr. Steven L. Davis

Cherry Hill, Northfield

(856) 424-1700

Dr. William Franckle

Sewell

Dr. Fredrick Lavan

Woodbury

Dr. Adrian Lo

Marlton

Dr. Evan Sorokin

Cherry Hill

Dr. Julie Spears

Mount Laurel

Dr. Bhupesh Vasisht

Voorhees

- - - - - - - - - - - - - - - - - - - - - - - - - - - - -

- - - - - - - - - - -- - - - - - - - - - - - - -

Podiatry

Dr. Ghadeer Alami

Multiple locations

Dr. Joseph DiMenna

Cherry Hill

Dr. Raymond Ferrara

Sewell

Dr. Michael Flatley

Serving South Jersey

(800) INSPIRA

Dr. Homyar Karanjia

Marlton

Dr. Tarol Shah

Serving South Jersey

Dr. Paul Sullivan

Marlton

Dr. Frank Tursi

Serving South Jersey

(856) 435-4000

- - - - - - - - - - - - - - - - - - - - - - - - - - - - -
- - - - - - - - - - -- - - - - - - - - - - - - -

Preoperative Services / Pain Management

Dr. Nadeem Ahsan

Serving South Jersey

Dr. Benjamin Duckles

Serving South Jersey

(888) VIRTUA-3

| | |
| --- | --- |
| - - - - - - - - - - - - - - - - - - - - - - - - - - - - - | |

- - - - - - - - - - - - - - - - - - - - - - - -

Psychiatry

Dr. Edwin Castillo

Voorhees

Dr. Jerrold Friedman

Serving South Jersey

Dr. Maju Mathews

Serving South Jersey

Dr. Leah Rosenkrantz

Marlton

Dr. Zoe Wilson Salman

Moorestown

Dr. Rachel Shmuts

Cherry Hill

- - - - - - - - - - - - - - - - - - - - - - - - - - - - -
- - - - - - - - - -- - - - - - - - - - - - - - -

Pulmonary Medicine

Dr. Gregory Breen

Serving South Jersey

(800) INSPIRA

Dr. Eric Finkenstadt

Serving South Jersey

(800) INSPIRA

Dr. William Morowitz

Cherry Hill

Dr. Peter Saccone

Sewell

Dr. Allen Silvey

Sewell

- - - - - - - - - - - - - - - - - - - - - - - - - - - - -
- - - - - - - - - - - - - - - - - - - - - - - - -

Radiation Oncology

Dr. Alexis Harvey

Sewell

- - - - - - - - - - - - - - - - - - - - - - - - - - - - -
- - - - - - - - - - - - - - - - - - - - - - - - -

Radiology

Dr. Nikki Ariaratnam

Serving South Jersey

(888) 909-7572

Dr. Jim Bloor

Serving South Jersey

(888) 909-7572

Dr. Robert P. Chvala

Woodbury

Dr. Sandeep Deshmukh

Serving South Jersey

(215) 503-4900

Dr. Sachin Dheer

Voorhees

Dr. Andy Garguilo

Hainesport

Dr. Omar Lalani

Serving South Jersey

Dr. William Muhr

Serving South Jersey

(888) 909-7572

Dr. Catherine Piccoli

Serving South Jersey

(888) 909-7572

Dr. David Roberts

Serving South Jersey

(888) 909-7572

Dr. Annina Wilkes

Serving South Jersey

(215) 503-4900

- - - - - - - - - - - - - - - - - - - - - - - - - - - - -

- - - - - - - - - - - - - - - - - - - - - - - - -

Thoracic Surgery

Dr. David Shersher

Serving South Jersey

Dr. Matthew Puc

Serving South Jersey

(888) VIRTUA-3

- - - - - - - - - - - - - - - - - - - - - - - - - - - - -
- - - - - - - - - - - - - - - - - - - - - - - - -

Urology

Dr. Robert Barsky

Serving South Jersey

(856) 985-8000

Dr. Michael Bernstein

Serving South Jersey

(856) 985-8000

Dr. Gordon Brown

Serving South Jersey

(856) 985-8000

Dr. Stuart Diamond

Serving South Jersey

(856) 339-4466

Dr. Samuel Goldenberg

Serving South Jersey

(856) 985-8000

Dr. Mitchell Kotler

Serving South Jersey

(856) 985-8000

Dr. Jeffrey Tomaszewski

Serving South Jersey

- - - - - - - - - - - - - - - - - - - - - - - - - - - - -

- - - - - - - - - - --- - - - - - - - - - - - - -

Vascular Surgery

Dr. Charles Dietzek

(856) 309-VEIN

Multiple locations

Dr. Holly Graves

Serving South Jersey