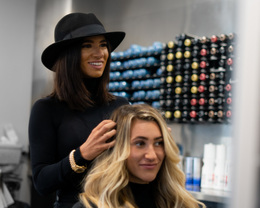 A Cut Above
Opening Moorestown's Soffiato Via was a leap of faith for Caroline Dodig, but its reputation for blown-away clients has the salon positioned for a bright future as it celebrates its fifth anniversary. 
A hair stylist by trade, Caroline Dodig always knew she wanted to open her own salon.
She just wasn't expecting the perfect opportunity to practically fall in her lap at 22.
"I wasn't necessarily looking to open something at that point," Dodig says. But when a client made her aware that the perfect salon space was available, her plans for the future came to fast fruition.
Armed with determination and parental support—Dodig admits her mother had some natural reservations about going into business with her 22-year-old daughter, but ultimately neither parent wanted their daughter pass up her big break—she debuted Soffiato Via on Moorestown's Main Street in July 2017, which first opened its doors as a boutique style bar.
"I was thinking that were so many full-service salons out there, and I just wanted to do something a little different: The concept originally was doing blowouts and styles and a lot of bridal work," she explains. "But it quickly grew to become full-service because once a client gets comfortable with you, they want you to do their color and everything else."
More than two years after Soffiato Via—Italian for "blown away"—burst onto the scene with its focus on blow-outs and styling, the salon expanded its space to begin offering that color bar clients had so eagerly kept requesting.
And then COVID struck.
But rather than sit idly by while the salon was shuttered for four months, Dodig put her industriousness to good use, opting to work on the business since she and her team couldn't be working in it.
"When the shutdown happened, I used that time as a way to look at how the industry was shifting," she recalls. "I really started to market and focus on hair extensions."
Soffiato Via is staffed by a team that skews young, as do its clients. Dodig credits that youthful perspective to helping the salon stay keyed into industry trends—like how in recent years, extensions stopped being "something people are embarrassed to talk about" and became a much more openly embraced luxury service that makes a dramatic change while adding volume and fullness.
"Doing hair extensions has just really boosted our business to the next level," she notes.
After a June 2020 reopening that Dodig describes as "probably the craziest time period we'll ever experience," Soffiato Via has continued its meteoric ascent. Dodig says that embracing social-media marketing has been a huge asset in reaching new clients; that, combined with word-of-mouth recommendations has made it so "the majority of my book consists of" extension clients.
It's been such a successful addition to Soffiato Via's offerings, in fact, that Dodig was even a featured speaker at the Data-Driven Salon Summit that this past spring, explaining her firsthand experience in how offering specialized services can be a boon to business: "I spoke at an event in Nashville on how things like extensions can drive your average ticket price within a salon as a stylist."
Being a featured speaker was just one milestone that 2022 had in store for Dodig and the Soffiato Via team. Earlier this summer, the salon landed on South Jersey Magazine's annual Best of the Best list, where it was recognized as Best Hair Color in South Jersey.
Even though Dodig knows how talented and dedicated her team is—their continuing education is something she ardently encourages—and has seen just how well-received the salon's color-bar results are, the honor still caught her by surprise.
"I was actually at a hair event when I got an email saying 'Congratulations!' and I was like, for what?" she laughs. "I didn't even know we were in the running, so that was really cool."
What's more, on July 6, Soffiato Via celebrated its fifth anniversary.
"It has been just incredible to see our transition and growth," she says. "We have multiple girls who've been with us since the start, and it's a really good feeling to know that this is an environment people love to work in."
While awards and accolades are always an appreciated validation of the team's passion and artistry, what Dodig loves most is that personal connection they get to nurture with Soffiato Via's clients, especially when they're dazzled by what they see in the mirror.
"The best compliment I can get is when someone tells me I gave them confidence they didn't have before," she says. "Just being able to really change how people feel about themselves—that's why extensions are my favorite thing to do. Seeing people cry because that drastic change to their hair makes them feel beautiful, there's just noting that beats that feeling."
Soffiato Via
11 E. Main St., Moorestown
(856) 581-9226
SoffiatoVia.com