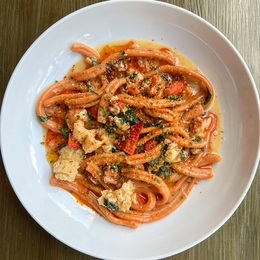 Something's Cooking
Collingswood's Nunzio Ristorante is back in business under the leadership of renowned chef Michael DeLone, who is carrying on the excellent tradition his mentor started.
Since being introduced to the restaurant business at the age of 15, Michael DeLone's passion for the industry has never waned as he has filled just about every role possible, from busboy to executive chef and everything in between. The one position he aspired to, but always thought was out of reach, has finally come to fruition more than 20 years later.
Thanks to his stellar reputation in the kitchen and a lasting relationship with one of his first mentors, DeLone's dream of owning an establishment came true late in 2021 when he and his wife Lisa took over Nunzio Ristorante Rustico, which helped put Collingswood's famed Restaurant Row on the map.
DeLone is thrilled to be following in the footsteps of close friend and original owner/chef Nunzio Patruno while putting his own spin on fine Italian dining.
"Owning a restaurant was always in the back of my mind," DeLone says. "At first, I was focused on finding my way as a chef, honing my craft and discovering what I'm good at. I didn't come from a family with money or know a lot of financial backers, so to be honest I never thought this would happen. It's kind of surreal to me.
"I always tell people that Nunzio started everything as far as bringing a different style of food and cuisine to Collingswood. I love that I can take over for my mentor and keep his legacy alive."
A native of Philadelphia, DeLone grew up in an Italian family that loved to cook and bake, but his interest in food was not fully piqued until he got a job bussing tables at an eatery in Manayunk, where he became instantly hooked by "the fast pace and the controlled chaos."
DeLone first met Patruno while working at Monte Carlo Living Room in Philadelphia, and the ensuing experience was like his version of culinary school. Patruno taught him the classic techniques and he soon became proficient in butchering, making sauce and pasta, and baking desserts, and before long was entrusted with the role of sous chef at a young age.
He moved on to Le Castagne in Center City where he became an executive chef for the first time and had the freedom to develop his own unique style. Patruno eventually came calling again and DeLone could not turn down the opportunity he had been waiting for.
"I sacrificed a lot of my life for this," he says. "When I started in this business I knew what I was getting into and I knew what it took to succeed in it. It's a lot of hard work and I just keep pushing forward and try to make the best of it for my wife, my family and now for my restaurant.
"It was hard when we first opened, because Nunzio had been here so long and people were used to his style of cooking. I came in and I kept some of his staple dishes, but obviously they were done differently because I'm a different style of chef. But I stopped hiding behind the name and the old menu and one day I just flipped the menu over to my style, and it seems to be very well received. I feel like we're growing and people understand the change."
The restaurant had been closed due to the pandemic before DeLone took over, and once he reopened the customers came rushing back. It has stayed busy even during the summer, traditionally a slow time, as people are eager to resume in-person dining and gathering in large groups.
They have discovered a menu with classic Italian favorites—like gnocchi and fettuccine Bolognese—along with sophisticated modern takes highlighting DeLone's love for seafood and locally sourced ingredients. The cozy setting has remained the same at the BYOB, although subtle updates and a name change will be coming in the future. For now, the restaurant is known as Nunzio by Chef Michael DeLone, a nod to the founder.
"We still talk often," DeLone says. "He's a mentor but he's more of a friend now. He pointed me in the right direction, taught me just about everything I know, and has now given me my own place. Words can't really describe how thankful I am for him."
He has the same gratitude for his wife, who he is proud to be walking alongside on this journey. His brother-in-law, Anthony Masapollo, is also on board as general manager.
"Lisa is my rock," DeLone says. "I can't explain how thankful I am to have her helping me through this. I'm good with pressure in the kitchen, but when it comes to everything else I'm kind of anxious. She has helped with that and she handles all of the parties, the menus and the marketing, and the list goes on. Lisa, Anthony and I always hoped that we could have our own restaurant and do something new on our own, so it's really exciting."
Nunzio by Chef Michael DeLone
706 Haddon Ave. | Collingswood
(856) 858-9840