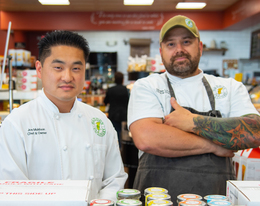 One Market, Two Locations, Infinite Options
At Haddon Culinary, chefs James Liuzza and Joe Muldoon have created a can't-miss foodie haven that combines the best of sit-down dining, prepared-meals' convenience and shopping-market variety, all driven by their discerning palates and passion for food. 
Haddon Culinary manages to accomplish a lot with two Camden County locations: producing chef-cooked prepared meals and creative made-to-order sandwiches, soups and salads for casual eat-in dining or takeout perfect for breakfast, lunch or dinner. Then there's locally sourced produce and meats, charcuterie-tray offerings, housemade desserts—and even a full-service catering department.
While the chef-driven gourmet market offers a variety of unique epicurean experiences unlike anything else, Haddon Culinary—a mainstay on South Jersey Magazine's Best of the Best list for three years in a row—boasts one constant that makes for a scent-sational introduction.
"The first thing customers comment on when they walk through the door is the smell," says chef-owner James Liuzza. "Our kitchen is constantly cranking out something new and exciting."
Liuzza and chef-owner Joe Muldoon share a long professional history, and have been entrenched in the culinary world even longer. Together, they bring impressive résumés and a lifetime of cultivated, cultural appreciation for the love language of food to their joint venture's Collingswood and newly opened Haddonfield locations.
It was that passion and experience—plus an auspiciously versatile operational model—that helped Haddon Culinary thrive despite the pandemic, which hit just months after the market opened its doors in Collingswood in December 2019.
"We're lucky we were able to remain open throughout the pandemic, and that we had a business model well-suited to meet the needs of the moment," Muldoon observes. "We looked at it as our responsibility and honor to serve this community that we were new to and that needed us."
Of course, offering an incredible, inventive menu befitting a foodie hotspot has certainly helped cultivate a following, as did getting to know their clientele.
"We have continued to maintain our high standards, but we've also honed in on getting to know our customers: listening to them, finding out what they want and need, and responding to that," explains Liuzza. "We built a very loyal customer base in the beginning that still exists today."
Both Liuzza and Muldoon are confident in calling Haddon Culinary's from-scratch prepared fare the best in South Jersey, and recognize that there is a reason their market has become a must-visit destination for food lovers.
"I think people are struck by the sheer variety of items we have. Whether you're looking to show off your cooking chops, or you want us to do the cooking, we have something for you," Liuzza notes. "Good food deserves attention and expertise, we're here to provide that. Throughout our culinary careers, we were always on a constant search for the place that had it all, because we found ourselves making other stops to complete our list of needs. We can actually do all of our own shopping here!"
"A chef-driven market adds another level within your shopping experience from a chef's point of view," Liuzza continues. "Yes, we have your prime steak, but we also have a creative compound butter or homemade stock to make a classical French sauce, or a unique spice blend. What's more, our staff will happily guide you through any cooking questions you may have, as opposed to saying 'Throw it on the grill.'"
Customers are encouraged to try their own hands at preparing the locally sourced offerings, seasonal produce, and freshly delivered butcher-shop and seafood fare that embody Haddon Culinary's farm-to-table, locavore ethos—an approach that greatly benefits from the chef-owners' strong relationships with South Jersey vendors and farmers.
These relationships inspire a rotating menu of innovative weekly features—seafood steampots, homemade sauces, sausages, bacon, and hot dogs made onsite, to name a few—and that means there's always a new reason to stop in and see what's cooking. But even with the wide variety Haddon Culinary offers, some dishes have inevitably secured their place as in-demand customer favorites that all but fly off the shelves.
According to Liuzza, "The chicken pot pies have become a year-round favorite—actually, anything that goes in our all-butter crust has become a hit. We make a lot of galettes and pies using seasonal produce and ingredients from our farm partners. The burrata-stuffed squash blossoms have become something customers look forward to every summer. We do a lot of fun specials as well, our customers get pretty excited about those and they often sell out."
While there's still plenty of summertime left to enjoy those seasonal dishes, the holidays will be here before you know it. The Haddon Culinary team is already gearing up to meet that seasonal demand, fulfill gift-basket orders and craft holiday packages that "remind you of home—but if you lived with a chef," says Muldoon.
He continues: "The winter holidays have become a cornerstone of our business—we have served many holiday meals over the last three years. It means a lot when someone chooses us to be a part of their holiday table, so we take everything into consideration, from the composition of our holiday packages themselves to how each menu item will reheat at home." Add that to the reasons why Haddon Culinary is a must-visit on any food lover's list for the holidays and beyond.
Haddon Culinary
Collingswood: 741 Haddon Ave. | (856) 559-0440
Haddonfield: 9 Kings Hwy. W. | (856) 616-2345
HaddonCulinary.com