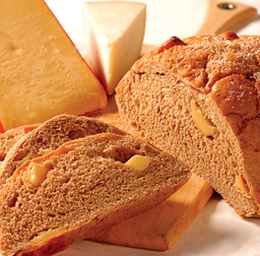 Cravings: Knead to Know
5 spot: Knead to Know
As children, we were strictly white bread aficionados, and we couldn't be bothered with that pesky crust. Oh, how far we've come. And, no, I'm not talking to the carb counters out there. I'm talking to the bakers who see fresh bread as a blank canvas with which to create doughy delights suitable for snacks, sandwiches—even desserts. These five artisan breads make for some lovable loaves.
1. Great Harvest Bread Company Cheddar Beer Bread.
For this whole wheat specialty, Guinness is substituted for water in a St. Patrick's Day-appropriate offering that also houses large chunks of sharp cheddar cheese. It goes well with a hearty soup, but it's even better as a grilled cheese sandwich. 100 Springdale Road, Cherry Hill, (856) 216-0700
2. The Olde World Bakery & Café Black Olive and Rosemary Sourdough.
This bread has all the right ingredients to serve as a nice complement to charcuterie, but it's also quite addictive on its own. 1000 Smithville Road, Eastampton, (609) 265-1415
3. Polish American Deli Cherry Cheese Babka.
Some reserve this cake-like bread for Easter only. Those in the know nosh on it year round. Here, you can also get cheese or raisin varieties. 125 N. Black Horse Pike, Runnemede, (856) 939-9505
3. Duffield's Farm Market Cranberry Walnut Bread.
Made fresh daily, this fruity, nutty concoction is a favorite among loyal customers—and for good reason. 280 Chapel Heights Road, Sewell, (856) 589-7090
4. American Harvest Artisan Bread Sun-Dried Tomato Loaf.
The folks behind Classic Cake aren't just skilled pastry chefs, they can also bake a mean loaf. The sweetness of tomatoes and fresh basil will take any sandwich to the next level. 100 Hurfville-Cross Keys Road, Sewell, (856) 262-7400; 480 Evesham Road, Cherry Hill, (856) 751-5448
What's Cooking?
Saffron: The king of all spices is highly aromatic—and highly expensive. Fortunately you don't need much to make an Asian, Indian or Mediterranean dish sing. Before trying it at home, get familiar with its intense flavor by sampling the Spanish seafood paella at Ritz Seafood in Voorhees, the mixed seafood with saffron broth and fettuccine at Barcelona Bistro in Pitman, or in the lobster ravioli with saffron cream sauce at Blue2O in Cherry Hill.
Kitchen Conversation
Chef Lou Imbesi of Catelli Ristorante
The most exciting current food trend is ... the use of Indian spices. Used properly, they add new depths of flavor to everyday foods.
The most annoying current food trend is ... molecular gastronomy. Many young cooks never learn the basics and foundation of classical cooking. They will often use molecular gastronomy just for the sake of using it, producing less-than-desirable results [compared to what they could do] had they known the basic fundamentals first.
Lunch Box
What we're eating this month:
The sushi combination plate at the newly opened Megu Modern Japanese Cuisine in Moorestown. There may be no such thing as a free lunch, but this is as close as you'll get in South Jersey. Diners get their choice of two rolls (we like the eel and spicy yellowtail) as well as miso soup and a salad, all for less than $10.
Fantasy Feast: One day. Three meals. Total satisfaction.
Breakfast: Blueberry stuffed French toast from The Pop Shop in Collingswood. We could choose plenty off this menu, but we're suckers for the thick slices of hand-cut brioche stuffed with cinnamon cream cheese and carmelized pecans.
Lunch: Balsamic hanger steak sandwich from Braddock's in Medford. Served on a toasted baguette, this sandwich is made even tastier with marinated mushrooms and gruyere cheese.
Appetizer: Sausage and figs in balsamic reduction from Tre Famiglia in Haddonfield. The sweet figs combined with the balsamic would be enticing enough, but the homemade sausage and crusty seeded bread make this starter even more attractive.
Entrée: Chicken mumtali from Palace of Asia. This boneless chicken cooked in a coconut cream with cashews and raisins is one of the most popular dishes in Indian cuisine, and Palace of Asia does it perfectly.
Dessert: Banana teardrop from RiverWinds Restaurant. Italian sponge cake. Banana mousse. Shards of feuilletine. We rest our case.
Fast Food: Culinary news to chew on
• As part of a food and wine series, Nunzio Ristorante Rustico in Collingswood is holding a special dinner this month. For $55 on March 15, guests can bring a bottle of Super Tuscan wine and enjoy a specialty paired multi-course meal. The evening will also include a discussion with area sommeliers and winemakers.
• Think you have what it takes to be the next Top Chef? Auditions for Bravo's wildly popular cooking competition, as well as Top Chef Just Desserts, will take place at the Sofitel in Philadelphia on March 2 from noon to 3 p.m. The local tryout led to success for Willingboro's Kevin Sbraga, last season's winner.
• Hearing the cries of supporters citing health benefits and farmers citing financial benefits, a recent bill introduced in the state legislature would allow for the sale of raw milk in New Jersey. If passed, a program to regulate the sale of the milk would be created with the New Jersey Department of Agriculture.
• The Gloucester County Chamber of Commerce's Eighth Annual Wine and Food Pairing Extravaganza will take place 6 p.m. on March 31 at Auletto's Caterers. Tickets are $40-$50. For more information, visit GloucesterCountyChamber.com
Published (and copyrighted) in South Jersey Magazine, Volume 7, Issue 12 (March, 2011).
For more info on South Jersey Magazine, click here.
To subscribe to South Jersey Magazine, click here.
To advertise in South Jersey Magazine, click here.