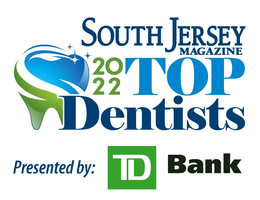 Top Dentist 2022
Our complete list of 2022 Top Dentists from Endodontics to Prosthodontics all across South Jersey!
As the pandemic put a renewed focus on one's overall health and well-being, proper dental health has taken center stage. Sure, regular visits to the dentist will help protect your teeth and gums, but it can also help you avoid other serious health issues, like increased risk for cardiovascular disease or pneumonia. Here in South Jersey, we are lucky to have such a talented crop of dental professionals to assist us, whether we are in need of a simple cleaning or a surgical procedure and our annual Top Dentists list—as voted on by their peers and our readers—is full of the region's leading doctors in the field. Click
HERE
to view the digital edition!
ENDODONTICS

Dr. Benedict J. Bachstein

Serving South Jersey

Dr. Brooke Berson

Mullica Hill

Dr. Jeffrey Carroll

Serving South Jersey

Dr. Bilal Chaudhry

Serving South Jersey

Dr. Sara Fonseca

Moorestown

Dr. Jeffrey Levin

Stratford

Dr. Anna Park

Mullica Hill

- - - - - - - - - - - - - - - - - - - - - - - - - - - - -
- - - - - - - - - - - - - - - - - - - - - - - - - - - - -
GENERAL

Dr. Raymond Abrams

Woodbury

(856) 251-9191

Dr. Zahra Afsharzand

Cherry Hill

(856) 428-2550

Dr. Bryen Barbell

Voorhees

Dr. Brian J. Cardillo

Stratford

Dr. Evan Cauterucci

Pitman

(856) 589-5737

Dr. Courtney Cleary

Haddonfield

Dr. Christopher J. Connolly

Sewell

Dr. Gerard Corsi

Woodbury

(856) 251-9191

Dr. Adam Cygler

Mount Holly

Dr. Kenneth Donaldson

Lumberton

(609) 265-9797

Dr. Gary Dworkin

Marlton

(856) 983-7732

Dr. Charles Esposito

Moorestown

(856) 235-6561

Dr. Christopher Esposito

Medford

(609) 654-0029

Dr. Michael Fitzpatrick

Hainesport

Dr. Mary Frare

Voorhees

Dr. Lisa Gallucci

Marlton

Dr. Harry J. Gilbert

Cherry Hill

(856) 424-0170

Dr. Gregory Haines Jr.

Deptford

(856) 845-1200

Dr. Robert Helder

Woodbury

Dr. Keri Irving

Woodbury

Dr. Beverly Jaiswal

West Deptford

(856) 579-4048

Dr. Cynthia Jetter

Voorhees

(856) 772-1400

Dr. Donald Jetter

Voorhees

(856) 772-1400

Dr. Irena Jug-Weiss

Maple Shade

Dr. Elizabeth Kilpatrick-Fox

Swedesboro

(856) 997-2767

Dr. John Kupcha

Mullica Hill

(856) 223-1945

Dr. Howard Lassin

Cherry Hill

Dr. Kessy Lee

Cherry Hill

(856) 795-9007

Dr. Sophia Lee

Maple Shade

Dr. Kelsey Lehrer

Serving South Jersey

(215) 462-2424

Dr. Bo Levitsky

Mullica Hill

Dr. Christina Levitsky

Mullica Hill

Dr. Joan Malcolm

Sicklerville

Dr. John J. McCarty

Sewell

Dr. Karen Miller

Moorestown

(856) 235-6561

Dr. David Monokian

Serving South Jersey

Dr. Michael Monokian

Serving South Jersey

Dr. Joseph Natoli

Turnersville

Dr. Cathleen Olesky

Sewell

Dr. Septimiu Pastiu

Blackwood

Dr. Amar Patel

Moorestown

Dr. Sonal Patel

Pennsauken

(856) 663-5472

Dr. Jason Raines

Mullica Hill

Dr. Steven Rasner

Vineland

(856) 692-1370

Dr. Nermeen Rifai

Williamstown

(856) 740-1416

Dr. Fred Rosen

Marlton

(856) 983-7732

Dr. Richard Ruden

West Deptford

Dr. Ritesh Salvi

Serving South Jersey

Dr. Jasmine Singson

Marlton

Dr. Bruce Silver

Burlington

Dr. Francis Smithgall

Cherry Hill

Dr. Gregory Strait

Voorhees

(856) 768-8988

Dr. Stephen Sunshine

Marlton

(856) 983-7732

Dr. Sanya Sweeney-Fonseca

Marlton, Riverton

Dr. Michele Turner-Wood

Glassboro

Dr. Michael Vanaria

Cinnaminson

Dr. Matthew Venuto

Sicklerville

Dr. Lindsay Wessner

Cherry Hill

- - - - - - - - - - - - - - - - - - - - - - - - - - - - -

ORAL & MAXILLOFACIAL SURGERY

Dr. Jeffrey Kimelman

Sewell

Dr. Bradford Porter

Serving South Jersey

Dr. Chad Rebhun

Serving South Jersey

Dr. Marc Rothman

Cinnaminson

(856) 282-2903

Dr. Elizabeth Wagner

Serving South Jersey

- - - - - - - - - - - - - - - - - - - - - - - - - - - - -
- - - - - - - - - - - - - - - - - - - - - - - - - - - - -
ORTHODONTICS

Dr. Frank Batastini

Serving South Jersey

Dr. Dan Bills

Serving South Jersey

Dr. Jessica Bowen

Mullica Hill

Dr. Ally Clark

Haddonfield, Woodbury Heights

(856) 428-1444

Dr. Alex Colalillo

Mullica Hill

Dr. Karen Conn

Marlton

Dr. Stephanie Finn

Cherry Hill

(856) 429-9419

Dr. Monisha Iyer

Marlton

(856) 810-1006

Dr. Amy James

Haddonfield

Dr. Tom Kadar

Sewell

(856) 582-1400

Dr. Richard Kaye

Moorestown, Mount Holly

(856) 234-4044

Dr. Robert Kazmierski

Moorestown

Dr. Erin Kazmierski-Furno

Marlton

Dr. Mary Beth Morrone

Moorestown, Mount Holly

(856) 234-4044

Dr. Michele Paterno

Mount Laurel

(856) 722-5664

Dr. Cara Piskai

Voorhees

(856) 429-1900

Dr. Ronald Saffar

Serving South Jersey

Dr. Ross Segal

Marlton

(856) 810-1006

Dr. Tarak Shah

Marlton

Dr. Elena Stavisky

Haddon Township

Dr. Tanya Stavisky

Cherry Hill

Dr. Noor Tarazi

Serving South Jersey

Dr. James TenBrook

Serving South Jersey

Dr. Tejjy Thomas

Cherry Hill

(856) 429-9419

Dr. Benjamin Yucha

Moorestown, Mount Holly

(856) 234-4044

- - - - - - - - - - - - - - - - - - - - - - - - - - - - -

- - - - - - - - - - - - - - - - - - - - - - - - - - - - -

- - - - - - - - - - - - - - - - - - - - - - - - - - - - -
- - - - - - - - - - - - - - - - - - - - - - - - - - - - -

PEDIATRIC DENTISTRY

Dr. Marc Albano

Mullica Hill

(856) 842-5400

Dr. Dianna Champion

Serving South Jersey

Dr. Emily Eilerman

Serving South Jersey

Dr. Sonny Sekhon

Mount Laurel, Voorhees

(856) 778-0800

- - - - - - - - - - - - - - - - - - - - - - - - - - - - -

- - - - - - - - - - - - - - - - - - - - - - - - - - - - -

PERIODONTICS

Dr. Joseph Ahlo

Cherry Hill

Dr. Victoria Caldwell

Cherry Hill

Dr. Mario Canal

Serving South Jersey

Dr. Gail Gerard Childers

Marlton, Turnersville

Dr. David Edenbaum

Voorhees

Dr. Shahin Kazemi

Cherry Hill

Dr. Daniel Kubikian

Sewell

Dr. Alan Meltzer

Voorhees

Dr. David Silver

Marlton

- - - - - - - - - - - - - - - - - - - - - - - - - - - - -
PROSTHODONTICS

Dr. LaDerrick Bullock

Marlton

Dr. Julio Espinoza

Cherry Hill