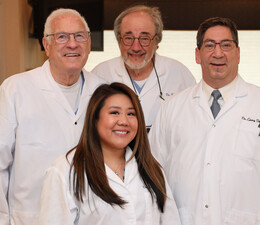 A Family Feeling
Providing attentive, gentle care—and even some dental education—is how the dentists at Drs. Rosen & Dworkin ensure generations of patients enjoy a lifetime of bright, healthy smiles. 
At the dental office of Drs. Rosen & Dworkin in Marlton, it really is about family.
The family practice—which includes Drs. Fred Rosen, DDS, FAGD, Gary Dworkin, DMD, FAGD, Stephen H. Sunshine, DDS, and Jasmine Singson, DMD—has treated generations of patients for more than 40 years, offering dental care that consistently ranks among the best in the region.
"We are a family practice that provides care for everyone, from children to patients over 100 years old," Dr. Rosen says. "We have treated four-generation families and even a few five-generation families. Our patients come from the local area but some also come from out of state."
At Rosen & Dworkin, patients are provided with innovative dental services to achieve bright and healthy smiles for a lifetime. The goal, Dr. Rosen says, is to make every patient comfortable while using the latest innovative technology for superior dental results. Educating patients comes naturally to him, as Rosen was a longtime teacher on staff at Virtua Health System's dental registry program, where he was named Teacher of the Year three times.
"We provide emergency care so that any patient can reach us 24/7," Dr. Rosen says. "We have been here for emergencies on every holiday. We pride ourselves on providing a concierge-type practice for our patients of record."
Dr. Singson says that level of care is key to what keeps patients coming back.
"Growing up, my mother was a dental assistant, so I was exposed to the field for a long time," says Dr. Singson. "The aspect of dentistry I love the most is working with patients. I am a people person and getting to know everyone and hearing their stories is very fulfilling. You wear many hats as a dentist."
More than general dentistry
The dentists at Rosen & Dworkin provide the highest level of skilled patient care within a caring and family-friendly atmosphere. Using the latest technology, patients can expect quality care and gentle treatment.
"Patients can expect that we will listen to their concerns," Dr. Singson says. "Especially for anxious patients, I like to create a very comforting environment and explain everything we do, so there are no surprises. Patient education is important, as well: I want my patients to understand the reasons behind the why. I never want them to feel like they are just getting work done and not understanding what the purpose is."
The practice offers comprehensive general dentistry services that include regular checkups and routine and advanced procedures to maintain overall oral health. However, the dentists also provide individualized care to meet each person's specific dental needs.
"All of us are general dentists, but within our scope, we perform cosmetic dentistry, crown and bridge work, Invisalign, root canals, dentures," Dr. Singson says. "We do everything."
Cosmetic services offered include porcelain veneers, bonding, tooth-colored fillings, Invisalign and teeth whitening. The office also provides restorative dentistry services, including crowns, bridges, dentures, partial dentures and implants.
"I really enjoy the cosmetic aspect of dentistry," Dr. Singson says. "I am able to tap into my artistic and creative side, but it is also fulfilling a patient to have a patient see the results of a life-changing dental procedure."
A practice 'like extended family'
Dr. Rosen says he always wanted to be a health-care provider but realized early on that his calling was in dentistry.
Four decades later, he continues to love what he does.
"I love it because my patients are really like my extended family," Dr. Rosen says. "I sit and talk with patients who have been with me for 40 years. We share memories and experiences. There is a definite connection. It is not just, 'open your mouth and let me see what I can do.' You learn about people. It is so fulfilling. I am so fortunate to have found something I still love after 40 years."
Dr. Singson says that atmosphere is what drew her to Rosen & Dworkin two years ago.
"Our practice is very busy. It is a testament to what Dr. Rosen and Dr. Dworkin have set up over the past 40 years," says Dr. Singson. "It truly is a family practice: warm, friendly and welcoming. What sets us apart from other offices is how much we care. We go the extra mile; always on call 24/7, always available. You do not find that everywhere. As one of the newer associates here, meeting the younger generations of family members has been inspiring. It makes me feel like I work at the right place."
Drs. Rosen & Dworkin, PA
350 Route 73 S., Marlton
(856) 250-1757
RosenDworkin.com