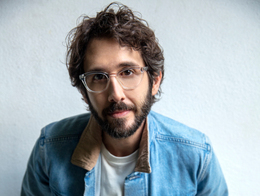 Living in Harmony
In life and in music, Josh Groban masters the art of improvisation.
On March 11, 2020, Josh Groban was in Orlando, Florida, for a concert at the Dr. Phillips Center for the Performing Arts. Looking back, he remembers the performance because of the energetic give-and-take with fans, but also because the world would never be the same afterward.
"It was the last show we did before lockdown," says Groban. "We were feeling the love and wondering if we would go on to Jacksonville. Then Billie Eilish cancelled, and we were left wondering if we would have to do the same. Everybody flew home from Orlando to our various caves, and we stayed there for two years."
Groban finds it tough to contain his excitement as he talks abouts getting back in front of fans for "The Harmony Tour," which will take him to outdoor venues across the country this summer, including a July 12 performance at the Mann Center for the Performing Arts in Philadelphia.
The tour takes its name from Groban's ninth studio album, which he recorded in two chapters: before the pandemic, and after the lockdown. The album includes Groban's take on several classics, as well as some original material. It was released in November 2020, with a deluxe version dropping in February 2021.
The Los Angeles-born singer-songwriter has become a household name since being discovered by Grammy-winning producer David Foster in the late 1990s. Groban, now 41, may be best known for his sonorous voice and parade of hit songs—"To Where You Are," "You Raise Me Up," and the holiday staple "Believe," among many others—though he has also become known as a comedic actor. He has appeared on primetime sitcoms such as Parks and Recreation, The Office and It's Always Sunny in Philadelphia, and has garnered memorable in films such as Coffee Town and Crazy, Stupid Love.
On the eve of "The Harmony Tour," we spoke with Groban about his return to in-person performances, where he finds inspiration, and what he likes about being cast as a villain.
Q&A
You've described the shows on "The Harmony Tour" as "more than a concert," but rather a celebration of the people who been an anchor for you over the past few years and throughout your career. Tell me about what people can expect from a show on this tour.
It's a tour we didn't know would happen. From the beginning of my career, everything has been pretty well mapped out. When I would release an album, I pretty much knew what the next two years of my life would look like. To be one of the countless artists sidelined [by the pandemic], every one of us who has been lucky enough to be in front of an audience again, we're all just coming at this from an enormous amount of shellshocked gratitude.
Harmony is also not an album I thought would be finished. The project had come to a halt because of a lot of different things. It came together on a wing and a prayer. It's an album whose songs I thought I probably wouldn't be able to sing in front of people any time soon. It breaks my heart. To be performing at these beautiful outdoor venues, and to be seeing other people face to face, singing songs I love with all my heart, it's going to be incredible. I'm a perfectionist, so I'm going to put everything into each show, but I'm also going to take a step back from every moment, and enjoy each and every night. I think I have a deeper appreciation of the experience because of everything we've gone through. … There's nothing like live entertainment to get inspiration going. We're going to try new songs, improvise a lot and take cues from the audience.
As you said, live performances have been pretty much off the table because of the pandemic. How have the past couple of years been for you—good, bad, or otherwise?
The bad has been universal. Life has been up in air, and we've all had to cope with various parts of the shutdown. I am very lucky and blessed that I have my health, and my family has their health; many people can't say the same. At the same time, it was a real lesson in taking uncertainty, anxiety and fear of the unknown, and filtering it into usefulness. A lot of people learned new hobbies, and I did, too. I learned to cook, I played with a lot of LEGOs and I caught up on reading books. From a musical standpoint, I did more writing than I ever did in my life. I could have sat by the window and cried, but I found a lot of inspiration, using my keyboard as a journal. I developed a routine for myself, and routines are very important for a lot of artists; it gets you moving if you're not feeling particularly motivated. I would get up at 10, because I'm a late sleeper, have coffee and breakfast, and then sit at the piano. I now have a whole album ready to record—a lot of music. We're all going toward the light the best we can.
Harmony is a beautiful album. You're known mostly as a solo performer, but this album includes a few notable duets with people like Leslie Odom Jr., Sarah Bareilles and Kirk Franklin. What do you like about those kinds of collaborations?
I wish most of them could have been in the same room, and I wish the orchestra could have been in the same room, too. We're calling it Harmony because we had to put voices and instruments together from all these different corners of the quarantine world. Leslie and I were freshmen together at Carnegie Mellon University—the Class of '04. I left freshman year to record an album, and he never lets me forget it. For me, to do a song with Leslie ("Shape of My Heart"), this is full circle back to someone I trained with, and to see his meteoric rise has been really, really cool. He's a great guy, multitalented. Sara Bareilles, too. Certain songs rose to the top. Songs I thought I wanted to do felt less relevant, and others became more relevant. I called Sara, and when I talk to Sara about music, we're both all about doing things for the right reasons. She and I share the same reverence for Joni Mitchell, and that's why we wanted to do that song ("Both Sides Now"). It felt like the right moment. With Kirk Franklin, I sent him this song ("The Fullest"), because I just love his music. I wouldn't say I'm the most religious person, but I've always found great comfort in gospel music; whatever religion you may or may not have, it's impossible to listen to his music and not have it put a smile on your face. So, I love duets; I love the dance of it.
I've read about your career's unofficial launch as standing in for Andrea Bocelli in a duet with Céline Dion. I think you were 17 at the time. That's a huge breakout. Tell me about your music career before you "made it." Did you have ideas about what career would look like?
I was a freshman in college when I was discovered by David Foster, so there was not a whole lot of "me" before I got shot out of a cannon. I knew I had a strong singing voice and I had idolized the great baritone singers, but I also loved doing musical theater. To get accepted into CMU was a dream come true. For better or worse, I did not have stars in eyes. David saw in me something untouched by the evils of the business. He found the center of my artistic soul. My first album was released in best possible way, with no expectations about radio or hit making; it was a passion project and I found an audience in a really beautiful way. Now the challenge for me is to go back to that place, where nobody's looking, nobody's listening. I've been able to sell a lot of albums under the radar, and I have not had to chase the "top 40 dragon." I'm very thankful for that because it would have turned music into math.
I understand you were a theater major. You've had some pretty high-profile roles, in film and TV. My favorite role of yours was in Coffee Town, a movie you did in 2013 with a cast that included Glenn Howerton, Adrianne Palicki and Ben Schwartz. It was a side of you I never saw before, with you being cast as a villain of sorts. Do you enjoy playing the "bad guy"?
I love playing against type. It's like being given permission to have a darker persona, a bad guy or a heel. I don't relate to those guys in my day-to-day life, so you get to put on a different hat and explore comedy through a different lens and show a weirder side of myself. … I like tackling those darker characters.
The kinds of roles I've always wanted to play in theater required me to be older. I've never been a high-kicking Chorus Line guy; I'm not a triple threat. I have a more operatic voice, and the roles I looked at growing up required me to have more experience. There are so many roles where I feel my voice and my life are starting to match up with; I'm growing into my puppy paws a bit.
The "Harmony Tour" ends in August. What happens after that?
There has been some discussion of international dates. It's a strange time in the touring industry. If I can't do something the right way, I can't half-ass it. I want to do things in a way that feels like I'm giving it 110 percent, whether it's now or a year from now. My instinct and gut tell me there's a lot of new music I want to make. I'm having an absolute blast. I want to go back in the studio and make a new album, so I may find myself doing studio work, acting work, travel. I'm picking the right one for next year. The business is weird, so it's about not letting any of that stuff interfere with inspiration. I have to block out the noise. My nucleus is telling me to go find some fresh stuff.\
Click here to subscribe to the free digital editions of South Jersey Magazine
To read the digital edition of South Jersey Magazine, click here.
Published and copyrighted in South Jersey Magazine, Volume 18, Issue 3 (June 2022)
For more info on South Jersey Magazine, click here.
To subscribe to South Jersey Magazine, click here.
To advertise in South Jersey Magazine, click here.