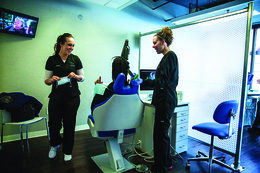 Making a Difference
Whether by transforming patients' lives or through philanthropic efforts, the team at Center City Orthodontics is happy to be having an impact in Cherry Hill.
For Tejjy Thomas, DMD, orthodontics is a personal journey.
"I had life-changing, reconstructive oral surgery when I was a teen—it totally changed my life," says Dr. Thomas, of Center City Orthodontics in Philadelphia and Cherry Hill. "Until you go through something like that, you do not realize how much of an impact it has on your self-confidence, how that was holding you back. My orthodontist completely changed my life. I am lucky enough now that I am in a position to be able to do that."
Today, Dr. Thomas, a dual Ivy League-trained and certified orthodontic specialist, serves patients and their families alongside Stephanie Finn, DMD, at Center City Orthodontics, a patient-centered practice known for its clinical experience. The practice expanded to include an office in Cherry Hill office three years ago.
"We are a patient-centric practice," Dr. Thomas says. "Everything we do is geared toward the patient's expectations, the patient's needs and of course clinical excellence as far as treatment. Here, the patient experience is never neglected."
The first visit
Dr. Thomas describes the initial examination at Center City Orthodontics as a "fact-finding mission," where patients can expect to leave with a customized treatment plan that addresses their chief concerns and desired treatment outcome. All initial consultations are complementary.
A new patient can expect a tour of the office with a treatment coordinator along with preliminary records taken, including a panoramic and cephalometric X-ray, clinical photographs and models of their teeth with a sophisticated digital scanner that provides 3D models to aid in case diagnosis.
Next, a patient is accompanied to the consultation room where Dr. Thomas or Dr. Finn will conduct a detailed clinical examination. Patients receive treatment options that address their chief concerns and overall health and function, along with a computer simulation of the treatment options available.
"We are one of the top providers of Invisalign in the country, and we are proud to bring that to New Jersey and to Cherry Hill specifically," Dr. Thomas says. "Affordability of treatment is also huge for us. We have payment plans that cater toward patients and their needs. We provide 0% in-house financing for these plans. We also offer evening and weekend hours for flexibility, something that has been so important as patients' schedules have changed during the last two years. Our flagship practice is in downtown Philadelphia and that provides a lot of flexibility too. Our patients can go to either office. We have Cherry Hill patients who are completely open to seeing us in Philadelphia."
Recognizing results
Dr. Thomas currently serves as a faculty member at the University of Pennsylvania, giving back to the residency program where he received his training. He is also a member of the American Association of Orthodontics, the Society of Orthodontic Educators, the American Dental Association and the Dawson Academy of Occlusion, as well as a fellow of the World Federation of Orthodontics. In addition to Dr. Thomas and Dr. Finn both being voted "Top Dentists" in 2022, Dr. Thomas was honored to be recently selected by the American Association of Orthodontics as one of its "Young Leaders for the Future of Orthodontics" at their annual meeting.
"We joke that the pressure with these honors is now you have to make sure you keep winning them," he says. "On a serious note, it is always rewarding to be acknowledged. It sets the bar for what our patients' expectations are for us and what our expectations are for each other. We are only as good as the rest of our team. It is important for them to know that and feel that they are also part of this."
Giving back
Center City Orthodontics also prioritizes giving back.
"Philanthropy has always been part of our practice through the years," Dr. Thomas says. "Once we came to Cherry Hill, we wanted to do the same here, using our practice as a vehicle for good."
The office sponsors the Cherry Hill Soccer Club, the Cherry Hill Football Club and the annual Cherry Bowl swim meet, one of the township's most popular community events.
"It has been a fantastic experience, not just for the kids and families involved, but also for us to be there on those days and interact with those families," Dr. Thomas says. "Some participants are our patients, but just meeting all of the families in Cherry Hill has been fantastic."
Orthodontics for anyone
Orthodontics is not just for children. With the availability of more discreet options like Invisalign, there has been a rise in adults seeking orthodontic treatment.
"When we came to Cherry Hill, it was primarily kids and teens, but we have seen a surge in adult patients over the last few years, primarily because of options like Invisalign, and our skill set," Dr. Thomas says. "Our downtown practice is maybe 80% adult and when we came to Cherry Hill it was the other way around. I can tell you now, it is about 50% adult. That has been huge. We love treating our adults."
Thomas says many adults are only recently becoming aware that orthodontic options are available for any age.
"As long as your teeth are healthy, you can absolutely be a candidate for any kind of orthodontic treatment," he says.
For Dr. Thomas, teaching new patients about their options—and seeing their happiness with the results —is one of the most rewarding aspects of the job.
"People sometimes ask me, 'If you could go back and do something else, what would you be instead?'" he says. "The truth is, I cannot think of anything else I would want to be. I want to be an orthodontist. This is truly what I was meant to be."
Center City Orthodontics
17 W. Ormond Ave., Suite 100 | Cherry Hill
(856) 429-9419