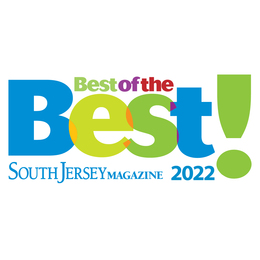 Best of the Best 2022
Let this be your guide to everything that is great about this place we call home.
We love this time of year, and not just because we are smack dab in the middle of summer. Rather, this is when we like to celebrate all that South Jersey has to offer in our annual Best of the Best roundup. From the finest food and drinks, standout retail shops, pampering services and places to enjoy with the family, this list is full of stellar options. And because we wouldn't our readers to be left out on the fun, we have included their choices as well. Let this be your guide to everything that is great about this place we call home.
FOOD
Cupcakes | Cupcake Wish in Medford
Cupcake Wish is not only known for their unique flavors (including orange poppy cream cheese, banana split and strawberry mango), they have also built their reputation on custom orders, exceptional quality and small-town service.
Water Ice | Primo's in Cherry Hill and Westmont
Open all year long, Primo Water Ice takes no responsibility for brain freeze. They do, however, take responsibility for unique water ice flavors that are made fresh daily at their two area locations. You're bound to see us there enjoying a cup of piña colada or maybe chocolate covered strawberry.
Brownies | Magical Sweet Shop in Voorhees
There is definitely some sweet sorcery behind the dreamy treats this bakery, chocolate shop and certified kosher kitchen churns out, and their rich, fudgy brownies are no exception. With cases and cases of decadent desserts to choose from, it's hard to pick just one—so go ahead and treat yourself to that best-of-both-worlds s'mores brownie.
Breakfast Sandwiches | Waller's Deli in Tabernacle
Whether you want a sandwich for breakfast or an entire breakfast in one sandwich, this Tabernacle staple has something to satisfy every craving. The chicken and waffle burrito is a particular favorite, so stuffed with perfectly breaded chicken breast, warm tater tots, fluffy waffles and a drizzle of maple syrup that it's hard to resist ordering one for lunch, too.
Cocktails | The Union House in Burlington City
Classic cocktails get an inspired twist at this restaurant nestled in a renovated fire station. The specialty drinks range from elevated mainstays, like a mule with a cranberry kick, to signature offerings, like the smooth but smoky Bourbon Blackberry Smash or the Gin & Jam, which is served with a spoonful of mixed-berry preserves and a sprig of rosemary. (609) 531-6077 | UnionHouseBurlington.com
Coffeehouse | Jersey Java and Tea in Haddonfield
This mom-and-pop shop serves up lovingly brewed and locally sourced coffee drinks of all kinds and, thanks to its Quiche & Tell Bakery, some irresistible homemade pastries, too. The only thing that complements its hot beverages better than those divine and all-natural baked goods, though, is the chill vibe that makes Jersey Java so welcomingly cozy.
Diner | Vincentown Diner in Southampton
There's a reason why Diners, Dine-Ins & Dives raved about this Pine Barrens gem that even makes meatloaf exciting! Like Guy Fieri, we're also smitten with the Apple Pie French Toast, but the entire menu is stuffed with comfort food and elevated diner classics. It's long embraced the farm-to-table ethos, too, complementing its gigantic portions with fresh, local produce.
(609) 267-3033, VincentownDiner.com
Distillery | Train Wreck Distillery in Mount Holly
Whether you're looking for an intimate, unique place to catch up with friends, have a hankering for a boozy slushee or just want to pick up your next bottle of Rail Cart Gin right from the source, Burlington County's first distillery—and its only one housed in an old train station—should be your first stop every time.
Happy Hour | Estia Taverna in Marlton
The team at Estia has figured out that hosting Happy Hour every day is the best way to perfect it. Hunker down at one of the high-top tables or the bar to enjoy daily specials on the raw bar, appetizers, craft cocktails and other drinks, and then settle in for some live Greek music.
Sushi | Akira in Moorestown
All the sushi staples are here, like the popular spicy tuna roll, avocado roll, and shrimp tempura roll, and they're all made with the same care, creativity and culinary expertise that Akira's fresh and imaginative signature rolls are. We can't get enough of the Cali Beach or Pink Lady rolls' unique mix of fresh seafood, spicy kick and satisfying crunch.
Pies | Sunflour Bakeshop in Medford and Mount Laurel
A hidden gem at this bakery known for satisfying sweet tooths, Sunflour Bakeshop offers customers custom pies for any occasion in any flavor ranging from pumpkin, ricotta and key lime.
Dog Bakery | Pooch Patisserie in Haddon Township
We all know pets are family so when we have dessert, why shouldn't they? The bakers at Pooch Patisserie Baking Co. in Haddon Township agree and are busy whipping up cakes (customers can choose from meatloaf, peanut butter cup, carrot or very vanilla funfetti flavors) as well as small, medium and large treats daily.
Cookies | Maria's Mom's in Marlton
This family-run Italian bakery never disapoints when it comes to their cookie selection. From their staple Italian wedding cookies, their famous biscotti and even potato chip filled, there's something for all cookie lovers to enjoy.
Poke | Poke Bros. in Sicklerville
Sushi in a bowl, a seemingly simple idea that has foodies wanting more. Offering a twist on a Hawaiian staple, Poke Bros is a fast-casual spot where customers can customize and create their own bowl of rice, salmon, shrimp, tuna and an assortment of toppings.
Quiche | Pie Lady Cafe in Moorestown
Don't be fooled by the name, yes the pie is a local favorite, but a slice of quiche is an original signature dish you must try on your next trip to this Main Street cafe. Made with a flakey crust loaded with meats, cheeses and veggies in a fluffy egg custard you won't be disappointed.
Ramen | Rayaki Ramen in Cherry Hill and Glassboro
Forget about that ramen that you ate back in college, at Rayaki you'll find a wide variety of traditional Japanese ramen dishes with intensely flavorful broths and your choice of seafood, meat of vegetarian options.
Gourmet Toast | Abandoned Luncheonette In Moorestown
At this eclectic corner store you can grab a used book, CD or DVD, while sampling from the rotating menu of tantalizing baked goods, comfort foods and other assorted menu items. We love their occasional toast offerings like tahini or ricotta, but their avocado toast with everything seasoning and pickled red onions remains a perennial favorite.
Fish Tacos | Tacos el Tio in Medford
The shrimp tacos with avocado, habanero-infused pickled red onion, cilantro and salsa verde served on fresh corn tortillas are standouts. Meanwhile, the mahi mahi (your choice grilled or fried) options are made similarly but replace the cilantro and salsa with a tangy slaw and a chipotle aioli for one harmonious bite after another.
Nachos | Luna Y Sol in Moorestown
These addictive nachos start with the fresh tortilla chips, which would be tasty enough on their own, but are only further enhanced when topped with layers of refried beans, silky crema, ground chorizo, pico de gallo and crumbles of queso fresco.
Doughnuts | Jack's Donuts and Café in Laurel Springs
Jack's has been serving up hot, fresh doughnuts since 1985 and attracts a loyal contingent of people from near and far who regularly travel for the chance to sink their teeth into a sinfully sweet chocolate glazed, a powdered raspberry jelly or the wonderfully tart lemon.
Brunch | Milkweed Table + Market in Pitman
The crowds waiting for a table let you know that this buzzing spot is the place to be. And it's no wonder why, with a menu that boasts everything from mini Nutella-filled doughnuts with a brown sugar/graham cracker crumble to a coconut tiger shrimp banh mi, there's no shortage of eye-opening offerings here.
Cakes | Classic Cake in Cherry Hill
The highly skilled team at Classic Cake have helped us celebrate a number of occasions with their sublime cakes. The red velvet or the cannoli cake are superb and we find the Classico—a cheesecake bookended by two layers of chocolate cake and covered in chocolate buttercream and fudge—to be truly sublime.
Pretzels | Mart Pretzel Bakery in Cinnaminson
Long before a certain chain started popping up all across the region, this place had us in a twist over their fresh-baked Bavarian soft pretzels with a perfectly crusty exterior which gives way to the pillowy insides. Topped with salt, everything seasoning, cinnamon sugar or stuffed with a sausage, we can never get enough.
BLT | Braddock's in Medford
This sandwich is a grown-up version of the BLTs mom used to make. It starts with thick-cut bacon (a must) and green leaf lettuce, but things take a turn with the additions of a fried green tomato and a pimento cheese spread before everything is slid into a crusty seeded baguette.
Appetizers | The Yard House in Moorestown
Every meal gets off to a great start here with a well-appointed mix of options to please everyone at the table. You'll find classics like fried calamari, sliders and chicken wings, but you'll also find more less common offerings like poke nachos, grilled Korean beef and fried cheese curds.
Prepared Foods | Arnie's Gourmet Butcher Shop and Culinaria in Cherry Hill
Arnie's is the place to go whenever we need a fresh-cut New York strip or a stuffed chicken breast, but when we don't feel like doing the cooking they are the save the day as well with plenty of homemade pastas and other Italian specialties, hand-carved meats, sides, soups and more.
Arancini | Bricco Coal Fired Pizza in Westmont
Bricco's delightful fried orbs are an homage to one of Italy's oldest and most beloved pasts dishes—cacio e pepe—and are filled with Parmesan, cracked pepper and shaved pecorino. Trust us, you're going to need a couple orders for the table at the very least.
Shawarma | Li Beirut in Collingswood
We love grabbing a coveted table on the porch of this Lebanese restaurant and watching folks stroll along Collins Avenue while we chow down on the soul-soothing shawarma. The chicken variety is super solid, but we remain partial to the wonderfully marinated beef served with pickles, tahini dressing and roasted potatoes.
Burrito Bowls | Amigos in Wenonah
Amigos is well-known for their amazing empanadas, but the rest of the menu shouldn't be overlooked, including their overstuffed burritos. We prefer to ditch the tortilla and fill the bowl with our favorite mix of chicken, rice, black beans, sautéed onions, cheese and a housemade chipotle sauce.
Salads | Salad Society in Washington Twp.
Whenever we need more greens in our life, we head here because the ingredients are ultra-fresh and there's no shortage of options, whether you're creating your own or opting for one of their signature offerings. You'll find all your favorite dressings as well as some enticing options like the cucumber wasabi or pineapple mango vinaigrette.
Gourmet Food Market | Haddon Culinary in Collingswood
This "chef-driven market" is the place where gourmands go when in search of quality ingredients to help create their next feast. Think small-batch olive oils, butcher-cut steaks, fresh pasta and other specialty items that are a far cry from what you'll find on the supermarket shelves.
Cake Bars | Two Sweet Boutique in Deptford
Our latest obsession at Two Sweet has to be their version of a peanut butter tandy cake where spongey cake is smeared with gobs of peanut butter and then topped with chocolate and jimmies. While we've enjoyed its inspiration for most of our lives, we can confidently say this one is better.
Deli | F&M in Mount Laurel
Here you'll find everything from excellent breakfast sandwiches, hoagies and wraps to chicken sandwiches and burgers. But if you ask us, don't miss the revered corned beef special, where the meat is cooked daily and piled into slices of fresh rye bread with cole slaw and Russian dressing. (856) 235-7245, FAndMCaterers.com
Flatbreads | Santucci's in Washington Twp.
A relative newcomer to South Jersey still, this Philadelphia mainstay continues to deliver with its menu. While we would never discourage someone from ordering their pizza, Santucci's flatbreads also dazzle and we especially like the grilled chicken with mozzarella, candied walnuts, grape tomatoes and pesto.
Barbecue | Whole Hog Café in Cherry Hill and Medford
From the wonderfully charred ribs and succulent brisket to the mouthwatering pulled pork and smoky sausage links, this is barbecue done right. Grab some some sides (hello mac and cheese), grab some friends, grab some napkins and dig in. (609) 678-1808, WholeHogCafe.com
Wings | Francesca's Pizza, Pasta and Grill in Mount Laurel
The wings at Francesca's are meaty and meant to be devoured once coated in any one of their addictive sauces. Fan favorites like barbecue and hot honey are worthy choices, but the garlic parm and honey sesame varieties are next-level delicious. (856) 802-2882 FrancescasPizzaPastaGrill.com
Bar Snacks | The PourHouse in Westmont
The elevated options on the menu at this craft beer hangout pair perfectly with any number of brews on tap. Think short rib cheese fries and goat cheese fritters or delicate pierogies with caramelized onions and a giant soft pretzel straight out of Oktoberfest.
Takeout Lunch/Dinner | Foodiehall in Cherry Hill
It's time to order takeout and the family is divided. The kids are demanding pizza, Mom is clamoring for tacos and Dad just has to have a burger. Instead of arguing or searching for three different restaurants, only one call is necessary. Foodiehall, a revolutionary e-restaurant offering takeout and delivery, has a variety of cuisine under one roof, sure to please every member of the group. (856) 565-4255, Foodiehall.com
Stuffed Breads | Boaggio's Bread in Mount Laurel
It might be called stromboli everywhere else, but at this renowned specialty bakery they call it stuffed bread, because it's filled from end to end with delicious meats, cheeses and fresh vegetables. Every customer becomes part of the extended family here, whether they're enjoying standard favorites like pepperoni or cheesesteak or opting for chicken scallopine, sausage and peppers or spinach and anchovy. (856) 642-9955, BoaggiosBread.com
Ice Cream | What's the Scoop in Washington Township
Stacy Valerio has dreamed for years about opening an ice cream shop in her hometown and finally saw her vision come to life this spring. It hasn't taken long for her to win over the crowd with homemade, hand-dipped flavors like cannoli & cream, peanut butter twist and strawberry cheesecake, along with creative specialty sundaes, soft serve and water ice.
Sandwiches | Peter & Sons in Glassboro
Not only does Peter & Sons promise high-quality and fresh ingredients like ribeye steak, chicken cutlets pan fried to order, and locally sourced produce, but where else are you going to find inventive menu items like a cheesesteak between two hash browns, a vodka chicken cutlet with mozzarella squares on garlic bread or a chicken Parmesan with ravioli on a roll?
Hot Dogs | The Original Hot Dog Factory in Voorhees
These gourmet dogs made with 100% certified Angus beef come in almost 30 varieties, including a taco dog, an Italian dog and a Jamaican jerk chicken dog, all served on fresh rolls from Boaggio's Bread. They cater to vegetarians and kids as well, and the menu also features salads, burgers, chicken sandwiches and wings. (856) 258-2857, TheOriginalHotDogFactory.com/Voorhees
Slices to Go | Luigi's Pizza Fresca in Marlton
There's certainly nothing wrong with old standbys like plain or pepperoni, but do yourself a favor and go out on a limb with one of the specialty slices that are on display daily for the busy lunch crowd. The calzone, margherita and chicken Caesar are just a few of our favorites, and the friendly staff is always quick with a recommendation of what's new.
Ice Cream Pie | Latteria in Swedesboro
The rotating list of 200 mouthwatering, homemade ice cream flavors at Latteria is available year-round, but the ice cream pies can only be enjoyed during the Thanksgiving and Christmas seasons. Since that is a time of year we love to splurge anyway, this is a new holiday tradition we are thrilled to get behind.
Smoothies | Groovy Smoothies in Haddonfield
This classic movie-themed smoothie shop offers customized drinks made with fresh fruits and vegetables that have been named after Hollywood classic movies. Try Beauty & the Peach, The Philly Wonka or West Side Smorey to name a few.
HEALTH & BEAUTY
Eyebrows at Padma's Beauty Salon in Voorhees
A fixture in Voorhees for over a decade, Padma's Beauty Salon is a go-to for all things eyebrows, especially threading. Padma's offers this ancient Indian hair removal method using organic cotton thread to shape eyebrows and remove hair along with a variety of waxes, including organic sugar wax for a speedy and thorough experience.
Skin Treatments at Rizzieri in Moorestown and Washington Township
Not only does Rizzieri boast the first beauty school in New Jersey, they now operate two salons—one in Moorestown and one in Washington Township. Customers enjoy sitting back and relaxing while the expertly trained estheticians offer personalized skin care treatments that include diamond tip infused microdermabrasion facials, hydrobrasion facials and hydration masks just to name a few.
Mani/Pedi | White Lotus Nails in Marlton
The hot-oil massage after a pedicure isn't the only reason to check out this charming salon, but it's certainly indicative of how attentively the staff tends to each client. Those looking for a dip, acrylic or gel manicure or expert nail design will find similarly relaxing, communicative and first-rate services here.
Massage | Elements Massage in Cherry Hill
Founded by a massage therapist and staffed with a team of them, Elements has one goal in mind: to give every client the best, most individually tailored massaged they've ever had. Each masseuse confirms they'll be targeting the spots that need the most attention before your appointment begins, and unobtrusively checks throughout to ensure you're getting the massage you need.
Waxing Services | European Wax Center in multiple locations
Let's be honest: There's no such thing as a totally painless waxing experience. But the expert aestheticians at European Wax Centers' myriad South Jersey locations have mastered the craft of making depilatory services as pain-free as possible, thanks to a four-step process ensuring the proprietary hard wax binds only to hair follicle, rather than the skin surrounding it.
Salon | La Belle Vie in Washington Twp.
The stylists at La Belle Vie Salon recognize the importance of providing fashionable, modern looks all while being committed to sustainability. With their extensive services for women, men and children, consider a VIP membership that offers a variety of different specials per month.
Hair Coloring | Soffiato Via in Moorestown
This salon's color bar offers premier hair color services that can take your style to the next level. From highlights, balayage and gloss, your hair in good hands and your rejuvenated tresses will be the talk of the town. (856) 581-9226, SoffiatoVia.com
Makeup | Dream Spa and Waxing in Cherry Hill
With their extensive cosmetic services, the team at Dream Spa and Waxing work with clients to make them feel confident and beautiful for the special events in their life. Along with makeup applications they offer lash extensions and even private one-hour lessons so you can get glammed up at home.
Kids' Salon | Salon de Kids in Sewell
It can sometimes be challenging to convince little ones—especially mischievous young boys—that it's time to get their locks trimmed, but once they experience this salon they'll be begging to come back each month. With vibrant colors, fun barber chairs and a friendly staff that can make kids feel at ease, it's easy to see why they've been in been in business for more than 25 years.
Barbershop | Michael Alan's Fine Barbers in Mount Laurel
We've been fans of this barbershop since it was in Cherry Hill and love the manly vibe whenever we walk through the doors. The barbers are precise with their cuts and few things are as soothing as one of their straight-razor shaves, a throwback to a forgotten era.
Barre Classes | Barre3 in Cherry Hill
This full-body workout combines different elements of ballet, Pilates and yoga, and will leave you feeling reinvigorated. When you can't make it into the studio, check out one of the livestreams so you can get your exercise in wherever you may be.
Pilates | Framework Pilates in Mount Laurel
From private sessions to 50-minute group classes, the instructors here aren't just working your body, they are working on your mind and spirit as well, using the dynamic movements to help you balance good health and inner peace. (856) 761-2332, FrameworkBodies.com
Spinning | Hotflo Studios in Voorhees
With the temperature cranked up to anywhere between 86 and 96 degrees, you'll be drenched in sweat after you take your high-intensity interval training ride. The average ride lasts 45 minutes, but if you really want to burn some calories test your endurance with a 75-minute heart-pounding session. (856) 888-1766, HotFloStudios.com
Yoga | Anjali Power Yoga in Westmont
At Anjali, the atmosphere is welcoming to yogis of all levels, and the multiple class offerings make it the perfect place to stretch yourself to new limits while you build greater strength and flexibility.
Personalized Fitness | Smart Bodies in Marlton
The expert trainers here know that everyone is different and so they cater workout programs to address specific needs and desires while also helping you focus better on nutrition and other aspect of your health and wellness.
LIFESTYLES
Family Fun | The Funplex in Mount Laurel
As much as we love the Shore, this fantastic entertainment complex has all of the same attractions without the long drive and overflowing crowds. Offering indoor and outdoor rides, go-karts, laser tag, mini golf, bowling, an arcade and more, The Funplex is perfect for a birthday party or just an enjoyable night out with friends and family.
Children's Theater | Ritz Theatre Company in Haddon Township
Part of the mission of The Ritz is to make theater accessible to everyone, including introducing youngsters to the magic of live performances. The Ritz puts on eight children's shows per season, and the 2022-23 slate includes Winnie the Pooh and The Little Mermaid.
Dance Classes for Adults | Central New Jersey Ballet Theatre in Florence
Whether you're getting back into a childhood love of dance, taking lessons to supplement another sport or are a true beginner, the supportive, high-energy team at CNJBT gives their adult students all the support, guidance and constructive feedback necessary to ensure that every individually tailored lesson is punctuated by exclamations of "I can't believe I can do that!"
Playground | Jake's Place in Cherry Hill and Delran
All children just want to play, and the inclusive design of Jake's Place extends that opportunity to every youngster, regardless of physical ability. Its barrier-free, socially inviting setting and playground equipment—as well as sensory-play areas and stations designed to develop motor skills—were built with wheelchairs and other assistance devices in mind so everyone can play together.
Pet Resort | Fetch Family Pet Resort in Washington Twp.
If you're looking for topnotch, 24-hour full-service pet care, Fetch Family Pet Resort offers the best quality care for your dog or cat. Your pets will be properly pampered as they enjoy their own suite, tons of playtime and plenty of special individualized care.
Kids' Cooking Classes | Lil Sous Chefs Cooking School in Voorhees
If your young ones envision themselves as future Michelin star chefs, get them started early with some hands-on experience at this cooking school where kids ages 2 through 17 can learn proper knife skills and how to make ingredients come to life in a number of dishes.
Kids' Party Venue | Pump It Up in Blackwood
With two large rooms full of inflatable, bouncy fun, Pump It Up lets kids burn off plenty of energy before they make their way to a private room to celebrate the guest of honor with lots of food, fun and games, and maybe even an appearance by a beloved Disney character or two.
Mini Golf | Monster Mini Golf in Cherry Hill
This indoor putt-putt course may look a little frightening at first, but once the family makes their way through all 18 holes they'll be screaming to play another round. And with plenty of arcade fun to be had, there's reason to linger even longer.
Sunday Afternoon with the Kids | Ric and Jean Edelman Planetarium at Rowan University
Each Sunday afternoon, this popular planetarium on Rowan's campus comes alive with family-friendly shows that will have the kids talking well after the 30 minutes has expired. And with $2 tickets, you won't get more bang for your buck anywhere else.
Festival | May Fair in Collingswood
During this annual daylong celebration, Haddon Avenue turns into a rollicking block party with tons of food, crafters, live entertainment, a kids play area and much more. It's a great way to support local businesses and an even better way to connect with the community. (856) 854-0720, Collingswood.com
RETAIL
Women's Clothing | South Moon Under in Marlton
From the perfect demim from Paige and Joe's to the pretty top everyone will be talking about at your next brunch with the girls, this one-stop-shop has it all—even swimwear—including the accessories to help complete the perfect outfit.
Men's Clothing | Nine North in Haddonfield
Even the most discerning clothes horse would be pleased with the selection of casual wear here. No matter if the occasion is a backyard barbecue or a cocktail party, the understated, yet high-quality garments will have you looking your best from head to toe.
Children's Clothing | Madame Chili Peppers Children's Boutique in Mullica Hill
In need of something for your kids to wear to the next family gathering or a big milestone event? This charming boutique along Mullica Hill's main drag has you covered with duds that are every bit as stylish as they are cute.
Framing Shop | Hawthorne Gallery and Frame Shop in Medford
Whether looking to frame a limited-edition art print, encase some cherished sports memorabilia or simply wanting to dress up those drab walls, this shop has been catering to custom needs since the early '70s with attention to detail and an eye for making things pop.
Nursery | Bast Brothers Garden Center in Mullica Hill
This outdoor center is the place to find all your gardening needs and then some, including well-appointed plants and shrubs, fire pits, garden tools and décor items. Did we mention they also sell thoughtful gifts like soy candles, charcuterie and bottles of wine?
Toy Store | Happy Hippo in Haddonfield
Located at the intersection of Kings Highway and Haddon Avenue, this store is overflowing with the latest and greatest toys, games, dolls and books to keep the little ones you love occupied for hours on end. And the personalized service is something you'll never find online or at the big box stores.
Bookstore | Second Time Books in Mount Laurel
Tucked among the charmingly idyllic Rancocas Woods Village shops is this haven of lovingly curated secondhand books that typically boasts upward of 60,000 titles to browse through. The selection of science-fiction, fantasy, art, science, philosophy, religion, music and children's books guarantees there's something on the shelves to suit every taste.
Bridal Shop | The Bridal Manor in Washington Twp.
Customers rave about not only the vast dress selection here but also the staff's kind and patient approach to helping everyone find the perfect dress. Every fitting is a private one and booked in advance, giving each bride-to-be the chance to fully explore all of The Bridal Manor's wedding-gown designers and styles.
Comic Book Shop | Secret Origins in Collingswood
Accessible and welcoming to newbies and a treasure trove for die-hards on the hunt for rare prints, cover variants or pop-culture collectibles, Secret Origins' helpful staff and well-organized store make it a must-visit for any fan of the medium. The boutique shop's knowledgeable and passionate team is also available to assess and buy collections of comic books and action figures.
Flower Shop | Medford Florist in Medford
For a wedding, a holiday or just to let that someone special know you are thinking of them, a gorgeous arrangement of fresh-cut flowers from this award-winning family florist in the heart of Medford can go a long way in expressing your feelings for those closest to you.
Custom Jewelry | DeSimone Jewelers in Haddonfield
With nearly 40 years of experience, DeSimone Jewelers is truly a gem. Known for their honesty and craftmanship, this family-owned and operated shop is the place to go for custom pieces; just ask soccer star Carli Lloyd who just received her specially commissioned ring commemorating her storied career. (215) 625-0320, DeSimoneJewelers.com
Beauty Supplies at Sunshine Beauty Supply in Cherry Hill
Sunshine Beauty Supply in Cherry Hill has all your beauty supply needs, from hair care products and accessories to skin care and more. Customers agree the store is bright, fully stocked with a large selection and well organized.
Pet Store at Bill's Wonderland of Pets in Magnolia
Independently owned, this 9,000-square-foot store boasts the largest selection of natural pet food in the region. In addition to helping your furry friend with their diet, Bill's carries everything you can think of for dogs, cats, fish, reptiles, birds, chickens and other small animals.
Gift Shop at Mixellaneous Boutique & Gifts in Marlton
Mixellaneous has the perfect selection of items for all gift giving needs including new baby, weddings, engagements, housewarming parties and more. And the knowledgeable staff is more than happy to help you find that perfect gift, even if you decide to keep it for yourself.
Accessories | Haute Bungalow in Marlton
Always up to date with the latest trends, Haute Bungalow offers topnotch accessories perfect for any occasion. For the summer, check out the new stock of necklaces, hats and bags that are sure to turn heads from here to the Shore.
Click here to subscribe to the free digital editions of South Jersey Magazine
To read the digital edition of South Jersey Magazine, click here.
Published and copyrighted in South Jersey Magazine, Volume 18, Issue 3 (June 2022)
For more info on South Jersey Magazine, click here.
To subscribe to South Jersey Magazine, click here.
To advertise in South Jersey Magazine, click here.