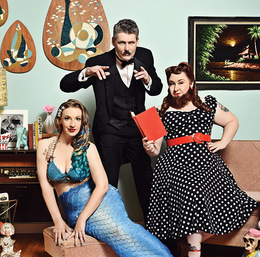 Hidden Treasures
With an impressive selection of art, antiques and collectables for the entire family to enjoy, it's no wonder why Carnival of Collectables has become a go-to destination.
South Jersey has long been home to bustling shopping malls, quirky specialty stores, classic antique shops and a wide range of flea markets. But until three local residents with a love for art and everything vintage decided to get together and turn their passion into a business, this area had never seen anything quite like Carnival of Collectables.
Owned and operated by married couple Loreli and Ed Jankowski and their friend Ulana Zahajkewycz, Carnival of Collectables is an antique and art mall in Sicklerville boasting more than 130 vendors in a 12,000-square-foot space. Specializing in items from the early 1800s through the 1980s, the shop has everything from top-sellers like mid-century modern furniture and vinyl records to toys, jewelry, clothing, coins, tools and much more.
After seeing similar stores on a trip to North Carolina, Zahajkewycz was inspired to bring one to her home state, and soon approached her friends about teaming up together. Loreli had previously owned a vintage clothing shop in Philadelphia and Ed is an avid collector, so they quickly came on board, and Carnival of Collectables was born about eight years ago.
"It was really helpful that Loreli had the experience of owning a store, so having her be part of the team really helped give us that boost of confidence that we were going to be able to make it," Zahajkewycz says. "My background is art, so when I saw that we could have booths featuring local artists alongside people selling antiques and collectables, that piqued my interest. We started with that idea in mind—having antiques, collectables and artists all under one roof—and I think that makes us unique."
The concept has been a big hit with customers of all ages, and it is common for entire families to come in and wander the aisles together. Around the holidays, parents have even been known to stop in with Christmas lists that their children compiled at Carnival of Collectables. Young adults have also become dedicated customers.
"It's surprising having such a young clientele," Loreli Jankowski says. "There's a lot of people from their 20s who come in to shop and I love talking to them. Some just like the old stuff and some feel like it's better for the environment to reuse old things instead of buying new things, which is also cool. I think younger people have a good mindset."
Zahajkewycz says Carnival of Collectables customers love to fill an entire rainy day at the store, and Jankowski adds that visitors come from as far as Philadelphia, New York and Delaware. Plenty of guests are there to browse and see what strikes their fancy, while others have a specific item in mind; if it's not there, the staff is more than willing to point them to another antique shop or flea market where they might have better luck. Still, in more cases than not, customers are likely to find whatever is on their list.
"That's my favorite thing, uniting a customer with a treasure, especially if it's something they had in their childhood and they're looking to find it again," Zahajkewycz says. "That's really fun for us. People are on the hunt for specific items, and for them to find it at our shop is the ultimate."
Vendors feel like part of the family at Carnival of Collectables and appreciate the support they receive from the ownership team, including classes on how to improve their business. It's no surprise that there is a waiting list that adds new names every day.
"We've had vendors who have gone on to open their own store and that's huge for us," Zahajkewycz says. "We're always thrilled when that happens because it really feels like they graduated. We were like a stepping stone for them to superstardom, and it's the best feeling."
As female business owners, Zahajkewycz and Jankowski are especially proud to help other women find success. "We have a lot of women who are vendors here and some of them have actually moved on to open their own businesses, and that's thrilling to us to support other people," Jankowski says. "They try it out, get their feet wet and realize they can do it, which is nice."
Carnival of Collectables also enjoys the bonds it has built in the community, thanks to special events throughout the year, like the recent Car-B-Que and the upcoming Oddities Show in October. Each one has a different theme and usually involves a fundraising component for a local charity or group.
Clearly, a strong foundation has been built and the owners hope to continue bringing happiness to their customers for years to come. After all, everybody loves a carnival, and the name of the mall coined by Zahajkewycz's boyfriend back in 2013 turned out to be prophetic.
"We don't know how he came up with it, it was just in his brain, but we all loved it," Jankowski says. "It was a great fit for us."
"A lot of people told us they were so grateful that we opened up in the area," Zahajkewycz adds, "because it's their happy place and they're so excited to have something to do."
Carnival of Collectables
368 Cross Keys Road, Suite B | Sicklerville
(856) 545-3187
CarnivalOfCollectables.com