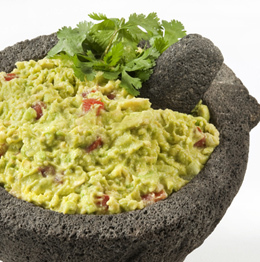 Casona: Great Escape
Casona Great Escape
Casona
563 Haddon Ave.
Collingswood
(856) 854-5555
MyCasona.com
3 and a half forks
Lingering late winter in the Delaware Valley. Streets iced like cupcakes. It's this season, on the verge of spring, when we need a vacation most. If you can't sneak away to the tropics, the next best thing may be dinner at Casona, a breezy Collingswood hacienda with a scenic wraparound porch and a Nuevo Latino menu that mingles the culinary traditions of Mexico, Cuba and Argentina with flavors from several other Spanish-speaking countries—all with nicer weather than ours.
That was my thinking as I set out for this 6-year-old spot during the last batch of blizzards. Approaching the snow-covered lawn of the 107-year-old Colonial Revival manor (a former physician's office), I was more than ready to embark on a tropical staycation and tackle a menu of suitably transporting food.
Consider the tasting of guacamoles, four varieties arranged in separate bowls on a long plate: sweet crab with salsa roja and cactus leaves; roasted tomatillo; guacagamba with chopped shrimp and grapefruit; and Asian tuna, kissed with soy and a sprinkle of sesame seeds. They don't taste all that different from each other (except for the guacagamba, a credit to the bright, bitter pop of the fresh grapefruit in lieu of lime). But that was hardly a negative. Quite the contrary; the guac base upon which these riffs are built is solid, featuring bold strokes of salinity and acid, along with avocados that were perfect in flavor (grassy and buttery) and texture (soft but not mushy). And good on Casona's kitchen for not mashing the fruit to pulverized pulp. The chunky texture makes for easy scooping with the house-made tortilla and plantain chips.
On this night, there were no signs of Old Man Winter's harsh reality outside the doors. The wood tables in owners Mark and Michele Infatado's warm, pineapple-gold dining room were filled with parents and babies, empty-nesters, celiac sufferers—about a third of Casona's menu is gluten-free—and eager first dates making eyes at one another through screens of fajita smoke.
I consoled myself with a bowl of inky black-bean soup. Swirled with sour cream and garnished with fresh cilantro, the big bowl of tradition is the finest case for Mexican cuisine's recent awarding of World Heritage status. Casona's version is partially pureed—though whole beans added texture to every spoonful—and laced with an unapologetic dose of toasted cumin that runs through the soup like fine gold stitching.
Another appetizer, habana maduro, was even better, starring a fat fried plantain whose soft, caramel sweetness was tempered by a filing of garlicky, robustly seasoned roja vieja, the slow-cooked beef whose shredded appearance accounts for its nickname, "old rags." Strewn with red onion, cilantro and bits of chayote, the combo is meat and potatoes—Latin style. It was outsized for an appetizer but delicious enough to disappear anyway.
Casona offers plenty of worthy entrees (arroz con pollo, lobster enchiladas, lamb shank with mofongo), but the restaurant's showstopper is the paella for two. "Casona Signature Dish," the menu declares right below the listing of this fragrant, saffron-scented Valencian rice dish. Served in a shallow, two-handled pallera pan with a big slotted spoon and side plates, it's a family-style favorite and a deal at $53. Shrimp, mussels, bay scallops, littleneck clams, fiery chorizo, calamari, chicken and a single superlative lobster tail (butterflied into two red-shelled bands and posed atop the rice like a yin-yang symbol) joined the pea-dotted rice in this Spanish classic. My only complaint: a glaring lack of socarrat, the crunchy bottom layer of rice that sticks to the bottom of the pan.
Desserts like the well-gelled flan stay the Spanish-speaking course, while a textbook crème brûlée diverged. Can't decide? Have both! You're on staycation after all.
E-mail us at edit@southjersey.com.
Published (and copyrighted) in South Jersey Magazine, Volume 7, Issue 12 (March, 2011).
For more info on South Jersey Magazine, click here.
To subscribe to South Jersey Magazine, click here.
To advertise in South Jersey Magazine, click here.