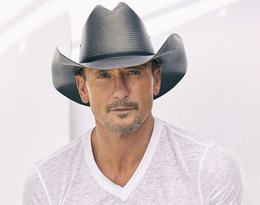 Trailblazer
Whether on stage, on screen, or in the studio, Tim McGraw's keen mind, kind heart and strong work ethic shine through.
Tim McGraw is a damn fine American—humble, heartfelt and wholly unafraid of a hard day's work. This Louisiana native grew up writing poetry and riding rodeo, two seemingly disparate experiences that helped shape him into one of America's brightest stars in music, TV and film.
It is quite fitting that renowned screenwriter Taylor Sheridan asked this living embodiment of the American dream to portray James Dutton in the Paramount+ series 1883. Dutton, after all, was a man who (much like McGraw himself) lived by principles rooted in love, dedication and grit. A prequel to the Paramount Network series Yellowstone, 1883 follows Dutton and his family on a perilous journey across the American West in the late 1800s. The series also stars screen veterans Sam Elliott and Faith Hill, McGraw's wife of 25 years.
Around Philadelphia, the McGraw surname is iconic for another reason—the late Frank Edwin "Tug" McGraw Jr., Tim's biological father. Tug McGraw pitched for the Phillies from 1975 to 1984, and he struck out the final batter needed to help the Phillies clinch the 1980 World Championship, the team's first. After Tug's death in 2004, Tim paid tribute to his father with the album Live Like You Were Dying, which includes a song of the same name about fully embracing life to one's last day on earth.
On his first major tour since the start of the pandemic, McGraw recently brought his show to the Freedom Mortgage Pavilion in Camden. We caught up with the star to talk about being back on the road, his acting career and more.
Q&A
You're on tour again after a strange couple of years for everybody. Do you have anything interesting planned for your return to Philly?
Just to be able to go out and play live is interesting to me. It's been so long. I've been doing this for, gosh, over 30 years and this is the longest I've gone without going on tour. I've played a few shows here and there, but now we're in the middle of building the lighting and the stage and the video and all those things that go along with it, putting a setlist together, which to me is a lot of fun creatively because I really get involved. Really and truly, it's just special to be out and playing music again.
Your role as James Dutton in the Yellowstone prequel 1883 was very physical as well. Did growing up riding horses in Louisiana help you prepare?
I've always been an athlete, so I've always tried to stay pretty fit, but over the past years it's been like my meditation—the gym, working out, staying fit. On the road, the band and I get in a routine of eating well and staying fit because our shows are pretty high energy. To get through an hour and a half, two hours of a really high-energy show, you have to keep yourself in shape for that. [I turned 55 in May], and the older you get, the harder you have to work to keep yourself in shape to maintain the level of energy that you've had for the 30 years you've done this.
As far as 1883, I did grow up in Louisiana—and, I mean, I could ride before I could walk. I rode rodeo through high school, so it had been a while since I'd ridden very much, but being on a horse every day, it came back like riding a bike. It was hard work; I mean, we worked long days, six days a week. We probably got three hours of sleep a night for six months, and we were out in the elements every day all day. There was never comfortable weather. It was either 115 degrees or 10 degrees; it was never anywhere in between.
But, being on horseback and roping and chasing bad guys, it was like every kid's dream to be able to do that, and I was able to do it alongside my wife [Faith Hill] at the same time. She was such a professional. To be inspired by her every day and see how deftly she handled everything, I learned so much from her. When we finished it, we were like, "Whew, that was the hardest job we ever had."
I grew up working on a farm, driving a tractor, building irrigation systems, and all that kind of stuff, roofing in the summers in Louisiana, but [1883] was the hardest job we ever had. It was a lot of work, but when the finished product came out, we were very satisfied and very grateful we had the opportunity to do that and certainly every actor that was on that show and every crew member brought their A-game every single day, because everybody really believed in the project, and I think you can feel that when you watch it.
Like you, your character James Dutton is a father and a mentor to a daughter. Did your role in real life as a father of three girls help inform your performance?
Sure, I mean, being a "girl dad," reading that script—Faith and I would read the entire scripts out loud to each other—there were times that I couldn't get through it without just boo-hoo crying, which was hard because as James, I'm not supposed to be that emotional at all, so there were times I really had to keep my emotions in check.
But, you know, when you find a part like that that you can really relate to, I think what you do is you sort of find the part of yourself that most identifies with that character and then you take that part of yourself and sort of put it under a magnifying glass and blow that part up and transpose that onto that character. That's the world that you try to live in the entire time you're shooting something like that.
What were some of the other things about the project that stood out to you?
Well, getting to work with my wife, for sure, and the writing. I was a big fan of Yellowstone, Faith and I both, from the very first episode. I was aware of Taylor [Sheridan's] writing from a movie called Wind River. I knew he had written Sicario, of course Hell or High Water, which is also a great movie, but Wind River, when I saw that, is when her really came on my radar screen.
Then Yellowstone came out and we fell in love with that and, oddly enough—I'm in a fog over the last three years, so forgive my timing—a couple years ago or a year ago or whatever it was, I get a strange number on my phone. Usually I don't answer those, but I answered it, and [the caller] says, "Hey, is this McGraw?" I say, "Well, who is this?" It was Taylor Sheridan, and he wanted me to come on and do an episode of Yellowstone.
I told him I loved Yellowstone, I'd love to do it, but it's got to be an interesting part; I don't want to be a singing cowboy or anything like that that gets taken to the train station. Come up with something cool and we'll talk. He said, "Give me two weeks." So he wrote these flashback scenes, and he calls and says, "I got this idea: You're going to be the original Dutton that founded the ranch, and this is going to be the 1880s or 1890s. Give me a week to write it and I'll call you back."
He calls back and says, "I'm in the middle of writing this and you're going to have a wife. Would Faith want to do this?" So, Faith says, "Heck, why not? We're not doing anything. We're in sort of self-isolation from COVID." So, we loaded up the car and drove to Montana and spent three weeks on a ranch up there shooting the episode. We drove back and thought: That was fun. We get to be on Yellowstone next season, and we'll see what happens.
A couple months later Taylor called, and he said he showed our scenes to the studio and they wanted to buy a whole season of the flashback of those two characters. Faith and I thought: That's a lot of work; write it first and we'll talk. So he started writing and sending us episodes, and we fell in love with it.
The show is about an interesting time in American history. Was this of interest to you before you took the role?
I always loved Westerns and was always fascinated by the grit and the determination of people who took on the Oregon Trail in these wagon trains to find a new life. While we were shooting this, it really made me reflect on just the American spirit and who we are as a people and as a nation, and how sometimes we get away from that; we forget about that. I think it's time, and with time, and certainly with all that's going on in the world right now, we'll start realizing how special the spirit of our country really is.
Between your music and your acting roles, you're not just an entertainer but also a storyteller. Is this something that came naturally to you from a young age?
I did some school plays, and I always liked to write poetry and songs and stuff when I was a kid, and I really loved music. My mom instilled a love of music in me because she sang around the house all the time and was always listening to music, and I read a lot. I still read a lot; I'm a huge lover of books. I think all those things combined probably unwittingly sort of built my appreciation for the arts.
Plus, I grew up singing in church and singing at people's weddings. I remember playing shortstop and being out there practicing, singing country songs off the radio, all the guys making fun of me, so music was always a part of my life. …I think it was always there; it was just waiting to find its path.
You've also shown a unique spirit throughout your career. Is it true that you met a record executive for Curb Records originally at a Phillies team party?
It wasn't exactly that way. What happened was, a friend of Tug's knew an executive at Curb Records, and I had a demo CD—well, it was a cassette back then—and Tug was riding in the car with this guy who knew Mike Borchetta, the guy who ended up signing me to Curb Records. Tug knew that this guy knew a record executive in Nashville, so he put my tape in and the guy said, "Well, you know, I can't do anything for you except for maybe get him a meeting with Mike Borchetta."
I kept calling and I kept calling, and I couldn't get a meeting. Finally, I just showed up at his office one day and walked in the door and I had my demo tape and he was, like, "I don't have time." I said, "Well, I'm Tim McGraw. I just wanted to play my music for you." He said, "Well, I really don't have time," and I just walked over and stuck it in the player and started playing it. There were three songs on the tape, and by the end of it, he goes, "Well, I think you have a record deal." Cut to years of success with Mike later to now and I'm on Big Machine Records, and Mike's son is the head of my record label—Scott Borchetta.
Fortune favors the bold, they say.
I guess so [laughs]. I was just lucky they didn't throw me out.
About your dad: Tug McGraw is still a legend in Philly sports. What are some of your memories of him, and what are some of the things you miss most about him?
Oh, gosh. You know, I didn't know him until I was around 20 years old. I met him once, and I didn't know he was my dad until I was 11; I found my birth certificate and found out he was my father. I thought my stepfather was my father. But when I got to know him, his spirit is something that I miss. I constantly wish that he was around. He got to be around to see the success that I had in my career, which was great, and I'm so grateful that I have my mom still around. She's a big part of my life. But, his enthusiasm for life and his magnetic personality, anybody that was ever around him couldn't help but gravitate towards him because he had that sort of big smile; he was a handsome guy, he was very gregarious and outgoing, and such a likable person. I always miss times when I have celebratory things that happen in my life that I wish he could be a part of.
On the subject of uplifting others, during the pandemic, you joined a Zoom call with nurses from Virtua Health. What did it mean to you to be able to do this at a time when these frontline workers really needed a lift?
Oh my gosh, you know, any time I get a request like that, where someone asks me if I would be willing to talk to some people or do a phone call with people … I'm always willing to do it because, let's face it, I'm not out there changing the world. I'm not out there improving people's lives and putting my life on the line for other people. I make music and movies and TV shows. I'm not doing brain surgery.
The people who are really on the front lines of humanity are the people that I have the most respect for, so any chance that I can get to shine a spotlight on those people and maybe make them smile or maybe give them a little bit of relief and escape in their world, that's the best thing and I'm grateful for the little bit that I can do.
After the tour wraps up in September, what's next? Do you have any additional gigs lined up, or do you just need a break to put your feet up?
[Laughs] Well, that would be good, but there's always little one-offs, a couple festivals that we'll play, and a couple private shows. I'm also in the middle of recording an album so I'll be finishing that up. I was in the studio yesterday—that's why I'm a little hoarse—[recording] some new material, so I'm constantly always working on new music.
We're getting a lot of scripts to look at after 1883, so I've been reading a lot of scripts, seeing if, when, and what the next project will be. It's like finding a song; you've got to find something that viscerally hits you and something that you can connect with. You have to read a lot of things, like you have to listen to a lot of songs to find the right stuff, so there will be time for that in the fall, when it's time to settle down and dig into projects and stuff.
Who knows? Maybe there will be something that happens that hits all of those buttons and we'll work in the fall. You never know.