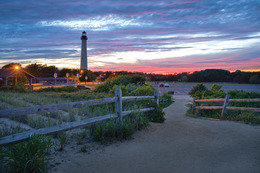 Best of Shore 2022
We've got you covered from casual bites and fine dining spots to our favorite places to grab a drink and soak up the atmosphere. Who's ready to get this party started?
Every summer, the Shore becomes our home away from home; a place to gather with family and friends and celebrate. And while the pandemic has been lingering over our heads for more than two years, the good times continue to roll in each our favorite seaside towns. To get ready for what's shaping up to be another memorable season, we made our way from Long Beach Island down to Cape May in search of the best food and drink along the coast. We've got you covered from casual bites and fine dining spots to our favorite places to grab a drink and soak up the atmosphere. Who's ready to get this party started?
AVALON
Fish Sandwiches at Oceanside Seafood
This market not only sells fresh, quality fish for you to create your own seafood fest at home, but their lunchtime sandwiches are can't-miss. Think fried flounder with tartar sauce, lobster grilled cheese on Texas toast, a fried shrimp po'boy and our favorite: the soft-shell crab with lettuce, tomato and a lemon aioli on a sesame seed bun.
Bar Snacks at Avalon Brew Pub
Good beer and good food are synonymous with a good time and here they serve up light bites that are far from run of the mill. From the fries with duck confit, Manchego, caramelized onions and cherry tomatoes to the PEI mussels with bacon lardons and leeks, these elevated appetizers are the perfect complement any one of the in-house brews.
Pizza at Fratelli's Wood Fired Pizza
The Neapolitan pies being cranked out of the 650-degree oven at Fratelli's arrive slightly charred and crispy with just the right amount of chew in the fermented dough. We're suckers for the meatball with ricotta and the Ventura, a white pie made with mozzarella and topped with slices of prosciutto, sprigs of arugula and finished with truffle oil.
Takeout Dinner at Croce Pasta
This tiny offshoot of the Cherry Hill mainstay is the perfect place to grab fresh pasta or a number of prepared dinners ranging from chicken marsala and penne alla vodka to broiled salmon and shrimp scampi. You'll also find antipasto trays, mozzarella towers, fried long hots and, of course, slices of their signature tomato pie.
Ice Cream at Avalon Freeze
Whether you're visiting during the afternoon or after dinner, this hotspot for ice cream continues to draw in the crowds every summer. And while a cone filled with swirls of soft serve and topped with jimmies is certainly a winner, few things signify the season as much as sitting on the blue bench and enjoying a Freezer topped with your choice of candy.
Panini at Isabel's Bakery and Café
With nearly 30 options available, this is the place for lightly pressed paninis that appeal to any discerning eater's taste buds. With veggie options like fresh brie, tomatoes and basil and popular choices like the grilled chicken and goat cheese or the grilled yellowfin tuna with bacon and a roasted garlic mayonnaise, there really is something for everyone.
For Dinner
Via Mare Ristorante
The dining room at Via Mare has been full for decades and it's no secret as to why. The familial atmosphere makes diners feel right as home as they chow down on Italian favorites like eggplant parm and frutti di mare on their way to a stunning encore by way of the tiramisu or ricotta cheesecake.
Il Posto
Modern spins on classic Italian dishes can be found up and down the menu from the papparadelle with lamb ragu, mushrooms, ricotta salata and a demi-glace to the veal piccata served over a bed of capellini with a lemon white wine sauce.
Café Loren
Now in the midst of its 44th year in Avalon, gourmands who visit the Shore make it a point to reserve a table here so they can enjoy refined coastal cuisine that epitomizes fine dining and proves high-end food doesn't need to be pretentious.
By the Bar
The Princeton attracts crowds of all ages and it's always rocking, even when the live entertainment takes a quick 5. The Whitebrier is the place to be for happy hour, or any hour really as the drinks flow, live music fills the air and the mix of everything from bar bites to the signature sushi rolls satisfy the masses. Meanwhile, the ICONA Windrift is where you'll want to sip on sophisticated cocktails while enjoying stunning oceanfront views and the irresistible allure of the sea air.
LONG BEACH ISLAND
Brunch Fare at Birdy's Café and Artisan Market
We're suckers for cute coastal cafés, and the brunch menu at this Harvey Cedars gem abounds with creative plates sure to please any palate. Prosciutto toast? Count us in. Fruit-and-granola-heaped acai bowl? Yes, please. "Hangover helper" smoothie? That might come in handy at some point, too.
Grilled Sandwiches at Inlet Delicatessen
This historic hotspot (circa 1895) in Barnegat Light serves up some spectacular fare for the breakfast and lunch crowd. Its grilled sandwiches steal the show—namely, the Rachel (turkey, coleslaw, and Russian dressing), the Reuben (corned beef, sauerkraut, slices of Swiss, slathered in Russian), and the Cuban (ham, Swiss, pickles, and tangy yellow mustard).
Burgers at Neptune Market
Belly up to the counter of this diminutive Harvey Cedars spot for some truly inspired burgers. The "world famous" Nooney burger is nothing fancy, really—a half-pound Angus patty piled with the essential trimmings (lettuce, tomato, hot peppers, etc.)—but it is, in a word, awesome.
Cupcake Sundae at SmallcakesLBI
This Beach Haven cupcakery and creamery bakes its eponymous items (hundreds of recipes) on the premises, and it's easy to see and taste just how much the in-house bakers enjoy what they do. Signature Smallcakes include "Hot Fudge Sundae," "Cookies N Cream," and "Birthday Cake" (vanilla cake topped with buttercream frosting and rainbow sprinkles), among many others.
Pulled Pork at Spice It Up
Spice It Up turns out some seriously inspired "daninis" (paninis, in Spice It Up's distinctive style), hoagies, and specialty sandwiches, including some of the best pulled pork on the island. Head to this Beach Haven market/deli for a "Just Love" pulled pork sandwich (or two), starring ridiculously tender and expertly seasoned meat, topped with spicy slaw on brioche.
Ice Cream Cookie Bars at The WooHoo
The WooHoo has earned its place as one of LBI's finest purveyors of homemade ice cream, including its addictive ice cream cookie bars. For those who have never had the experience, these handheld joys basically consist of a block of wonderfully rich ice cream pressed between two slabs of crumbly, chewy cookie.
For Dinner
The Beach House
Whether you prefer your dinner pulled from the sea or nurtured on the mainland, this North Beach Haven wonder aims to please. Guests rave about the shrimp scampi with broccoli, the baby back ribs and the pistachio scallops, which are a Beach House staple. Give serious consideration to their inventive daily specials; recent examples include the sesame seared tuna and the brie-and-tomato penne.
Raimondo's
Life by the water has its advantages. In a town like LBI, nearly every restaurant makes seafood a central part of the menu. Raimondo's does, too, though this Ship Bottom spot is better known as one of LBI's premier dining destinations for exquisite Italian cuisine. For our money, we like the pork chop Calabrese, a zesty house-brined chop served with mashed potatoes spiked with garlic.
Salt Kitchen & Bar
Here's what to expect from a reservation at the restaurant at Hotel LBI in Ship Bottom: an upscale dining experience featuring steaks, artisanal pizzas and seafood caught by local fishermen. If you fancy a handcrafted cocktail before or after dinner, repair to The Rooftop Bar to enjoy the salt air and the coastal view.
Stefano's
While everything on the menu is a can't-miss dish, seafood is the name of the game at this North Beach Haven mainstay. From the shrimp and lobster in the risotto del mar to the jumbo lump crab cakes to the lobster ravioli to the Barnegat Light seared sea scallops, each dish abounds with elegance, authenticity and freshly caught flavor.
By the Bar
Head to either Nardi's Tavern in Long Beach Twp. or Tucker's Tavern in Beach Haven for cold beer, good food and the kind of neighborhood atmosphere sure to make you feel right at home. On the other hand, The Tavern at Black Eyed Susans in Harvey Cedars makes an impression with its simple sophistication and elegant cocktails. For those who wish LBI had a great rooftop bar, make a beeline for Daddy O in Brant Beach. Finally, if you prefer your "adult beverage" with sides of sun, sand and surf, set your GPS for the Sand Dollar Beach Bar at the Spray Beach Hotel.
SEA ISLE CITY
Tacos at Casa Taco Bayfront Taqueria
Steak, chicken, pork, seafood (including octopus!) or vegetables: Whatever taco filling you pick here, it's going to be delicious because patrons praise it all, right on down to the sides of street corn and rice. But there's just something about the fresh, lightly battered shrimp in the shrimp taco that's extra special.
Chicken Sandwich at Hank Sauce
Tender, succulent and smothered in Hank's one-of-a-kind specialty-infused sauces, these chicken sandwiches blow the national chains right out of the water. If you want something a little more walkable, ordering a "pincho" lets you enjoy all the juicy chicken and flavorful sauce on a skewer rather than between two buns.
Ice Cream at Yum Yums Ice Cream
You can try a different flavor every day and still not sample all of Yum Yums' options by September. And even if you do—you're encouraged to mix flavors if you're getting two or three scoops on your cone—there's still plenty of other sweet treats to beat the heat, like milkshakes, soft serve, sundaes and water ice.
Breakfast at Sunset Pier Restaurant and Juice Bar
Greet the day on the water with a bayside breakfast. Whether you've got a hankering for fluffy pancakes, cheesy omelets or the fan-favorite breakfast burritos, Sunset Pier has something for everyone—including its namesake juice bar, which offers made-to-order juices, smoothies and fresh-fruit bowls.
Café at Dockside on Park
One of the newer eateries in Sea Isle offers a menu full of light, fresh fare inspired by its owner's European culinary training and desire to offer healthy food with a twist. Regulars rave about the can't-miss poké bowls, tasty gluten-free options, locally sourced coffee and generously stuffed paninis, as well as the incredible views.
Seafood at Carmen's Seafood Restaurant
There's nothing better than digging into seafood right on the waterfront, a dining experience that Carmen's has offered since 1980. The bacon-wrapped scallops are always a crowd-pleasing appetizer, and a menu filled with fresh seafood that's served by itself, in sandwiches, in pasta dishes or fried keeps guests coming back again and again.
For dinner
A Modo Mio
Modern flair meets Old-World fare at this Italian restaurant known for its elevated takes on classic dishes and seafood flourishes. The gnocchi always hits the spot, the shrimp-based Aurora risotto is a popular favorite, and you can't go wrong with either the wild mushroom or lobster ravioli.
Beachwood at the Dunes
You'll find seasonally inspired American cuisine at this casual-but-sophisticated mainstay. The menu is being updated for the 2022 season, but we've got our fingers crossed that the unexpectedly imaginative calamari appetizer, seafood-rich jambalaya and perfectly accented roasted salmon return for another year.
La Finestra Ristorante
If you think the breathtaking panoramic beach views at this fine-dining spot are worth the splurge, wait until you dig into the inspired Italian menu filled with homemade pasta dishes. Regulars know to always ask about the night's specials, but the Risotto Fra Diavolo with scallops, shrimp and a spicy pomodoro-basil sauce is particularly out of this world.
By the Bar
Thanks to its exclusive beach access, you can practically emerge from the ocean and belly right up to The Point, a high-energy outdoor spot boasting the only tiki bar in town. For a waterfront watering hole of a different kind, check out Oar House Pub, where ice-cold craft beers and specialty cocktails complement the chill ambiance. If Irish pubs are more your style, O'Donnell's Pour House pairs the perfect pint of Guinness with a casually upscale atmosphere. And the party never really stops at The Ocean Drive, a classic Jersey Shore bar that's hosted generations of rollicking crowds looking for nightly live entertainment.
STONE HARBOR
Pizza at Nemo's Pizza
Pizza in all forms is represented at Nemo's, from regular pies, Sicilians and deep dish. Heck, they'll even top a dough with your favorite salad if that floats your boat. We gravitate toward the selection of "gourmet" pies including the spinach with ricotta and the white pizza with pesto and artichokes.
Doughnuts at Peace, Love and Little Donuts
At a time when the world could use a little more peace and love, this shop is bringing together Shore-goers with a dizzying array of cake doughnuts topped with no shortage of sinfully sweet ingredients. Highlights include the salted caramel machiatto, raspberry truffle and the whimsical Robert Brûlée.
Baked Goods at Maryann's Pastry Shoppe
From the gooey butter cake to the crumb buns, strudel and more, this is the spot for a fix of homemade goodness. Whether we're kicking off our morning with a strawberry and cheese croissant or winding down the day with a slice of cheesecake, Maryann's never disappoints.
Breakfast at Alex's Market
There's nothing boring about the breakfast being served up here with plates like the Rice and Shine (two eggs, jasmine rice, kimchi, sweet potato and hoisin sauce) or the green chile, sausage and egg empanadas. With choices like that, why would anyone ever skip the most important meal of the day?
Bar Food at Stone Harbor Bar and Grill
You'll find everything from the expected (chicken wings, nachos and pretzel bites) to the unexpected (sweet chili roasted Brussel sprouts and Thai chicken flatbread) and it all washes down wonderfully with any number of the local beers on tap.
Shared Plates at Water Star Grille
With breathtaking views overlooking the water, the delectable dishes here only add to the ambience. You can never go wrong with an order of the crispy calamari with a tomato-caper relish and saffron-garlic aioli or the steamed mussels in a coconut-lime green curry with a side of naan bread.
For dinner
Ristorante Luciano
The homemade pasta, stellar seafood options and other longtime Italian favorites on the menu leave diners raving and you can count us among the loyal patrons who look forward to every opportunity to have a meal here.
Jay's on Third
The museum-quality works of art being plated at Jay's have always amazed us year after year and we love that the menu changes frequently enough that each visit brings something new and exciting to entice our palate and satisfy our soul.
Spiaggetta
Those who know flock to Spiaggetta for the captivating cuisine, inviting atmosphere and stellar service. While the menu reads like a greatest hits of Italian food, the rotating daily specials are where the chefs in the kitchen really flex their culinary creativity.
By the Bar
The live music and friendly faces you'll encounter only add to the good times to be had at Fred's Tavern. If you're looking for a little upscale evening, head over the Sax Lounge at the Reeds for a glass of vino or one of their signature cocktails. The open-air deck is the place to hang while you sip on a hibiscus margarita or frozen piña colada at Buckets Margarita Bar and Cantina. Meanwhile, craft beer lovers can find all they need to quench their thirst by bellying up the bar at The Watering Hull.
WILDWOOD
Specialty Sandwiches at Five Girls Sandwich Shop
Known for their specialty sandwiches, you can't go wrong with any menu item whether it be the beer battered fried chicken with applewood bacon, gorgonzola, slaw and sriracha honey sauce or another fan favorite—a brioche bun filled with filet mignon, fried onions and garlic aioli.
Baked Goods at Britton's Gourmet Bakery
Whether you're an early riser and crave warm baked goods fresh out of the oven or you're in the mood for dessert, Britton's Gourmet Bakery can satisfy any sweet tooth. From warm apple fritters to cinnamon buns and croissants to a dozen different kinds of donuts, scones and muffins, Britton's has it all.
Seafood at Hooked Up Seafood
After one bite of the fresh seafood, customers get "hooked on" Hooked Up Seafood. Always fresh daily from local waters, seafood including swordfish, mahi mahi, crabs, clams and more goes directly from the boat to the plate. Of course, no meal would be complete without sides including fries, onion rings and homemade coleslaw.
Burgers at Surfing Pig
The eclectic Key West atmosphere and down-home cooking complete with picturesque sunset views and some of the best burgers at the beach offer a delight for the senses. Check out the specialty "Baja burger" for a taste of avocado, sliced jalapenos, cheddar cheese and chipotle mayo.
Hot Dogs at Bell's Philly Grill
If you have a hankering for a hot dog, Bell's Philly Grill offers more than a dozen options. Whether it's a "Simple Sandy" covered in classic condiments, the flagship "Original Texas Weiner" topped with homemade chili and Greek sauce, or the "Sunburn" smothered in cream cheese and jalapenos, Bell's all beef dogs are top notch.
Brunch at Jersey Girl Kitchen & Bar
The menu offers a variety of fare for everyone including something sweet like banana cinnamon pecan pancakes and something savory like burgers and salads. The morning libations will leave guests giddy and, true to its name, the Mango Tu Tu Tango French Toast (mangoes and berries, drizzled in honey and topped with almonds and Greek yogurt) will have everyone dancing.
For dinner
Trio
Aptly named for the three cousins that own and operate the restaurant, Trio has established a a fine reputation for its American gastro fare. Offering farm-to-table selections, both small and large plate choices, the Trio approach satisfies the void between fine dining and bar fare. Selections include steak, pork chops, rotisserie duck, seafood and much more.
Swine Bar
Nestled along the beach right upstairs from The Surfing Pig, Swine Bar is North Wildwood's fine dining waterfront experience. Enjoy the open air as you dig into appetizers and entrees that leave your taste buds tingling. Think southern fried quail and waffles or heirloom tomatoes and peaches to start, before choosing from main dish options including lobster, veal, crab-crusted Alaskan halibut and more.
Boathouse Restaurant
Since its doors opened in 1989, the Boathouse has had a loyal following of vacationers enjoying lunch or dinner by the sea. Whether dining indoors or out, guests have a panoramic view of the water and delicious meal options. Unique dinner menu items include blueberry balsamic glazed salmon or the filet with gorgonzola.
One Fish, Two Fish
With dishes prepared from scratch on site, One Fish, Two Fish is known for, you guessed it, fresh fish! Using only local seasonal ingredients, One Fish, Two Fish creates a unique take on southern Jersey Shore classics. The restaurant is also B.Y.O.B., so be sure to check out the menu before your visit and plan your wine selection accordingly.
By the Bar
After a hot day on the beach what could be better than a freshly brewed (on the premises) ice cold beer? With up to 12 varieties on tap, there's a beer for every taste at Mudhen Brewing Co. Sit back, relax and sip away while enjoying happy hour and live music. Signature cocktails like The Summer Bug, The Cool Breeze and Dog's Best Friend, are man's best friend at Dogtooth Bar & Grill. Newly renovated with an industrial-chic look, The Cove, located in downtown Wildwood, offers an elevated cocktail menu including the Cove Mai Tai that will have you feeling like you're in the tropics. Perched above North Wildwood, at the Seaport Pier on the boardwalk, Dive Bar offers a summer cocktail list you will literally want to dive into.
Click here to subscribe to the free digital editions of South Jersey Magazine
To read the digital edition of South Jersey Magazine, click here.
Published and copyrighted in South Jersey Magazine, Volume 18, Issue 2 (May 2022)
For more info on South Jersey Magazine, click here.
To subscribe to South Jersey Magazine, click here.
To advertise in South Jersey Magazine, click here.