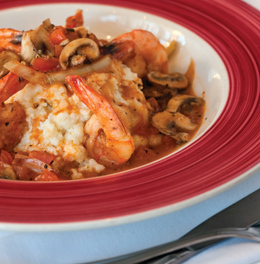 Melange @ Haddonfield
Finesse Meets Flavor
Melange @ Haddonfield
18 Tanner St.
Haddonfield
(856) 354-1333
MelangeRestaurants.com
four forks
Southern hospitality has come to roost on Tanner Street, a block off Haddonfield's Kings Highway—a strip that has become a sort of edible United Nations in its own right, where the cuisines of Britain, India, Japan and Thailand are all represented. Four years ago, an unusual culinary offering joined the congress, a seamless mash-up of Italian and Louisianan traditions curated by chef Joe Brown. A Jersey boy and Restaurant School grad, Brown brought this heady blend, Melange @ Haddonfield, to these jazzy garnet digs from Cherry Hill, where the original Melange Cafe went 15 years strong before closing recently so Brown could channel all his energy into his new venture.
In the restaurant industry, that's an eternity. Brown, with his following of exiled Southerners and fans of Southern food, could have easily rested on his laurels. Instead, opening a second location more than tripled his seating, spread across a pair of art-lined dining rooms and a brick patio shaded by a latticed arbor. Earnestly decorated, the elder Melange was nowhere near as flashy; Brown's newer stage sparkles and gleams like a fine-cut stone. And, for the most part, so does the food.
The current season prohibits use of the patio, but the frosty temperatures offer an excuse to indulge in Melange's sensational soups. (The simple secret: "Cook 'em all day," Brown says.) There's a haunting, pan-smoked tomato bisque with sweet crab, as well as a white bean soup whose lively heat comes from thick-cut coins of andouille sausage, though the menu notes that spice levels can always be adjusted to a customer's taste. There's also a "Soup of the Moment," a velvety, black-as-night lentil the night I dined. Can't decide between the soups? Order the trio, a tasting cup of each soup for $8. It's the best option considering how large the single orders are; then again, that's par for the course at Melange.
A lone exception was a special pasta of tortelloni, shaped like thin-skinned day lilies hiding buttons of veal in the bases of their trumpets. There were five, maybe six, perfectly cooked pieces of pasta on the plate, languishing in creamy Parmigiano sauce that was both excessively rich and excessively applied. It was a hearty starter, es­pecially given the appearance of Swiss chard in the dish. The handful of crinkly green succulents mixed into the sauce add­ed a welcome dose of nu­tri­tion. Meaty—almost more so than the veal-filled pasta—and tender, the chard made eating your greens a highlight rather than a requisite.
Brown ratchets back up the portion size in entrees. Garlicky shrimp and grits threatened to overflow the dish, not to mention my appetite. Since the Parm-enriched grits were pastier than a proper Southern cook's version, I concentrated my efforts on the seafood. Dusted in the house Cajun spice—cayenne, granulated garlic and thyme are among the secret ingredients—the sweet sea-goers hit the hot sauté pan with a touch of shrimp stock, emerging firm yet tender. I savored them in their spicy, rose-hued gravy flavored with tomatoes, onions and mushrooms.
I had the same experience with a special of blackened red snapper, detouring around more grits in favor of the main attraction: an uncommonly moist, flaky fillet whose ocean-fresh flavor managed to come through the zesty (and zealously applied) layer of blackening spice. Studded with bacon, the accompanying slow-cooked collards were killer.
Dessert at Melange delivers the predictable (but no less delicious for it) Southern assortment of pecan and sweet potato pies, but my money's on the featherweight crêpes filled with rum-kissed bananas Foster. They came two to an order, and the server thoughtfully split it onto two plates in the kitchen. One crepe for me, one for my date—though I can't say I didn't steal a bite of hers while she was in the bathroom. Gentlemanly? Probably not. But I'm sure any Southern (or Italian for that matter) grandma would understand.
Photo: Garlicky Shrimp with Grits
E-mail us at edit@southjersey.com.
Published (and copyrighted) in South Jersey Magazine, Volume 7, Issue 12 (March, 2011).
For more info on South Jersey Magazine, click here.
To subscribe to South Jersey Magazine, click here.
To advertise in South Jersey Magazine, click here.