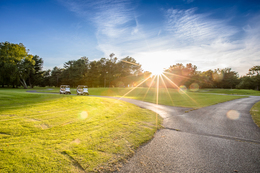 In Full Swing
From the course to the clubhouse, Medford Village Country Club continues to provide a first-class experience for its members.
Throughout the COVID-19 pandemic, folks have been eager to find an escape from the doom and gloom surrounding the virus and its many ongoing challenges. And fewer places have provided more of a refuge than local golf courses, where those hitting the links could enjoy some fresh air, a little friendly competition and some much-needed social interaction.
Of course, with that increased level of interest comes great responsibility to not only meet expectations, but also exceed them. At Medford Village Country Club, they understand this full well, having solidified a reputation of providing top-notch service and amenities for more than five decades.
The management team consisting of Bob Doria (general manager and PGA director of golf), Bruce Rickert (superintendent), Dan Kunze (food and beverage director) and Gary Miller (executive chef) make it their mission to create an unparalleled atmosphere that is welcoming, inspiring and inclusive to all while also continuing to challenge the status quo and stretch the limits of customer service.
Further leading the charge is Greg Matthias, who returns for his second year as Medford Village's head golf professional. Along with seasoned PGA assistants Dan Haskell and Alex Smiarowski, the trio is excited for what this upcoming season will bring along the fairways and beyond, thanks in part to some of the major renovations that have recently taken shape.
Over the winter, a full restoration of the practice facility was completed, including the construction of a Fiberbuilt Synthetic Tee Line, as well as the rebuilding and expansion of the grass tee decks. The upper deck was sodded with Tahoma 31—a Bermuda grass developed by Oklahoma State University and designed to grow in more temperate climates. The surface offers great playability while also being resilient enough for New Jersey's sweltering summer heat.
The upper deck was also enlarged to 4,500 square feet while the lower deck has grown to 9,000 square feet and was sodded with low-mow bluegrass. Near the lower deck, golfers will find the new putting green, which allows players to transition from the practice area to the first tee.
While those improvements will most certainly be well-received by members, they are also likely to be pleased with a major renovation performed on the course where several holes have had new tees either constructed or expanded to provide larger areas and a better overall playing surface. Specifically on hole No. 6, the par 3 is now 190 yards from the championship (black) tee and the change on No. 10 makes it the longest par 5 in the entire state at 651 yards. These additions have contributed to making Medford Village a championship level course, playing 7,245 yards from the tips.
Rickert and his staff have been working around the clock to oversee these course enhancements and maintain optimum playing conditions. In addition to the tee work completed over the fall and winter, several dead or damaged trees were removed throughout the property, leaving the course primed for a stellar spring and summer season.
All of these exciting changes will be on full display as Medford Village welcomes the region's best senior players this June when the Philadelphia PGA visits for its Senior Section Championship. The top players will advance to SentryWorld Golf Course in Wisconsin to compete in the 2023 PGA Senior Championship. What's more, Medford Village will also be home to the USGA Local U.S. Open Qualifier on May 1, 2023.
With such a high level of enthusiasm surrounding the upcoming golf season, the skilled team at Medford Village is already busy thinking about further improvements that will carry the club well into the future. This fall, course renovations are planned with additional tee expansions on holes No. 1, 3, 8, 9, 11 and 18. The club will also be instituting a new teaching and learning center complete with a TrackMan golf simulator.
Away from the course, there is great buzz surrounding the hospitality side of things as well. Michael Clark joined as the new bar manager last fall after previously working at the iconic Water Works restaurant in Philadelphia. "Clark," as he's affectionately known, brings extensive experience coordinating wine pairing dinners, bourbon tastings and many other member-centric events, and looks forward to hosting more special engagements this season.
And with Miller manning the kitchen, Medford Village continues to be an attractive venue for parties, events, weddings and more, whether in the ballroom that can accommodate up to 175 people or outdoors under the covered patio area.
Furthermore, the pool and tennis courts were also a focal point this past offseason. A new snack bar, tables, chairs and umbrellas have been added to the pool area. Meanwhile, the club's four Har-Tru tennis courts have been completely resurfaced so you can work on your serve or get in a little doubles action on the weekend.
All of this highlights why Medford Village is much more than your average golf club. And while there's currently a waitlist for golf membership, folks are encouraged to take advantage of the many other amenities as swim, tennis, social and dining memberships remain available for the 2022 season. If you are interested in experiencing the "best of everything," then Medford Village is the perfect place for you.
Medford Village Country Club
28 Golfview Drive
Medford
(609) 654-7541