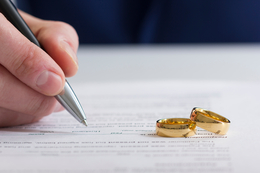 Your Partner on the Path to Divorce
Couples meet. Fall in love. Marry and pledge their intention to stay together forever.
But sometimes …life happens.
For many couples, the definition of forever changes dramatically over time. Somewhere along the path to forever, plans change and visions of a sunny lifetime together become obscured in clouds of darkness and discontent. "I do" morphs into "I don't." There are many reasons why marriages end, including infidelity, disputes about finances, substance or alcohol abuse, assorted vices, dwindling common interests and divergent views of their future. Their initial vow of "forever" changes to, I do not want to stay in this marriage forever.
When that point in the marriage is reached, there are typically two common avenues couples take to dissolve their marriage—divorce mediation or divorce litigation.
Divorce mediation is a process that allows couples to meet with a specially trained, neutral third party to discuss and resolve common divorce-related issues, including but not limited to division of assets and liabilities, child custody, child support and spousal support. The goal of this process is to let the couple, with the guidance of the mediator, set the direction of their future. When the parties resolve their disagreements, the mediator memorializes the understanding and each of the parties is encouraged to have it reviewed by counsel to prepare a formal settlement agreement. In some cases, the parties may have their attorneys participate in the mediation process for an even more streamlined-approach.
In divorce litigation, the decision of how assets and liability are shared, what support is paid and how custody and parenting time are established is determined by a judge. Challenges to that decisions require more complex appellate litigation.
At Archer, Attorneys at Law, headquartered in Voorhees, its experienced and caring matrimonial department is equipped to address whichever route divorcing couples choose to take. Founded 94 years ago, Archer has grown into one of the largest firms in the state with additional offices in Princeton, Hackensack, and Red Bank, New Jersey; Philadelphia and Harrisburg, Pennsylvania; Wilmington, Delaware; and New York City. Throughout its history, Archer has established a reputation for providing client-centered individualized representation to ensure that the needs of the client are met.
"When somebody comes to us for an initial consultation, we try to gather enough information to determine what issues exist, the concerns of the client and the best course to move the client forward," says Stephanie J. Zane, Esq., who serves as the chair of Archer's Family Law Group, and has more than 20 years' experience in matrimonial law and family law matters. "We try to get a sense of the tone of the relationship, to learn if both parties are ready, willing and able to mediate or if the case will require litigation. All options are explained and discussed so that an informed plan can be made."
According to Marie E. Lihotz, Esq., a former member of the New Jersey judiciary who was the Presiding Judge of the Family Part in Burlington County and then assigned to the Appellate Division, has been with Archer for five years, mediation works best when both sides understand the financial facts of the case and are willing to work out the details. The mediator helps the parties work through each issue to reach a global resolution. However, if the couples cannot come to an agreement, they may opt to pursue litigation. According to Lihotz, another possible result may be to start with litigation then choose to reach agreement in mediation.
"It happens both ways," Lihotz says. "People may want to litigate first, because they're angry for whatever reason brought them to that point. Then when they have a better understanding of the issues and are at a place where they can calmly address same in a cooperative fashion, they seek mediation while the litigation remains pending. In other cases, couples sometimes try mediation first. While the job of the mediator is to keep the temperature in the room low, success depends on both parties' willingness to put in the work that is required, sometimes even the best mediator cannot get couples to agree the sky is blue. That's when they go to litigation." Either way, Archer is equipped to handle the needs of the client.
A key consideration for couples deciding between mediation and litigation often is the financial and time components. Mediation is typically less expensive and a faster process than litigation, which, on average, at this point takes a year or more to finalize the divorce. Also, according to recent statistics from DivorceStatistics.com, nearly 90 percent of mediated divorce cases have settled successfully.
"People are mediating more frequently, especially while we still deal with the COVID cleanup and the backlog in the courts," says Zane. "People see mediation as a way to control their own destiny and the pace that resolution is achieved. In litigation, while we could previously give an estimate of case conclusion, as a result of COVID, when the case will eventually be heard is less certain."
The practical experience of her years on the bench clearly provides Lihotz with a unique vantage point to guide parties to resolution in mediation. According to Lihotz, "lack of communication is often the basis of the marriage breakdown." Her ability to identify the issues and offer practical advice and options during the mediation process allows her to "facilitate communication while helping the parties to craft functional agreements to avoid litigation now and in the future."
The lawyers in Archer's matrimonial department have in excess of 130 years of combined experience. It has established a reputation for excellence in all areas of family law, including divorce, equitable distribution, division of business interests, division of retirement assets, tax issues, issues dealing with child support, custody, and parenting time, and premarital agreements. Whether it's mediation or litigation, Archer is ready to help.

Archer, Attorneys at Law
Headquarters
1025 Laurel Oak Road
Voorhees
(856) 795-2121