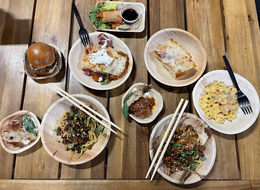 Something for Everyone
We've all been there: It's takeout night and you're trying to decide what to order. One person wants tacos, another wants burgers, and someone else is craving classic Italian.
Juggling the game of takeout chicken is nothing new, but it has remained a constant headache for hangry diners. Entrepreneurs Dan Goldberg and Nick Ballias set out to solve that problem with the revolutionary new Foodiehall, a takeout and delivery dining concept that brings everyone's favorite cuisines right to your home or office.
Located in Cherry Hill, Foodiehall puts delivery and takeout center stage, offering 10 restaurants under one massive roof, all managed by Greater Philadelphia Chef and Culinary Director Georgeann Leaming. Its 4,000-square-foot facility houses a wide range of kitchens aimed at pleasing every craving, and has been designed to bring the bold flavors of restaurant cuisine straight to your home.
A serendipitous start
Ballias and Goldberg first met at a Boys and Girls Club of Atlantic City event in 2019. After diving into a conversation about the changing market for restaurant concepts, Foodiehall became a spark of an idea.
"We were both interested in how food delivery was changing restaurants with the invention of Grubhub, DoorDash and UberEats," explains Goldberg. "Then just a year later the pandemic happened and people were using these apps in unprecedented ways. We got back in touch and just went for it."
With the focus of delivery at the forefront, Foodiehall was born. This culinary marvel is a massive space with 10 kitchens sitting around a constantly moving 120-degree conveyor belt. Restaurants include a taco spot, pizza kitchen, classic Italian, noodle bar, burgers, a mac n cheese/grilled cheese concept, and a variety of sandwich options.
Customers order from as many restaurants as they want, directly on the Foodiehall website—or utilizing traditional delivery apps. Then food is prepared in each of the restaurants, and sent down the conveyor belt to the delivery expo, where it is double-checked for accuracy and quality before being boxed in tamper-proof packaging and kept warm until a delivery driver or take-out customer comes to retrieve the order.
Since launching in early spring, Foodiehall has been a major success for families and friends looking to order for a variety of palates, and especially for businesses and office meetings.
"We can make anything from fine dining to a burger and fries, so you don't have to worry about picking one menu or leaving anyone out," Goldberg says.
In good hands
Steering this massive ship is Leaming, a kitchen veteran with 22 years of experience cooking across some of the area's best kitchens. You've seen Leaming before, as she's made her mark in Food Network history winning on the hit show Chopped, and also competed on Hulu's Man vs. Master.
Prior to Foodiehall, Leaming was the executive chef for Gordon Ramsay's Pub & Grill in Caesars Atlantic City and also at Gordon Ramsay Steak in Harrah's, and ran two of her own restaurants in Philadelphia. When the opportunity came to tackle the next great frontier of dining, Leaming jumped at the opportunity.
"My experience working through different restaurants has meant that I've learned to tackle many different cuisines, and I'm able to bring that to Foodiehall," she says. "Each menu has its own highlights and each concept has its own personality."
Leaming and the Foodiehall team have also centered delivery and takeout in their concept, intentionally building menus that can handle a car ride.
"At the end of the day, you need to focus on how the food is getting to our guests," Leaming says. "That means we have to approach quality in the way that we manage our packaging and handling of the food, and we had to decide on restaurants and menus that matched those demands."
"We've tested our packaging in all different ways, we've put it in cars for a long drive, tested it against heat, cold, leaks and tamper resistance," Ballias says. "We also focus on environmental impact."
That fully realized plan includes a totally unique takeout and delivery waiting room at the front of the hall, complete with bathrooms, couches, charging stations and free Wi-Fi.
"We thought really hard about how delivery and pickups were being handled currently. In many of the current concepts we've seen, the delivery driver is an afterthought," Goldberg says. "But delivery drivers are a key component, and we want them to feel valued."
They also wanted the value of their mission to expand to the community. That's why Goldberg and Ballias partnered with Feeding America to launch the Meal4Meal program at FoodieHall.
Meal4Meal was a vision Ballias had based on the sock company Bombas' sock-for-sock donation concept. "I asked, 'Why can't we do this for meals?'" he says. "So any time someone purchases a meal from Foodiehall we donate the value of a meal to Feeding America."
The response has been overwhelmingly positive, says Goldberg, especially when you look at how people are approaching Foodiehall. "We're really happy to see that we get a significant number of repeat, multi-concept orders," Goldberg says. "The average is just over three concepts per order. Our mission was to give people options, and people are embracing that and trying something new every time."
Foodiehall
1931 Olney Avenue | Suite 200
Cherry Hill
(856) 565-4255